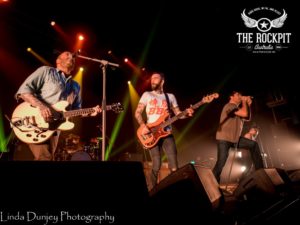 Alexisonfire Kicked off their Australian Tour tonight in Perth after a 4 year hiatus, these guys were ready to shove some metal in your ears and make them bleed tonight.
Before we got to the awesomeness that is Alexisonfire, The Dirty Nell & Behind Crimson Eyes were up. They were good, keeping the growing crowd entertained as they slowly filtered into the stadium. A steady and easy going set list to prepare you for the onslaught that was about to happen.
The Getaway plan were next and they were amazing from the moment they walked on stage. They worked together in perfect harmony as they led us into some really wonderful softer rock tunes. They were tight and very professional. I really enjoyed this set from The Getaway Plan and was pleasantly surprised when they pulled out an awesome heavy screamo song to end the set. Such diversity from this band. Very impressed, I would definitely pay to see these guys again.
Alexisonfire came out to screams and applause galore, we haven't seen these guys for over 4 years and the anticipation of them coming back to the metal family was overwhelming. They sounded and played like they had never been apart. Starting off with 'Drunks, lovers, sinners & saints', it was quick to see how many dedicated and loyal fans they truly have. 'Born and Raised' was a real stand out for me with some incredible Unclean vocals from George Petit and clean vocals from Rhythm Guitarist Dallas Green throughout the night.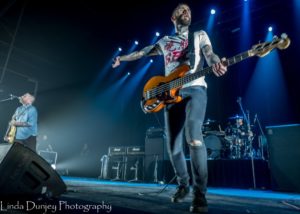 As the night progressed Alexisonfire only got better and better pulling out crowd favorites left and right. They definitely let us know there is a reason why they are still here and kicking and that reason is amazing metal. We got the call from Alexisonfire to "Fuck this place up" and that's exactly what we did. Drinks, cups, shoes, water, hats, shirts and bodies started flying around the venue. We saw THE BEST STAGE DIVE EVER from a guy who seemed to walk on top the pit and security barrier like he was Jesus, getting onto the stage taking a running leap and stage dived in legendary style into the crowd. Even Alexisonfire couldn't ignore the sheer talent that stage diver had, telling him that was "Fucking Awesome".
Feeling the love from the crowd the band thanked everyone for making this the best start to the tour and said Goodbye. The crowd were screaming and chanting "one more song, one more song" this echoed throughout the stadium. They came back out and played an incredible 4 encore songs and it was brilliant, definitely an OMG moment. Playing 'The Northern', 'Pulmonary Archery', 'Accidents' & 'Happiness by the Kilowatt'. Alexisonfire were simply amazing, absolutely brilliant, an awesome display of talent and metal. Go see them on this tour! You don't want to miss this tour or you'll kick yourself. No, seriously go buy a ticket right now!!!
ALEXISONFIRE AUSTRALIAN TOUR 2016:
PERTH – Wednesday 11th January – HBF Stadium
ADELAIDE – Friday 13th January – Adelaide Entertainment Centre Theatre
MELBOURNE – Tuesday 17th January – Festival Hall
SYDNEY – Thursday 19th January – Hordern Pavilion
BRISBANE – Saturday 21st January – Riverstage
Tickets and tour details can be found at Chugg Entertainment.
PHOTO GALLERY
Photos by Linda Dunjey Photography