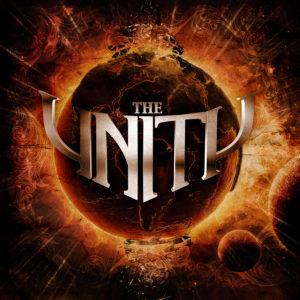 Hard Rock meets Melodic Metal in a fiery wave of guitar, great songs  and real attitude to create a debut of some real weight from Gamma Ray members Michael Ehré (drums) and Henjo Richter (guitar) along with vocalist Gianba Manenti, guitarist Stef E, bassist Jogi Sweers and keyboardist Sascha Onnen.
If you like it played powerfully and with a real punchy riff front and foremost then try the trio of 'No More Lies', 'God of Temptation' and 'Killer Instinct' which pepper the album along with the more Power Metal feel of tracks like opener 'Rise and Fall'.
But there's more to The Unity though than those two aces – there's actually some real diversity at play too.  Take tracks like the incendiary 'Close to Crazy' which puts the pedal to the Metal and doesn't lift it from the floor; or the punchy and very short 'Super Distortion' which is a great jotting of a song; even the orchestral opening to 'Firesign' and then it's transformation into a real statement of intent.
The album closes with one of the best here and interestingly the most melodic in 'Never Forget' which uses keys to great effect and dabbles again in the orchestral. You get a feeling with so many songwriters in the band that these guys can take this anywhere.
A strong release and one which will appeal to lovers of both Rock and Metal.