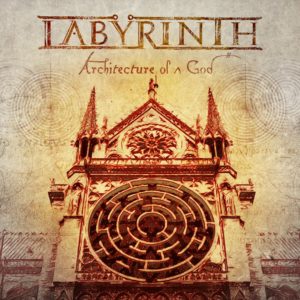 I have to say that the new Labyrinth album, Architecture Of A God, would be nominated as one of the best albums to "Almost Get Under My Radar Award". Fortunately, my editor shot over the new album to me and said, "Take a listen." Otherwise, I would have missed it. 
Since 1991, Labyrinth had built a solid reputation to become a powerhouse among the metal faithful. Their 1998 release of Return to Heaven Denied is considered by many as their signature album. From there, the band's discography expanded with several more albums. But after the 2010 release of Labyrinth's Return to Heaven Denied, Pt. 2 – A Midnight Autumn Dream, the band's future was uncertain due to many lineup changes. The Italian metal masters, for all intents and purposes, had seemingly come to a crossroads and 2010 was the year that time stood still.
But thanks to Frontiers Music, the sleeping giant has been awakened. A new chapter in the Labyrinth metal saga began in the spring of 2016 when Frontiers contacted the founding members of the band in Andrea Cantarelli and Olaf Thorsen, asking them to collaborate again with vocalist Roberto Tiranti for what would be a grand scale reunion of the band and return to form with what is now the latest studio effort in Architecture Of A God, just released April 21st.
Like the Labyrinth, you will find yourself easily lost in the music the more you listen to this new album. Tiranti's vocals blend well with the guitar work that is just spectacular; oftentimes offering up memorable hooks and riffs that could be characterized as a type of tribute to those predecessors we heard shredding to thirty years ago while the impressive drum and keyboard work complete an album that makes you wonder why this band's future was ever in question in the first place.
Perhaps Architecture Of A God's intro song "Bullets" could be regarded as being Labyrinth's "reboot" track as it were; the return to form for a band that created such a presence for itself in the 90's and early 2000's.
Following "Bullets", the album offers a solid balance of intensity and then slows down long enough so the listener can catch their breath, then hits full throttle; as was the case when things slowed down just a bit when "Still Alive" transitioned into the melodic frenzy of "Take On My Legacy".
The heart rate begins its slow descent with the beginning of "A New Dream"; a nice melodic, guitar driven track that changes pace before segueing into back to back guitar solos, then Tiranti's impressive vocals take us once again on slow descent again to the end.
Fast forward to the title track, "Architecture Of A God", which begins as a bit of a haunting instrumental before transitioning into lyrics of like fashion, then breaks into an all-out drum and guitar assault where the riffs intensify and then seem to hide for a short while before reappearing with a vengeance. This catchy arrangement could have easily been chosen as the title track and it gets better the more you listen to it. It's nearly a nine minute ride, but worth the experience.
For me, the standout song of the album may actually be "Children", a cover from a 90's techno tune by Robert Miles. Labyrinth manages to take a great club single and transform it into a guitar laden, metal work of art. Bravo
So what do you get when you enter the Labyrinth for Architecture Of A God? You get a solid metal album that shows there's still a lot of creative juice left in this band. Highly recommended.
TRACKLIST
Bullets
Still Alive
Take On My Legacy
A New Dream
Someone Says
Random Logic
Architecture Of A God
Children
Those Days
We Belong To Yesterday
Stardust And Ashes
Diamond