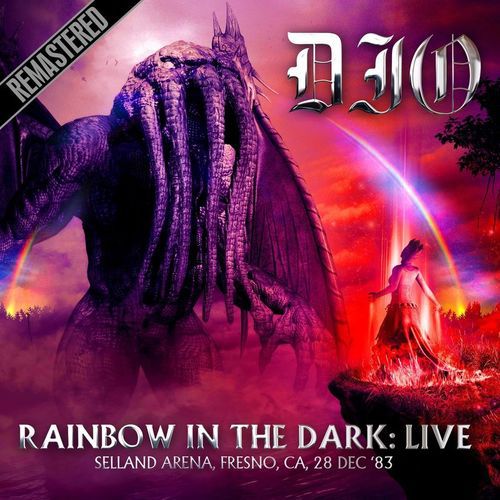 How many people can honestly say that they were on three truly great albums by three different bands ? Only one: RONNIE JAMES DIO. Firstly, there was RAINBOW RISING in 1976, followed by HEAVEN AND HELL with SABBATH in 1980, then after going it alone, he released the mighty HOLY DIVER in 1983. That album was followed by some more amazing releases such as THE LAST IN LINE and the underrated DREAM EVIL.
I REMEMBER BUYING HOLY DIVER (AND ALL THE OTHERS) AS SOON AS IT CAME OUT. IT BLEW ME AWAY THEN AND STILL DOES NOW. ALL THESE YEARS AFTER, HOLY DIVER IS STILL ONE OF MY TOP TEN ALBUMS OF ALL TIME, SUCH WAS THE IMPACT OF IT, THEY LATER PLAYED IT IN FULL.
This album dates from that first tour and features what is still considered the classic DIO line up. It features six of the nine tracks from the album (GYPSY, CAUGHT IN THE MIDDLE and INVISIBLE are the ones missing). It's in truth a great memento from the very first tour and as it was the sixth from last date on the tour the band were as tight as could be.
As with the album, STAND UP AND SHOUT kicks things off  after a haunting intro and some crunching guitar work.
Originally recorded for a radio broadcast the quality is exceptional even after 34 years (gulp). SHAME ON THE NIGHT is simply magnificent, brutal, heavy and containing a drum sound to crack ribs.
Controversially I prefer Ronnie's SABBATH material to Ozzy's and the first of these, CHILDREN OF THE SEA
is a truly epic 6 and a half minute piece of total wonder, making the full use of THAT VOICE. Everyone else is on top form. After a brief chat with the crowd, it is time  for the title track of the album; it's one of the greatest, fist-pounding and head-banging songs he ever wrote.
HEAVEN AND HELL is one of my all time favourite songs and RONNIE is ably assisted by some very nifty guitar work from VIVIAN CAMPBELL. DON`T TALK TO STRANGERS continues the proof that there wasn't a track on the first album that was less than stunning. And there are certainly worse ways of ending a show than with something as epic as MAN ON THE SILVER MOUNTAIN proving that the man could do no wrong at all.
The bass work of JIMMY BAIN combining with the thunderous drums of VINNY APPICE is a joy listen to.
The sad news is that there will be no more studio albums sprinkled with his genius and a voice that only ever comes along very rarely.
The good news is that there are more radio broadcasts being released.A once in a lifetime legend.
Sorely missed and never bettered. THE voice of heavy metal \m/
TRACKLIST: 1 Stand Up And Shout | 2 Straight Through The Heart | 3 Shame On The Night | 4 Children Of The Sea | 5 Banter | 6 Holy Diver | 7 Drum Solo  | 8 Band Intros | 9 Rainbow In The Dark | 10 Heaven And Hell | 11 Guitar Solo | 12 Heaven And Hell | 13 Don't Talk To Strangers | 14 Man On The Silver Mountain / Starstruck 
Ronnie James Dio – Vocals
Vivian Campbell – Guitars
Jimmy Bain – Bass
Vinny Appice – Drums