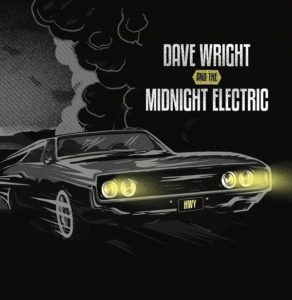 Dave Wright and the Midnight Electric's second album is one which takes the power and simplicity of traditional Aussie Pub-Rock and crafts eight songs around the thee of the Highway exploring the power of said bitumen to bring people together and tear them apart.
The horns and light breezy drift of opener 'Coming Home' evokes memories of simple times, and has a 70's styled singer songwriter lilt and grit beneath its soft rocking sheen, and the lighter 'Sweet Caroline' that follows has organ that swells and sooths before those horns kick in again and ease the song along. It's a nice light and breezy opening salvo to a focussed album that contains only eight tracks.
If you like the mythology and style of song writers like Springsteen, Mellancamp, or the lighter tone of Aussie's like Paul Kelly the this is an album that you should lend your ears. Whilst 'HWY' is essentially a light rock release it does certainly contain the Country and Folk influences that Wright is known for like the twang of 'Where the Needle Hits the Red' which is lighter than the title perhaps suggest, but bittersweet lyrically.
The rest of the album continues in a similarly laid back vein, it's more about the journey and the big open skies on the drive than the power of burning down the highway and it's an interesting journey punctuated by the powerful lyrics of the Irish-tinged Folk of 'Avenues of Honour' or the  Springsteen homage of 'happiness'.
If you love this kind of light Folk and Country infused music you'll love the remaining tracks too – 'Bigger Than the Two of Us' tells a great tale of strength and despair and probably takes the prize for the best here; 'Rain' is nice, vigorous and snappy; while closer 'HWY' paints a bigger story and builds the biggest musical statement with an epic build interwoven in it's 8-plus minutes. It's the sort of song that makes you wonder what comes next and leaves you hanging.
Nice light Aussie Rock for those days you need to recharge.