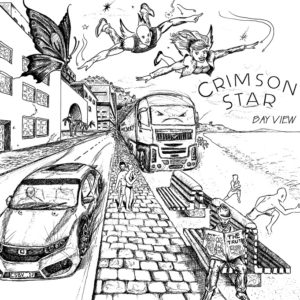 If you like a dose of riff driven heavy rock (not heavy metal, not hard rock) then Birmingham's 'Crimson Star' are definitely worth a listen. That Midlands City of course, back in the day, spawned some of the biggest names in Rock and Metal to this very day so it's cool to hear that the younger crowd are continuing to make some righteous noise too.
This is 'driven' music based on riffs that are hammered into your ears like nails, rough and raw at times, chunky, hard and insistent, yep just like it should be. Stylistically 'Crimson Star' take from everywhere to make their music and there's as much QOTSA on tracks like opener and single 'The Pragmatist' as anything but that's just the way in.
'La Prom' that follows is harder, more Metallic in essence, but also subtler and more drum driven. To me it's rather more interesting in its subtle intensities. It's a song that echoes everyone from U2 to the Foos, very modern yet still
The remaining there tracks are equally diverse: 'Once' has a certain darkness about it, but a great groove and it rises like a Metallic New Order and comes complete with a nice dab of searing guitar. 'Euthanise Me' (sic) rides a grungier, sludgier groove and tops it with a crooned lyric before a forceful hook-laden chorus. Closer 'Gimme Some' ups the tempo and takes up a Soundgarden like groove before falling away into a softer modern radio rock main course. It might be the most commercial tune here, but its still edgy enough to keep your attention.
Not having heard the band's first EP I can offer no comparisons here but suffice to say I'd love to hear what these guys do over a full-length release. I suspect, like this EP, it might be rather good.