QUEENS OF NOISE
The Rockpit salutes the Women of Rock
By Shane Rockpit, June 2010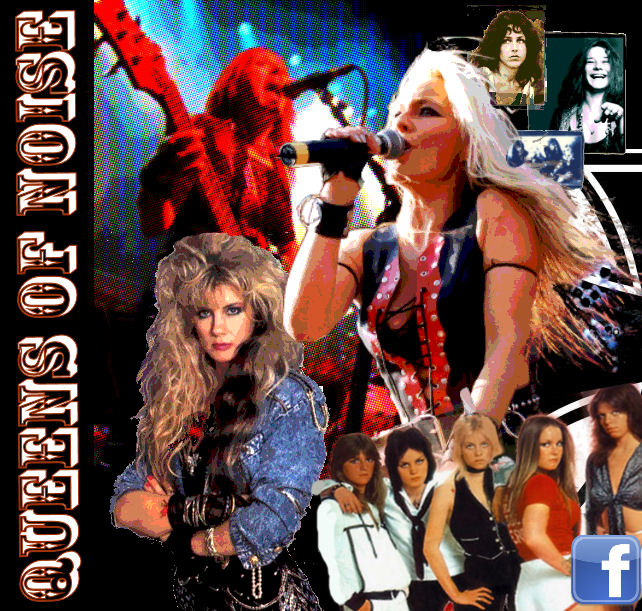 PART TWO
The Eighties
As hard rock and metal gained momentum into the eighties, a slew of women popped up fronting some really good metal bands. Canada's Lee Aaron released several albums as the self styled "Metal Queen" before selling out to pop, and currently plays at being a jazz chanteuse. German metal legend Doro Pesch released four albums with Warlock before embarking on a long and influential solo career and is still releasing great music to this day.
| | |
| --- | --- |
| | |
| Lee Aaron - Born Karen Lynn Greening on July 21, 1962, in Belleville, Ontario. She was discovered when she was 15 years old. Her debut album was released in 1982. That year she played at the Reading Festival. Late that year she appeared topless in the men`s magazine OUI. "Metal Queen", released in 1984 was her big breakthrough album and landed her a multi album deal. She toured almost non-stop til 1992. In 1997 she changed direction to jazz & blues. Her last album was Beautiful things, released in 2004. By Steve | Doro Pesch - Born in Dusseldorf in June 1964. In 1983 she leaves her band, Snakebite, to join Warlock. In 1985 they release their debut album "Burning The Witches". In 1986 Warlock appear at Castle Donington Monsters Of Rock, making Doro the first female to appear on that stage. After legal problems concerning the name Warlock in 1988, they decide to continue as Doro. In 1990 she recorded the album Doro, produced by Gene Simmons. Most recent album was Fear No Evil in January 2009. By Steve |
In Australia Cheetah released a great AC/DC-lite flavoured album in "Rock n Roll Women"; Chrissy Amphlett fronted The Divinyls; and a few years later Suze DeMarchi (now Mrs Nuno Bettencourt) released a couple of great albums with the Baby Animals.
| | |
| --- | --- |
| Cheetah | Chrissie Amphlett of The Divinyls |
| Suze DeMarchi and The Baby Animals | Kate Bush |
Pop rock was not to be left out – dancer Kate Bush staged her initial assault on the charts with 'Wuthering Heights'; The Go-Go's had considerable success whilst developing substantial cocaine habits; Transvision Vamp featured blonde pop art scholar Wendy James; Sam Brown, daughter of 60's pop rocker Pete Brown, had a huge hit with "Stop" then refused to give her record company a follow up, preferring to release artistically acclaimed but commercially ignored albums, and perform backing vocals for such luminaries as Pink Floyd, George Harrison and Jools Holland; and American new waver Terri Nunn fronted Berlin – the late seventies and eighties were famously when the lessons that The Runaways had suffered for had finally worked their way into the mainstream. All of these artists wrote their own material and - in the case of The Go-Gos - played their own instruments.
| | |
| --- | --- |
| The Go-Go's - Belinda Carlisle 2nd from left | Wendy James of Transvision Vamp |
| Terri Nunn, Berlin | Sam Brown |
By the late eighties hair metal was in the ascendance and while most of the guys did their best to LOOK like girls, there was unprecedented possibilities for the ladies - Madam X featured both Maxine Petrucci on vocals and guitar, and sister Roxy on drums. Roxy would go on to far greater success with Vixen, and Madam X's ex-lead singer Sebastian Bach would also hit the heights with Skid Row.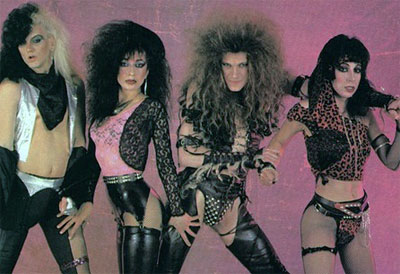 Madam X - Maxine Petrucci 2nd from left, Roxy on the right
All girl bands such as Vixen & Leather Angel had varying degrees of success. Vixen had several albums and huge success with soft rock ballads such as 'Cryin', whereas Leather Angel released one EP, "We Came To Kill", of leaden metal that failed to make a lot of waves.
Vixen, Janet Gardner bottom left

Leather Angel

"Straight out I think of Vixen and The Bangles! If I ever would want to see 2 bands wrestle in jelly in 1988 it would be these two! There is nothing sexier than an all girl glam band!

"These girls have hit it with Rock n' Roll giants! Bon Jovi, Deep Purple, KISS, Ozzy, The Scorpions... Their resume speaks for itself! Fuckin' rad!

"Personally, Janet Gardner is a total fuckin' babe! I'm sure anyone else in a band respects her as a hard working female rocker, with a great voice, and also as a sexual icon to glam rockers over the world!

"Janet Gardner - Fuckin' babe!" - Stace Branford, drums, Generation Swine
There was still a plethora of ladies out front of male rock bands as well – Sandi Saraya fronted Saraya; Ann Boleyn still sings with Hellion; former Toto Coelo popster Anita Chelemah joined Hanoi Rocks men Andy McCoy and Nasty Suicide for one album as the Cherry Bombz; Lorraine Lewis was out front of Femme Fatale; and Dale Bozzio donned heavy makeup and provocative costumes with her husband Terry in Missing Persons after they met while both working for Frank Zappa.
Saraya - Sandi Saraya, centre

Ann Boleyn out front of Hellion

The Cherry Bombz -

Anita Cheltemah far left

Femme Fatale with Lorraine Lewis centre

Missing Persons featuring Dale Bozzio

Patti Smyth from Scandal

Fiona. Ms Flanagan to her school teachers.

Headpins with Darby Mills far right
America's Patti Smyth took Scandal to huge success with their hit 'The Warrior'; Fiona Flanagan dropped her last name and released several soft rock albums, including players from Winger and a duet with Kip Winger himself, as well as appearing in the movie "Hearts of Fire" with Bob Dylan; while Canadian hard rockers Headpins - a spinoff of Chilliwack - boasted lead singer Darby Mills.
The Nineties
Nirvana ushered in the nineties grunge generation just in time - hair couldn't have gotten any bigger on the guys and girls of the glam movement, but this also meant a relatively fallow period for the women in rock. L7 was one of the first post-grunge all-girl groups to enjoy some mid range success, but apart from a few notable songs ('Shit List', 'Pretend We're Dead') quickly became known more for their outrageous behaviour than for their music, raffling off their drummer for sex at one gig, extracting and hurling a tampon at another, and so on.
| | |
| --- | --- |
| L7 | Kim Gordon, far left, with Sonic Youth |
| Whale with Cia Berg | The lovely ladies of The Bangles - Debbie Peterson, Susannah Hoffs, Vicki Peterson, Michael Steele |
Kim Gordon played bass with noisenicks Sonic youth for many years before embracing her inner sexy rock vocalist chick on 'Kool Thing'; Swedish TV presenter (and not porn star as was rumoured at the time) Cia Berg made art rock noise with the eccentric Whale and had a minor hit with 'Hobo humping Slobo Babe'; The Bangles assaulted the pop charts in a big way; Concrete Blonde crossed over from indie to the mainstream charts thanks largely due to Johnette Napolitano's incredible vocals and songwriting quirkiness; Sheryl Crow, Alannis Morissette & Tori Amos kept rock chicks in the charts during the 90s, but elsewhere it was all pre-fabricated Spice Girls pop, art weirdness like Bjork, bling obsessed hip hop and a wasteland of bland hiding the fem-rocking gold.
| | |
| --- | --- |
| Johnette Napolitano of Concrete Blonde | "It has to be Johnette Napolitano from Concrete Blonde. She is a true artiste forever evolving and she is totally unique. Her voice can be like velvet one minute and then sounding like the Gates of Hell have opened and unleashed all the demons at once..." [laughs] – Chris Tsangarides, legendary Grammy nominated record producer |
Sheryl Crow - Born Sheryl Suzanne Crow on February 11 1962. She toured with Michael Jackson as a backing singer from 1987-1989. Her first album "Tuesday Night Music Club" sold over 7 million copies in the US alone. In 1997 she sang the theme song to the James Bond movie "Tomorrow Never Dies". Released a live album featuring guest appearances from Eric Clapton, Stevie Nicks, Keith Richards & Sarah McLachlan. Most recent album was "Detours" in 2008 - By Steve

The Riot grrl movement briefly reared it's head in the early to mid 90s, with bands such as Sleater Kinney and Bikini Kill, and in their and Nirvana's wake came the delightful Courtney Love and Hole, who epitomised the cult of the walking cadaverous rock drug casualty, and continues to play out her own personal train wreck of a life in slow motion on the front page of tabloids around the world.
| | |
| --- | --- |
| Bikini Kill | Courtney Love of Hole |
By the end of the 90s discerning rock fans wanted a bit more metal and a bit more glamour back in their music, so whilst indie pop rocking chicks such as Liz Phair; Skunk Anansie's Skin (aka Deborah Dyer); Rebecca Barnard of Rebecca's Empire; Def FX's techno metal hybrid led by Fiona Horne, later to become an author and spokesperson for Wicca (White Witchery);and Nick Cave protégé P J Harvey all enjoyed reasonable indie success and in some cases mild crossover hits, the face of the music industry was changing again, and the 2000's brought genre division like never before.
| | |
| --- | --- |
| Liz Phair | Skunk Anansie's Skin |
| Rebecca Barnard | P J Harvey |
| Fiona Horne, DEF FX Lead singer | The White Stripes - Meg White on the right |
The Noughties
| | |
| --- | --- |
| "Also Pink - for her showmanship! You're not just going to watch someone stand there and sing, you're watching them entertain you. You watch a dvd of her live show or see a concert and you just stand there going "How the hell did she DO that?!?!" " - Gab O'Brien, singer, Gasoline Inc | Pink |
Pink, Avril Lavigne, and their ilk catered for teenage wannabe rockers by affecting a hard rock look, but all the while their music was too processed and manufactured to be actually threatening or offensive to parents - or overly attractive to the older generations of die cast rockers. Meg White of The White Stripes, Karen O of the YeahYeahYeahs, Alison Mossheart of The Kills (and more recently The Dead Weather), and the Hayley Williams led Paramore were the vanguard of a cavalcade of indie hard rock chicks to achieve various degrees of success, and many women leapt into softer soul, reggae and funk influenced rock bands such as Sharon Jones & The Dap Kings and Lisa Kekaula of The Bellrays (who also supplied guest vocals on 'Good Luck', a big hit for dance gurus Basement Jaxx).
| | |
| --- | --- |
| "Lisa Kekuala is my favorite woman in Rock, not because she's a woman - because she's the singer in my favorite band at this very second; I love what they do and the way that they do it. Post Punk Cosmic American Music; AMEN! So I love them and I love her... I also love The Donnas coz they KICK ASS! " - Nick Sheppard, guitar, The Domnicks, ex-The Clash | Lisa Kekuala of The Bellrays |
| | |
| --- | --- |
| The Donnas | Paramore with Hayley Williams |
| The Sahara Hotnights | The Sure Fire Midnights |
Hard rock was where the real fun lay in the noughties, and a new wave of all girl bands emerged to carry on the spirit and attitude of The Runaways. Californians The Donnas burst out in leather pants and crossed their Runaways influences with those of The Ramones, inspiring a new generation of rock chicks as their sound became more rock and polished. Sweden's The Sahara Hotnights were hot on their tails, with a similar musical progression; and Australia's The Sure Fire Midnights pepper their Runaways riffs with a Rolling Stones swagger.
Iron Maiden's bassist Steve Harris' daughter Lauren toured the world supporting her Dad's band, and Aussie Brody Dalle defied pigeon holing with her indie/hard rock/punk band The Distillers, and new outfit Spinerette (moving to The States and marrying first Tim Armstrong of American Clash-fetishist punks Rancid, then Kyuss/QOTSA/Them Crooked Vultures main man Josh Homme along the way), and Adalita Srnsen inspired many as the guitar slinging singer/songwriter out front of Magic Dirt.
Lauren Harris

Nashville Pussy

Karen Cuda 2nd from left, Ruyter Suys far right

Brody Dalle, Spinerette

Magic Dirt's Adalita

Bif Naked

Rochelle Swift
Canada's favourite confrontational tattooed rock poetess Bif Naked released her latest album in 2009; as did the semi-legendary Nashville Pussy, which features guitar goddess Ruyter Suys and bassist Karen Cuda; Pennsylvanian sister & brother Lizzy & Arejay Hale released their debut album as Halestorm a couple of years ago; and Rochelle Swift is fast shaping up as one to watch as we roar into the 2010's with her debut album "Rebel Queen" hotly anticipated.
| | |
| --- | --- |
| "Lizzy from Halestorm is not only of the hottest women in rock but she can sing circles around just about anyone and also is one of the most down to earth, genuinely nice people in the biz. Ive met her both as just a fan at one of her shows and played a show with her and she's been great to talk with in both instances" – Andy Haught, singer, Zeroking | |
Gothic and symphonic metal became a flourishing industry, especially in Eastern Europe, with fantastic singers like Tarja Turunen and Annette Olzon (Nightwish), Simone Simons of Epica and Sharon den Adel of Within Temptation all turning in epic performances to huge crowds. Italy's Lacuna Coil are veritable veterans of gothic metal, issuing their debut in 1999, and vocalist Cristina Scabbia is one of the legends of the genre.
Tarja Turunen

Cristina Scabbia, Lacuna Coil

Simone Simons of Epica

Sharon den Adel, Within Temptation

Annette Olzen and Nightwish
Heavy Metal had ample interest from the ladies as well – Crucified Barbara & Hysterica are two great Swedish all-girl bands ploughing the heavier end of metal, and L.A. band Cockpit earned strong reviews for their debut EP "Mission To Rock". England's SPiT LiKE THiS, featururing brazen bassist Vikki Spit, are about to record their second full-length album with legendary producer Chris Tsangarides; Heaviest of the high-profile all girl groups would likely be Americans Kittie, whose latest "In The Black" is out now; and let's not overlook the "melodic death metal" of Angela Gossow-fronted Arch Enemy.
| | |
| --- | --- |
| Crucified Barbara | Hysterica |
| L.A.'s Cockpit | Arch Enemy with Angela Gossow |
| Vikki Spit | "Vikki Spit, scantily clad, heavily tattooed and LOUD AS FUCK!!" - Lord Zion, singer, SPiT LiKE ThiS |
Perhaps more curious is the wave of all-female tribute acts treading the boards around the world. Bands such as Judas Priestess, Lez Zeppelin, The Iron Maidens, AC/DShe, The Whole Lotta Rosies, The Ramonas, Kisses and as well as many others prove there is a plethora of women rocking hard – and with a sense of humour too!
Judas Priestess,

Gyda Gash far left

Lez Zeppelin

The Iron Maidens

The Ramonas
Meanwhile Abbe May and Pearl Aday spearhead a return to rootsier hard rock. May – yet another Aussie - continues to make hard and raw blues rock sexy after her stint fronting stoner rockers the Fuzz, both through her solo work and that with her various outfits The Rockin' Pneumonia and The Devil and Abbe May. Pearl fronts her own band and draws on classic 70's rock influences, as well as those picked up as backing singer for her father Meatloaf, and also features husband Scott Ian of Anthrax fame in her band.
| | |
| --- | --- |
| Abbe May | Pearl Aday |
Both are inspiring yet another generation of women entirely on their own terms, and - as with all the musiciams featured in this article - doing it just as well or better than any guy could.
Into the Now
For those in love with the sound of the female voice out front of a rock band, or the sight of a woman deftly wielding a loud guitar, there is a wealth of artists in this article to acquaint yourself with. Rest assured this is FAR from comprehensive – in fact I've only touched the tip of the iceberg – there are MANY more very worthy female rockers worthy of mentioning, but to list them all would be to go on forever! (CLICK HERE for Steve's list of 50 essential albums featuring plenty more rocking ladies)
Rock crowds have never been more open to female fronted rock bands, and women guitarists, drummers and keyboardists are also becoming more and more prevalent.. Hopefully the days when The Runaways would be pelted with missiles from a headlining band laughing at them from the wings have long gone.
Time and time again when researching this article I was told that the most influential female rockers of all time were The Runaways as a band, or one of the individual members. With the release of their major biopic movie this year, reissues of their music and Cherie Curry's book "Neon Angels" (upon which the film is based), The Runaways may finally be getting the credit they deserve – not only as trailblazers who showed a clear path for a million girls to pick up guitars, microphones and drumsticks and pursue their rock dreams, but also as influential musicians and songwriters in their own right.
Sure, female rockers are sexy as hell and are postered on thousands of adolescent bedroom walls. Certainly, they're powerful – and usually positive – role models to tens of thousands of teens. But most importantly of all, they are at least the equal of men, and even in this male dominated industry can write and sing and play just as well as the fellas.
As Linda Lou of Los Angeles band Cockpit told us "we don't love them because they're female. We love them because they're awesome, just like all of our favourite bands."
Long may they continue to rock our world!