Navigation
Login
Users Online
· Guests Online: 1
· Members Online: 0
· Total Members: 23,321
· Newest Member:
Verecadia
QUEENS OF NOISE
The Rockpit salutes the Women of Rock
By Shane Rockpit, June 2010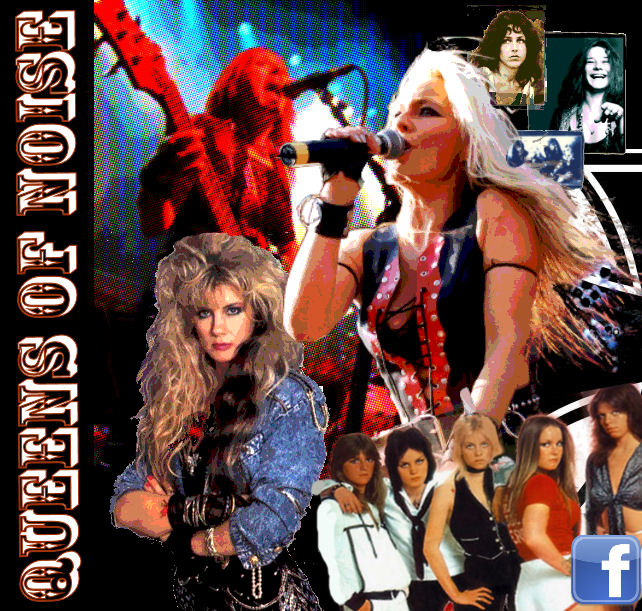 PART ONE
To generation after generation of teenage boys who worship only two things - rock n' roll and girls - was there ever anything more alluring than a female rocker?
Millions of teenage girls have also worshipped the women of rock – the girls wanted to BE them, while the guys wanted to be WITH them! This of course applies to teenagers of all ages – just because we grow up doesn't mean we have to give up all our teenage fantasies and loves.
The allure of a girl playing hard rock n' roll isn't just based on sexual attraction though – oh no! Women have created some of the very best rock over recent decades and continue to do so.
In the course of turning the male-dominated, machismo laden world of rock posturing and lyrics around, the women of rock have feminised genres of raw music from blues to extreme metal, proving along the way that the girls can very easily stand alongside the boys, rocking just as hard and fast and being just as successful.
Where it all started
Early African American Blues history is rife with tales of ballsy, sexy, women who could belt out a catchy tune and get people dancing, drinking and fighting, yet when rock n' roll burst on the scene in the late fifties Western society wasn't as approving of empowered and dominant – let alone overtly sexual – women, as it is today.
| | |
| --- | --- |
| For every Robert Johnson, Leadbelly, Howlin' Wolf and Muddy Waters, there was a Lucille Bogan, Ma Rainey, Big Mama Thornton and Bessie Smith. These women all had one major thing in common: fantastic voices full of power and emotion, and though some of them did play guitar or piano, they were mostly singers with male backing bands. | Big Mama Thornton |
| Lucille Bogan | Bogan specialised in smutty tales of sexual matters, Rainey and Smith were stars of their day, and Thornton's 'Hound Dog' (recorded well before Elvis's version) still kicks arse to this day. |
The Sixties
The fifties had seen the blues evolve into jazz, soaking up elements of gospel and country and soul and early rhythm n' blues (which, lest we forget, has absolutely nothing to do with modern "R n' B"). Jazz/soul torch singers like Billie Holliday and Nina Simone became huge drawcards for their songs, often directly addressing racial inequality and civil rights issues.
| | |
| --- | --- |
| | "Nina Simone would be the female singer I listen to most - really soulful, and in a time where civil rights were so turbulent, she took a stand, did a lot of work with Martin Luther King at rallys and so on. Being coloured and a woman, to do that in those days was really just so brave of her" - Gabriel O'Brien, singer, Gasoline Inc |
When the sixties came along, Motown, Stax & similar independent record labels gave rise to the famous "girl groups" such as Martha & The Vandellas, The Supremes, The Ronettes and many more, and in these early days of rock and roll women were usually stuck to singing pop and soul music, and only a few were to later to evolve into rockers such as Tina Turner, after her initial success as backing singer, then wife and singer and eventually main attraction, with Ike Turner..
| | |
| --- | --- |
| | Tina started singing backing vocals for Ike Turner, was quickly moved to centre stage and married Ike, and left him in a hail of domestic violence, only to become a bigger star than ever in her own right. |
| | |
| --- | --- |
| Marianne Faithful | Grace Slick with Jefferson Starship |
It would take the rise of the hippy generation in the late sixties – and the first waves of harder edged rock n' roll - before we had our first real all-drinking, all-drugging, songwriting, and rock n' rolling female rock stars like Janis Joplin, Grace Slick of acid rockers and Woodstock favourites The Jefferson Starship & doe eyed Rolling Stones protege Marianne Faithful. All three became casualties of the drug culture, none more tragically than Janis.
Janis Joplin - Born Janis Lyn Joplin in Texas on January the 19th 1943. She left Texas for San Francisco in 1963 and began recording. In 1966 she joined Big Brother and the Holding Company and they released their first album in 1967. Their second album "Cheap Thrills" contained the hit single 'Piece Of My Heart'. Her final performance with the band was on December 1st 1968. She then formed The Kozmic Blues Band and appeared at Woodstock in 1969 and they broke up at the end that year. Her drug use got heavier and she formed another band, The Full Tilt Boogie Band. She was found dead on October 3rd 1970 from a heroin overdose. The album Pearl was posthumously released in 1971 and was her biggest selling album.
By Steve

"Sad but true, many women rockers owe their success to the men behind them who 'created' them. My inspiration is Janis Joplin because she was from the school of hard knocks, a misfit who rose up to become the greatest female rock singer of all time. With her freak flag flying high, she created her own legendary style and remains an iconic figure to this day"
- Gyda Gash, bass, Judas Priestess

"I cant get away with not saying Janis Joplin, right? I think she's so incredible.. I find them [comparisons between herself and Janis] flattering but I don't agree 'cos I think she's one of a kind forever and always and nobody's like her before and nobody is gonna be like her ever again. I'm flattered 'cos I think that she is such an amazing talent but I don't agree – I don't sound like Janis" – Pearl Aday, solo artist

"Bai Bang's favourite female rocker has to be Janis Joplin - I love her music and her voice were fantastic, too bad she left the room so early!" - Joacim Sandin, bass, Bai Bang
On the art-rock front, Nico was performing with The Velvet Underground and having liasons with Jim Morrison and many others before succumbing to her passion for heroin; and Frank Zappa assembled The GTO's – Girls Together Outrageously – out of groupies & hangers on like the legendary "super groupie" Pamela Des Barres rather than use professional musicians, and as such it was doomed to implode rapidly, recording only one album under Frank's tutelage.
| | |
| --- | --- |
| Nico with The Velvet Underground | The GTO's, Miss Pamela 2nd from left |
The Seventies
As the peace and love ideals of the sixties fizzled away and the seventies came upon us, American long haired hard rock swept across the world, featuring catchy melodic songs and hard n' heavy riffs.
Pint sized Detroit leather-clad bass player and singer Suzi Quatro burst into the charts with 'Devil gate Drive', 'Can The Can' and many more, going bravely where no woman had gone before and becoming the Godmother of female rockers, not to mention giving life to Pinky Tuscadero (essentially a female version of The Fonz) in the TV show "Happy Days". Along with the Runaways, Suzi proved that female rockers weren't restricted to vocal and eye-candy duties, and that being sexy didn't automatically mean you were devoid of talent.
| | |
| --- | --- |
| Legendary L.A. scenester & all-round creepy dude Kim Fowley took the concept of the 60's girl group and cannily put together his own 70's hard rock version – The Runaways. | |
| Joan Jett, Sandy West, Cherie Currie, Vicky Blue, Lita Ford | Featuring 5 attractive teenage girls who could actually play their instruments, The Runaways had huge success with songs such as 'Cherry Bomb' and 'Queens Of Noise', rapidly outgrowing Fowley's mentorship, then almost as quickly disintegrating in a mess of in-fighting, bed-hopping and name calling. Singer Cherie Curry had some further success both singing and acting, while Lita Ford and Joan Jett built enormous solo careers throughout the 80s and are still touring and recording now. |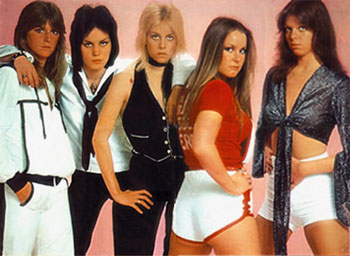 The Runaways - Jailbait band created by Kim Fowley but unlike most other "created" bands, they actually played their own instruments and wrote their own songs. Underwent numerous personnel changes and spawned the solo careers of Joan Jett and Lita Ford. Reunions have been planned but never came to fruition. A documentary by former bassist Vicky Tischler-Blue called "Edgeplay - A Film About The Runaways" was released in 2006, and the new Runaways biopic was released in 2010.
By Steve
"Cherie Currie - because she is the cherry bomb of rock n' roll, Joan Jett with her hard as fuck rhythm guitar, Janis Joplin with her amazing voice and Suzi Quatro the queen of rock n' roll. All these women inspire me every day" - Abby Soanes, bass, The Sure Fire Midnights

Lita Ford - Born Lita Rossanna Ford on 19th September 1958. Joined The Runaways in 1975 at the age of 17 and left in 1979. Her first solo album was "Out For Blood", released in 1983. In 1988, she released "Lita". Her most commercially successful album, which included 'Close My Eyes Forever', a duet with Ozzy Osbourne. She was previously married to Chris Holmes of W.A.S.P. and also dated Nikki Sixx and was engaged to Tony Iommi, and has been married for years too Jim Gillette, ex-singer for big hair band Nitro. Her latest album "Wicked Wonderland" is her first album since "Black" in 1995. By Steve




Joan Jett - Born Joan Marie Larkin September 22, 1958. After The Runaways split in 1979, she went on to form a solo career. Because of the problems caused by The Runaways, few labels would touch her. Forming her own band, The Blackhearts, her hits were mainly covers; 'I Love Rock N Roll' (The Arrows), 'Crimson And Clover' (Tommy James) and 'Do You Wanna Touch' (Gary Glitter). She also co-wrote 'House Of Fire' from Alice Cooper`s album Trash. Last album was Sinner in 2006. By Steve

"Joan Jett - She has the whole fuck off attitude going on and plays some killer guitar. Lita Ford from The Runaways because she was the first female guitarist to ever play lead guitar the way she did...it was just insane. Also Allison Robertson from The Donnas and Adalita from Magic Dirt... both huge influences for me growing up playing guitar" - Sharni Pearson-Misich, guitar, The Sure Fire Midnights

"Lita Ford – a no holds barred player and writer, she always writes the way she wants to and not the way a record company or PR would want her to. I love a true 'against the grain' kinda girl, and Lita truly is Rock n' Roll, bitter and sweet. Love the girl!" - P J Palmer, guitar, Soulheavy

"Joan Jett, Coz she looks right with a guitar! Plus, I really fancied her until years back when we supported her at the old Marquee, I found she swung every way. I spent the whole night running away from her!" - Lee Pistolero, vocals, The Gypsy Pistoleros

"Lita Ford - she is a pioneer when it comes to women playing lead guitar. She was amazing even at 16" – Clair Sargeant, vocals, The Sure Fire Midnights

"Joan Jett – She's got the rock n' roll attitude which you've got to have to make it in this business. Attitude is everything: nice girls can't play rock n' roll!" – Laura McCormack, guitar, The Sure Fire Midnights

"Lita Ford and The Runaways, man - OF COURSE! Way ahead of their time as a girl band!" - Iggy Pistolero, guitar, The Gypsy Pistoleros

"Joan Jett, Pat Benatar, Tina Turner , Lita Ford, Doro Pesch" - Ross The Boss, guitar, Solo artist & ex-Manowar

"Joan Jett because she is hard as fuck and can play like a demon. Also Deborah Harry & Tina Turner as they are amazing" – Kylie Soanes, drums, The Sure Fire Midnights

"My favourite female rocker is without doubt Joan Jett. She's insanely hot, she plays the guitar like any other punk, and if she doesn't write the best rock n roll anthems herself, she at least takes coversongs and make them into anthems!" - Billy McBarbie, singer, Slomber & Sugar Louise




"Joan Jett could stand toe to toe with any man as far as I was concerned. Debbie Harry, too. My Wife is a musician and I've always been attracted to girls who rock!" - Todd Kerns, guitar/singer, Sin City Sinners & Slash's band

"Joan Jett is cool! Well today Shwnia Twain still gets me off...its all about Timmins [Shania's home town]" - Robb Reiner, drums, Anvil

Most of all The Runaways, will always be remembered for opening up the doors to a thousand stages for other female rockers to enter the previously male dominated rock world of guitars and groupies, drugs and excess, and proved more than anyone who came before that an all girl band could be the equal of a male group in every way, both onstage and off.
Fleetwood Mac had morphed from a 60's British blues band with a penchant for LSD into a West Coast USA soft rock band when they added Christine McVie and Stevie Nicks to the lineup, and went on to become a supernova success story, writing global smash hits detailing the intricacies of their confused and dysfunctional intra-band affairs. Nicks also enjoyed considerable solo success with hits like 'Rhiannon' during the band's down-time, whilst indulging in a penchant for gypsy fashion and is rumoured to have taken her cocaine in somewhat non-traditional ways to protect her vocal chords.
Fleetwood Mac - Stevie Nicks, Lindsay Buckiingham, Mick Fleetwood, Christine McVie & McVie

Stevie Nicks


Stevie Nicks - Born Stephanie Lynn Nicks in Phoenix, Arizona on May 26th 1948. First band was called Fritz and featured Lindsay Buckingham. They split in 1972 and together they released "Buckingham Nicks" in 1973. They both joined Fleetwood Mac on December 31st 1974. In 1981 she released her first solo album called "Bella Donna". Has continued to split her time between solo work and Fleetwood Mac. By Steve

"We have tons of respect for all of the ladies who managed to distinguish themselves in the genre like Joan Jett, Lita Ford, Girlschool - and I personally love Stevie Nicks. But we don't love them because they're female. We love them because they're awesome, just like all of our favourite bands" – Linda Lou, guitar/vocals, Cockpit
Deborah Harry of Blondie

Along with her bandmates Debbie Harry made the late seventies and early eighties punk exciting for kids like me.
She remains a strong role model for women in rock, punk and pop all over the world. As the focal point of Blondie Debbie dripped sex appeal and also had a voice and an attitude to die for. Imitated by many, bettered by none, and still belting out the songs today, Blondie's output has stood the test of time and sold millions, the look will probably endure just as long. Just forget "Parallel Lines" okay, and check out "Plastic Letters" or "Eat to the Beat"! - Mark Rockpit
Debbie Harry and Pat Benatar also rocked out front of all-male bands. Harry was a former Playboy bunny who fronted Blondie through their seventies and early eighties heyday, as well as for their more recent reunions, whilst also enjoying a more pop oriented solo career. New Yorker Benatar had many hits under her own name with husband Neil Giraldo on guitar, including the massive 'Hit Me With Your Best Shot', and popularised the "leotard and sweatband" look in the 80's.
| | |
| --- | --- |
| | Pat Benatar - Born Patricia Mae Andrzejewski on January 10, 1953. Started out as a bank teller,then quit to become a singing waitress. Was discovered at an amateur night in 1975. First album, In The Heat Of The Night released in August 1979. She then won 4 consecutive Grammy Awards from 1980-1983 for best female rock performance. Her video "You Better Run" was the second ever video played on MTV. Last album was Go in 2003. By Steve |
Seattle band Heart featured not only a beautiful female lead vocalist in Ann Wilson, but her equally gorgeous sister Nancy on lead guitar, and had a string of seventies hits including 'Barracuda' and 'Crazy On You', before staging a massive comeback in the mid eighties, giving the glam rocking guys a run for their money with both a big glossy rock sound and big big hair.
Heart - formed from the ashes of a band called White Heart in 1969. The name was shortened to Heart and Ann Wilson joined in late 1970. Nancy Wilson joined in 1974 and debut album "Dreamboat Annie" was released in 1975. It eventually sold over 1 million copies. The album "Little Queen", which featured the hit 'Barracuda', was their second million seller. Early albums were very Zeppelin sounding. Following personnel changes in 1982 Heart became a more commercially successful band. The hits soon followed with the album "Heart" selling 5 million copies, including the number 1 single 'These Dreams'. After a 1990 tour, Ann & Nancy created an acoustic side project called The Lovemongers. They released an EP in 1992 and have since gone on to release a couple of albums. In 1995 Nancy took a break and Ann toured as a solo act. She then toured as Ann Wilson & Heart, and both sisters have released solo albums. Nancy returned to Heart in 2002, and the band have now returned to their Zeppelin sounding roots. A new album is due this month. By Steve

Nancy and Ann Wilson of Heart

"The Wilson sisters from Heart would have to top my list. They helped to pioneer the lady rocker thing, and their talent is undeniable. Jennifer Batten is right up there with her technique and natural musicality, and I'm really impressed with our own Aussie rocker Orianthi, who has really carved a place for herself. I would also have to include Donna Greene – she's definitely of an international standard, and she rocks big time" – Graham Greene, guitarist

"Ann and Nancy Wilson - how can you go past these two kickass singer/songwriters ... inspiring stuff, especially to me and my fellow generation muso girls. Also Lita Ford, Cris Bonacci (Girlschool) and Jan Kuehnemund (Vixen) - all my fave female guitarists" – Sandy Sea, guitarist

"Ann Wilson is UNTOUCHABLE … also Tina Turner, Bonnie Raitt, Chrissie Hynde, Stevie Nicks, Joan Jett, Pat Benatar" – Pearl Aday, solo artist

When punk crawled it's scurvy ridden arse out of the gutter and across the world, there were a few notable examples of rocking chicks getting into the new movement. In The States Patti Smith and Wendy O Williams of the Plasmatics proved that chicks could rock on their own – very different – terms. Smith has always been considered punk's female poet laureate, whereas Williams played up the kinky sexual angle and, along with long term partner and svengali Rod Swenson, dreamed up ever more bizarre stunts to act as art installations and social protests on the rock stage, including chainsawing and bombing cars. Wendy also famously received a vicious beating from Milwaukee police, and defended herself against frequent obscenity charges.
Patti Smith - Born Patricia Lee Smith in Chicago on December 30th in 1946. In 1969 she went to Paris with her sister and started busking. She was also considered for the role of lead of lead vocalist in Blue Oyster Cult. By 1974 she had her own band and in 1975 she released her first album "Horses". In 1978 she released her most successful album, "Easter", containing 'Because The Night' co-written with Bruce Springsteen. She was inducted into the Rock n' Roll Hall Of Fame in 2007. Last album was "Twelve" released in 2007. By Steve




Wendy O Williams - Born Wendy Orlean Williams in New York on the 28th of May 1949. She dropped out of school at the age of 16 and hitched to Colorado where she earned money crocheting bikinis before heading to Europe in 1972 working as a showgirl & stripper. signing a contract with the biggest sex show promoter at the time, she often performed up to ten times a day and apparently appeared in some adult movies. The promoter then had the idea of creating a shock rock outfit, so The Plasmatics were born. Stage antics included blowing up cars and chainsawing televisions. In 1982 she released an ill advised cover version of Tammy Wynette`s Stand By Your Man with Lemmy, which eventually led to the break up of the original Motorhead. The Plasmatics broke up in 1983 and she went on to a solo career. Her 1984 album "W.O.W." featured Gene Simmons, Paul Stanley, Ace Frehley and Eric Carr of KISS. She died of a self inflicted gunshot wound to the head in 1998. By Steve

"Wendy O Williams was, to me, the perfect mixture of punk and metal. Sexy and scary, full of attitude and confidence and danger, her music solo as well as with The Plasmatics could be interesting social commentary, tittilating nonsense, or chest beating rock n' fuckin' roll, and was never better than on her first solo album, the Gene Simmons produced "W.O.W.".

"In complete contrast, I also fell head over heels in love with Sam Brown and was briefly convinced she was the girl I was going to marry!" - Shane Rockpit
Over in England Siouxsie Sioux transformed herself from a Sex Pistols hanger-on (she stands behind the couch during the Sex Pistols infamous "you f*cking rotter" interview with Bill Grundy) into fronting her own innovative and influential band The Banshees; Annabella Lwin was plucked from singing to the radio in a dry cleaners at aged 13 to fronting Bow Wow Wow (and appearing topless on the cover of their first album) by Malcolm McLaren; German Ari Up formed The Slits; Poly Styrene & Lora Logic released classic album "Germ Free Adolescents" with X-Ray Spex; American bonafide punk Chrissie Hynde formed the softer rocking The Pretenders; and The Cramps offered up a rarity in female rockers of the time – Poison Ivy was a punk-psychobilly guitarist who wasn't the lead singer.
| | |
| --- | --- |
| Siouxie Sioux | Annabella Lwin, Bow Wow Wow |
| The Slits, Ari Up 2nd from right | The Cramps with Poison Ivy 2nd from right |
Chrissie Hynde, The Pretenders

"Not including my wife.. Chrissie Hynde, fantastic voice, amazing songwriter, and she rocks harder than most guys" -

Ricky Warwick, solo artist & singer, Thin Lizzy, ex-The Almighty
Punk's heyday was to be short and The New Wave Of British Heavy Metal, spearheaded by Iron Maiden, Def Leppard & Motorhead, was the next big thing, giving rise to a couple of great all-girl bands in Girlschool and Rock Goddess.
Girlschool - In 1975 Enid Williams and Kim McAuliffe formed an all-girl covers band called Painted Lady. After numerous line-up changes (including Kathy Valentine, later of the Go-Gos) Kelly Johnson and Denise Dufort joined and in 1978 they changes their name to Girlschool. They released their first single in December `78 and toured with Motorhead on the Overkill tour of 1979. In 1981 they again teamed up with Motorhead for the HeadGirl single 'Please Don't Touch'. More line up changes continued over the years, with Enid Williams leaving in 1982 and Kelly Johnson in 1984. Kelly returned from 1993 to 2000, and Enid from 2000, and in 2001 they released a 21st anniversary album. Johnson passed away iin 2007 after a long fight against spinal cancer. Latest album was Legacy in 2008, which featured Lemmy, Ronnie James Dio and Tony Iommi as special guests. By Steve




Rock Goddess

Girlschool