TRENT REZNOR/ATTICUS ROSS
THE GIRL WITH THE DRAGON TATTOO
Mute, 2011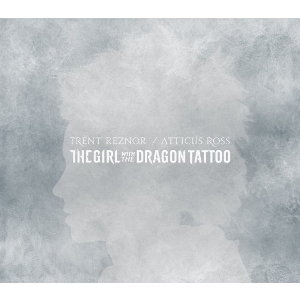 By Shane Pinnegar

Nine Inch Nails mainman Reznor and producer/programmer and long-time collaborator Atticus Ross have followed their Academy Award winning soundtrack for THE SOCIAL NETWORK with no less than three full discs of music from the US version of THE GIRL WITH THE DRAGON TATTOO.
Karen O of The Yeah Yeah Yeahs features on lead track 'Immigrant Song', a fairly faithful though more electronic cover of the Led Zeppelin classic. What follows is atmospheric mood music which reflects the icy Scandinavian setting for the movie.
Without the accompanying visuals many soundtracks lose their punch, but trainspotters will spot stabs of sound and chords and notes referencing NIN's past work, and the soundscapes painted are actually quite beguiling.
Not exactly ambient, but certainly not very rock, this is some challenging music that often eschews traditional song structures, but is never less than very, very interesting and evocative. As if to reward the listener for wading through three full discs of instrumentals, the album closes with another cover – Bryan Ferry's 'Is Your Love Strong Enough', performed hauntingly by How To Destroy Angels.
If you're interested in more experimental music, there is much to love here, and there's a good chance that Reznor and Ross will score another Academy Award for their efforts.