REVERSE GRIP
Nasty Reputation EP
Es Rever Records, 2011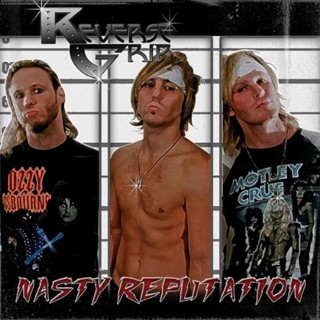 By Shane Pinnegar


Hailing from Toronto, Canada, Reverse Grip sees the three Broda brothers – Dru, Sean & Dylan on vocals, guitar and drums respectively – plus bassist Eskander Mirza, making an impressive racket on this, their debut release.
Old fashioned hard rock topped off with impressive gang vocals, 'Nasty Reputation' and 'Raise Your Fist' don't waste time trying to reinvent the wheel, instead wisely playing to their strengths, which means simple but good songs, and the simpatico connection obviously shared by the brothers and Mirza.
'Singapore Sling' sees Reverse Grip getting a bit sleazier to great effect, it's stop-start riff growing on this reviewer with every listen. Closing out the EP is Motley/AC/DC hybrid 'Take Me To The Limit' and once the dust settles it's obvious these guys have enough up their sleeves to want to keep an eye out for in future. Let's hope a full length album will drop later this year, but first the boys will be heading on tour to Japan – check www.reversegriprocks.com for details and dates.