MELODY BLACK
Love Your Demons
Riot Entertainment, 2011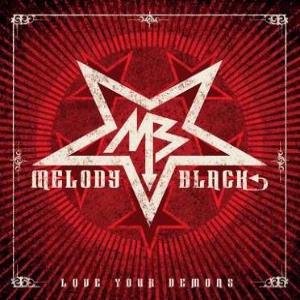 By Shane Pinnegar


Back in the late Eighties and early Nineties a band of miscreants called Candy Harlots terrorised the Eastern Coast of Australia, virtually inventing sleaze glam in this country, but they failed to forge a cohesive unit, churning through over a dozen members before waving the white flag some time in 1995.
One of the relative constants in the band during that time was bassist Leeno Dee, who has now popped up in Melody Black alongside singer Johnathan Devoy and former Harlots alumni Phil Bowley (guitar) and Tubby Wadsworth (drums).
With Dee handling the songwriting, and dynamic performances from all involved, "Love Your Demons" is a great collection of hard rock songs with a touch of darkness, a touch of sleaze, loads of catchy hooks and powerful riffs.
With first half highlights 'Love Your Demons', all Marilyn Manson sneer and black leather punch, and 'So Gone', Melody Black prove they are an entirely new and original beast, but it's the killer second half that really makes the ears sit up and pay attention.
'Who's Cryin Now' features killer guitar work, 'TV Generation' is as insurgent and irresistible as Alice Cooper's 'Generation Landslide', 'We Both Know' should be all over the radio, and the punkish and speedy assault of closer 'Pretty Ugly' leaves the listener gasping for breath and wanting more.
Let's hope we get some soon!