MEGADETH
TH1RT3EN
Roadrunner Records, 2011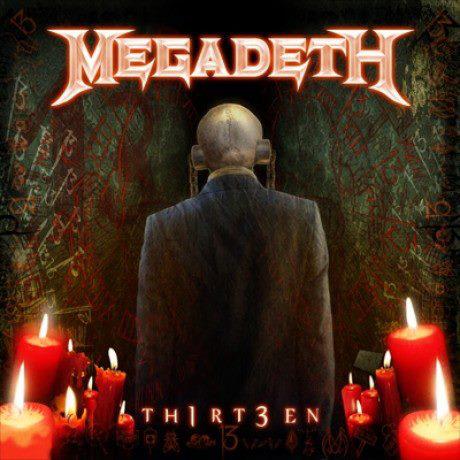 By Shane Pinnegar


With a blast of frenzied soloing Dave Mustaine's Megadeth are back, the speedy riff of 'Sudden Death' allowing his famously sneering vocals a bedrock to rant at the world from. It's immediately clear that having until-recently-estranged bassist Dave Ellefson back in the fold has had the desired effect – "TH1RT3EN" is a searingly hot, old-school Megadeth album, full of thrash riffs and insane solos, memorable songs and more attitude than you can handle!
There's nothing "experimental" here to get in the way of the magic, heads down, torn jeans, fast as fuck, heavy as hell, and – take note kids – it's still catchy and melodic. Without melody there's just noise – something Mustaine has always understood.
Despite the Dr Suess lyrical approach on 'Public Enemy No 1' providing a slight cringe or two, the song itself is as fierce as anything else here, and 'Whose Life Is It Anyway' is one of his best songs for years.
There is – as always – a darkness to Mustaine's lyrics – speed and living dangerously on 'Fast Lane', murder, 'Guns, Drugs and Money' is self explanatory and 'Black Swan' may be less obvious but is a fascinating trawl through a broken life.
The album never lets up, all the way through to track 13 – '13', leaving you in no doubt from start to finish that this is Megadeth and that they're back on form, shooting to kill.