CHEVELLE
Hats Off To The Bull
Epic, December 2011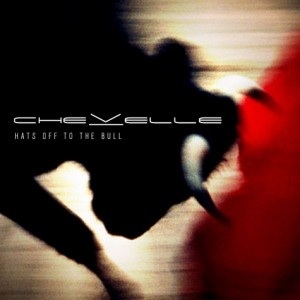 By John Stowe


Chevelle is back with their latest effort, "Hats Off To The Bull". I've been a Chevelle fan for quite a while now but tend to prefer their earlier releases and felt their last album, "Sci-Fi Crimes", lost just a little bit of whatever it was that drew me to them. That being said, "Hats Off To The Bull" seems to have recaptured a lot of that original magic.
First of all, I've got to say I am blown away by the wall of sound that this three piece from Grayslake, Illinois bring to the table in the studio and live. Familiar but not rehashed, Chevelle has brought elements of grunge, metal, punk and an ethereal Pink Floydish sound injected with angry, yet radio compatible vocals all together to forge an album that should have something for most people. Still, it appears that Chevelle has made somewhat of a departure from the radio friendly commercial metal songs that brought them into mainstream success, towards the darker, alternative sound they have always had buried in previous CD's alongside the radio hits most people would be familiar with. Everything that is Chevelle is there, just the amount of emphasis on particular styles has somewhat shifted.
From the thick, chunky, rhythm driven groove of the opening track, "Face To The Floor", you get the feeling that Chevelle has come to play hard. And play hard they do, but that's not all they do by any means. Their hardcore-grunge-numetal sound is complimented perfectly with slow, emotion laden movements, presenting a contrast that gives their music depth with a feeling of substance and sincerity. While not the most technically amazing musical performance, it is very clever and delivers a deceivingly simple but very well written offering.
The production value is excellent and sonically near brilliant. The producer, Joe Barresi, (Tool, Queens Of The Stone Age, Apocalyptica) has crafted something of a hybrid sound, blending slick production that is thick and clean with a heavy, raw guitar supported by a massive distorted bass and topped with upfront, almost unprocessed sounding vocals that keep the album from sounding over produced. As in your face and aggressive as the heavy end is, the clean, softer side is just as beautiful and clear. The effects are utilized flawlessly and establish an irresistibly engaging ambiance and mood without taking away from the songs. I think the overall production presents Chevelle as what they are...a melting pot of styles, sounds and emotions.
somewhat somber, brooding album that stays true to the the artist, "Hats Off To The Bull", is a solid release and definitely worth your listening time if you are into album oriented rock and willing to delve into what this album is all about. If you need the instant gratification of hit songs formulated to be easily digested by the masses without much thought, you would probably be better off
waiting to see what tracks the radio plays and get them off itunes if you like them.
The four star rating is my opinion, obviously, so keep in mind I am a fan and appreciate a band not catering to the radio. As a mainstream release for radio listeners I would probably score it about a three or so. Also, be aware this disk may require multiple listens to feel where it's going. But once you get it, it is highly satisfying and addictive. I wouldn't say this is Chevelle's best album, but it is a very respectable addition to their body of work. So hats off to you, Chevelle, for staying true to yourselves and making music with integrity.