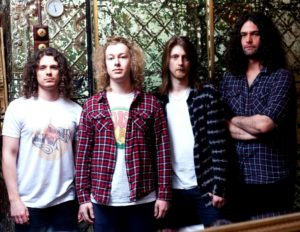 Breaking the mould since 2012, four-piece Cherry Grind are a hard rock band writing truly original, modern music with a distinct groove.
Their song writing is imaginative and fresh, exhibiting scope that belies their years, with each member contributing equally to their huge sound. The reintroduction of vocal harmonies into a hard rock setting has been long overdue and adds to the depth of their sound. Combine that with bone rattling riffs and an unrelenting groove and you have a band with a lot to offer.
Cherry Grind enjoy what they do and it shows. Their raucous energy onstage is fuelled directly by the music which is heavy but soulful. Though they're in their early 20s, between them they have the combined experience of 40 years playing pubs and clubs in various successful bands, refining their individual strengths.
Lead singer Sam Patsouris is the ideal front man for the outfit with his commanding presence and friendly demeanour onstage, he invites the crowd in. Lead guitarist Jack Stevenson's dynamic playing confidently leads the band through many landscapes, weaving and cavorting with Sam's melodies. Cameron Taylor's robust basslines are the key to the band's huge sound, providing an expert low-end counterpoint to Jack and Sam's explorations. Zach West is the glue that holds the outfit together, directing and driving the music, holding the groove and maintaining the pulse. Together they have chemistry on stage that is usually exuded by seasoned professionals.
Cherry Grind: The new face of Rock 'N' Roll.
________________________
A ROOM WITH A VIEW
European release date: June 12th 2016 (Bad Reputation)
Cherry Grind's debut album A Room With A View is the product of three years of writing and the culmination of ten years of doing the hard yards playing in Australia's infamous pub scene. This band is the new face of Rock 'N' Roll and alongside producer Bob Daisley (Blizzard of Ozz, Rainbow, Black Sabbath) Cherry Grind have created a truly original album for the modern audience.
The view from this room is one of colour and volume, this is a soundtrack suited to any environment; driving, walking home, bedroom listening, lights-out horizontal listening, headphones, parties. The sound is dark but full, with every corner of the stereo spectrum being used to its full potential. The songs take you on a journey with relatable themes and catchy choruses while conveying an underlying sense of urgency and movement. The mojo dips and weaves from one track to the next as the music evokes emotional responses that will vary from listener to listener but are guaranteed to make an impact.
Please get in touch with Zach at cherrygrind@live.com.au for interviews or promotional copies of A Room With A View.
RELEASES
A Room With A View


Europe – June 12th 2015


Tracklist
1. No One Home
2. Dusty Road
3. The Gap
4. Tombstone
5. A Minor Problem
6. Reason Says
7. See You Again
8. Turn N' Burn
9. Sunlight
10. The Fool
11. She's Movin'
12. Tin Soldier (Bonus track)
PROMO SHOTS
PRESS
Reviews/Promos
Deep Purple mention Cherry Grind on their official facebook page – CLICK HERE
Awarded Best Australian Release of 2015 by The Rockpit – CLICK HERE
Album Review: The Rockpit – CLICK HERE
Album Review: Devils Gate Media – CLICK HERE
Album Review: Uber Rock – CLICK HERE
Album Review: Get Your Rock Out – CLICK HERE
Album Review: 100 Percent Rock Magazine – CLICK HERE
Live Review: Devils Gate Media – CLICK HERE
Interviews
The Rockpit, November 2015 – CLICK HERE