SLASH
HORDEN PAVILLION
SYDNEY, AUSTRALIA
16.8.2010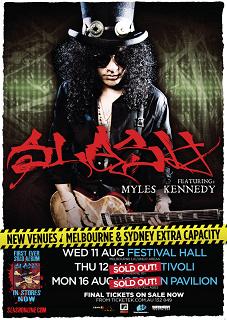 SETLIST:
Ghost
Mean Bone (Slash's Snakepit)
Nightrain (Guns N' Roses)
Sucker Train Blues (Velvet Revolver)
Back From Cali
Beggars & Hangers-On (Slash's Snakepit)
Civil War (Guns N' Roses)
Rocket Queen (Guns N' Roses cover)
Fall To Pieces (Velvet Revolver)
Dirty Little Thing (Velvet Revolver)
Nothing To Say
Starlight
Watch This
Guitar Solo
Godfather Theme
Sweet Child O' Mine (Guns N' Roses)
Rise Today (Alter Bridge)
Slither (Velvet Revolver)
Encore:
By The Sword
Nice Boys (Rose Tattoo) (with Angry Anderson)
Paradise City (Guns N' Roses)
Guns and Roses, Slash's Snakepit, Velvet Revolver: over the years I have seen them all and the question tonight in an icy cold Sydney (maybe it wasn't that cold but I'm in from a US Summer!) is how will Slash 'featuring miles Kennedy' go down with the sell-out Horden crowd?
For one thing expectations are high, most of the crowd realise that the original Gunners will never take the stage again and so tonight could be as close as we get. For those that have the new Slash LP (and I assume that numbers half of the people here at least) things couldn't be better. In most people's eyes Slash has trumped Axl's much delayed Chinese democracy with a solo record of depth and some really cool tunes. In Myles Kennedy Slash has a singer with great range and a lot of soul who can grab a hold of this opportunity and show us all how it's done.
We manage to miss most of the support act due to the fact that Australia never really does crowds and queuing too well, and there is a draconian ban on cameras in the venue with a self-important security guard telling everyone on his megaphone that any cameras will be confiscated on sight. The fact that tonight's gig will be recorded live and offered for sale directly after the show leads to huge queues at the Abbey Road Live stall, this being something relatively new to Australia. The CD will be a 'limited edition' but by the end of the show it is pretty clear that at least half of the audience will be taking one home and that 'limited edition' means limited to the number that can be sold!
There is a huge exodus out of the cold and into the hall just before Slash and co takes the stage. It's always dark in the Horden and there are certainly a lot more people here than the last time I came to this venue to see The Black Crowes on their Warpaint tour.
Slash opens (as his latest CD does) with 'Ghost' which sounds great, and Myles is immediately impressive, but they keep us waiting for the first Gunners number: yes Myles it is clear that we do want to ride the Nightrain!
It was interesting to read a few quick reviews after I had my notes together from this one. There was a lot of talk about the show and the set being ultimately disappointing but this reviewer didn't get that vibe at all. What we got tonight was obviously always going to elicit a better reaction from the Gunners songs but the Snakepit and Velvet Revolver stuff is still very entertaining and with Myles' voice in the mix I find myself confirming to the guys next to me that yes he should have been the replacement for Scott in Velvet Revolver. The sole Alter Bridge song in the set is also very cool and goes down well.
In "Back to Cali" and "Starlight" we get to hear a more natural Myles voice. To be perfectly honest I think I would rather have heard him put more of his stamp on the Gunners songs too rather than just prove that he does have the range of the 1987 vintage Axl Rose. Sure he will never be a 1987 Axl, but who cares? It is after all 2010, a fact that some who reviewed this show seem to disregard. Let's be blunt the 1992 Gunners wasn't up to the 1980's vintage.
I would have loved to have heard the Chris Cornell number "Promise" tonight and also the Lemmy song "Doctor Alibi" but aside from that we get the best of the new solo album AND I actually prefer Myles on "By the Sword".
It is though, naturally, the Gunners numbers that elicit the maximum reaction from the crowd and as expected "Sweet Child"; "Rocket Queen" and the final encore "Paradise City" are all pure gold. It's also great to see the diminutive figure and huge voice of Angry Anderson up on stage for the "Nice Boys" encore.
Myles may not strut the stage like Axl in his pomp and Slash may be a man of few words (most of them starting with F***) but tonight the music certainly does the talking and everyone seems to go home very happy despite the queue for the CD and the icy cold wait for the Sydney taxis to ferry us all back home or to our hotels.
Mark Rockpit.