ROCKLAHOMA 2009: DAY TWO
Main stage:-
Hurricane Alice
Helix
Danger Danger
Warrant
Nightranger
Ratt

Expectations
On paper it's hard to split today and Sunday as far as the quality of bands are concerned. We're up early and off to the showers while the Kansas Krew camped next door are already enjoying early morning cocktails (it's only 8:30) while lounging in their portable swimming pool (it's already that hot!) – this is the life!
- Mark Rockpit
| | |
| --- | --- |
| | The day kicked off at 12 noon with The Glitter Boys on the Strip stage – grown men covered in spandex & hairspray is a little much through the eyes of the barely slept, but their pop metal glam sleaze anthems and sugar syrup bubblegum choruses such as Hot Shit and Fucked Up Again cut through the heat and the hangover to show this young band has a lot of promise. |
Hurricane Alice produced one of our favourite albums of the 80's in 'Tear the House Down' which proved that they had a little more than most in the song-writing department. Whilst they may have displayed distinct 'hair metal' tendencies they applied them to a sound that was a lot harder and more complex. Today proved that the original line-up is a group of great live musicians too.
Hericane Alice tearing the house down
Highlights included the straight out rockers: 'Shake Shake Shout' and 'Tear the House Down' as well as the wonderfully Zeppelinesque 'Too Late' which allows Ian Mayo to show what his guitar is made of and Bruce to wail beautifully; and my personal favourite 'Need a Lover' – one of the coolest songs of the 80's!
Setlist:
Tear the house down
She needs a lover right now
Dancing in the big house
Too Late
Tracks
Shake shake shout
Wild young & crazy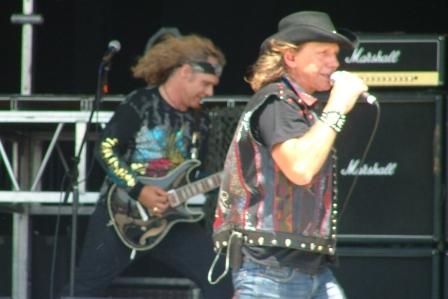 Helix's Brian Volmer threw himself around like a crazy man, doing a sky punch here, a funky two-step there, never stopping for a moment – until 3 quarters through their set, when we have our first main-stage act needing to take a time out. We thought he might pass out at one stage!
Think of the poor crowd, guys - tornadoes last year and an unprecedented heat wave this year: no-one can claim July in Oklahoma is easy! The band struggle on in the heat, pouring a Niagara Falls-worth of bottled water over themselves to cool off, and our Canadian friends put on a solid if unspectacular set.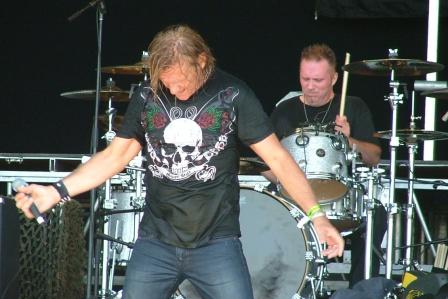 It's hard to produce a party festival atmosphere in the glare of 100 degrees F (40 degrees C), but Helix do their best, aided by an arsenal of good-time festival party tunes, and the crowd show their enthusiasm loudly.
Setlist:
Wild in the Streets
The Kids Are All Shaking
Heavy Metal Love
Don't Need No Reason To Rock n' Roll
Heavy Metal Cowboys
Running Wild in the 21st Century
When the Hammer Falls
Deep Cuts the Knife
Dream On
Dirty Dog
Gimme Gimme Good Lovin
Aint No Rest For The Wicked
Animal House
Rock You

It's great to see almost all of Danger Danger reunited for their Rocklahoma set, and by the time they hit the stage – 4:45pm - it's probably risen a few more degrees in temperature since Helix left. Ted plunges in early emptying a bottle of water over his head seemingly just to make it to the rim of the stage, to reveal he has a wonderful set of sideburns worthy of the '70s!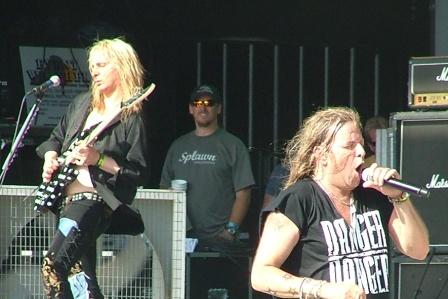 Shit it's hot, but the heat makes Danger Danger's set all the more remarkable – it's almost flawless and we lap it up. All the classics are played, and the audience reaction is great. The band may look like they have been running a marathon by the time they close the set with Bang Bang and Naughty Naughty, but they won that marathon! Ted is an entertaining kind of guy and his stories about 'Monkey Butt' which allegedly alleviates the pain of 'Swamp Ass' (a serious problem in this heat!!) means that by the time I get to Wal-Mart they've sold out of the stuff!
We have a chat with the boys from Bai Bang before their 5:45 side stage show and it's a disappointingly small crowd that brave the sweltering heat. Joacim is having his daily issues with his bass in the heat and eventually manages to borrow a replacement from Mad Max. They play a great set and as usual singer Diddi is hilarious with his broken English stories about Rock Cities, James Brown, and being taught all his moves by James Michael - by the end of it I didn't know if he meant James Brown or Michael Jackson or both!
Bai Bang's Pelle & Joacim
Still, he does have a belting voice and the whitest teeth in all of Rocklahoma!! The sing-along he instigates is equally hilarious! They play a tight set and the addition of 'X-Ray Specs' to the list they played at the Backyard Bar is great as it is probably my favourite song of theirs, and the song which got me into their music originally.
Warrant have played Rocklahoma each year now, joining a select group of bands. The difference with Warrant is that each year they have had a different singer in tow, and this year Robert Mason shares his wonderful voice and does a great job with the songs. I actually found myself enjoying the set - something I didn't do last year with Jani Lane.
Warrant play a greatest hits set and the crowd love it – there's nothing cerebral about their brand of good time, party pop metal, and with the heat slowly abating the crowd start to let loose, dance, jump and scream along.
Setlist:

Down Boys
Big Talk
So Damned Pretty
Sometimes She Cries
32 Pennies
Heaven
Sure Feels Good To Me
I Saw Red
Bed of Roses
Live
Blind Faith
Mr Rainmaker
Uncle Tom's Cabin
Dirty Rotten Filthy Stinking Rich
Cherry Pie
Dirty Penny is a popular band at ROK and today they slip into the Hill Stage slot vacated by Britny Fox, who I had been particularly looking forward to seeing. We really enjoyed their Take It Sleezy CD, but can't remember being that bowled over by them last year.
Still, today we're with friends and they are all big fans – THIS, they tell us, is THE SET to see on the side stages this year! The tent is certainly heaving - some will tell you it was the biggest side stage crowd of the year, but I think that honour will go to Beautiful Creatures, Bang Tango or LA Guns.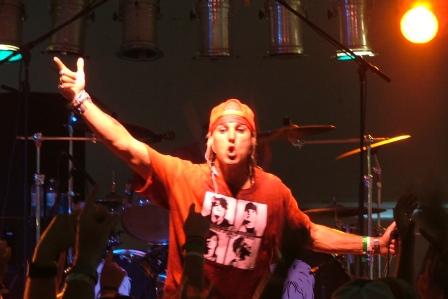 The sound across the board at Rocklahoma was impreccable all weekend – except for up here on the Hill Stage, and Dirty Penny copped the brunt of a muddy mix, which detracted from the band's natural exuberance and sleazey glam metal. The faithful were loving it though – chanting "Dirty Penny Sux" and rocking along, and the band did good business on the merch table.
Nightranger were back at Rocklahoma after a 2008 set, and it was a little hard to understand why since they served up pretty much the same set as last year. Their soft rock tunes were very catchy but a little neutered for an 8:45pm cooled-down and ready to rock crowd. I fully admit to counting a few of their softer songs as "guilty pleasures" and I did enjoy their set – You Can Still Rock In America and Sister Christian were great, with the crowd singing the first verse of the latter before Kelly sung a note - I'd just rather it'd been earlier in the day and have saved Warrant for later on!
The worst thing about the three side-stage set up is that some slots there are some horrible clashes, and 10pm gave us the first serious scheduling clash of the festival: Bang Tango vs Hermann Rarebell.
Mark Rockpit with Joe Leste of Bang Tango
Shane and Mark take Bang Tango, one of our favourite 80s bands, and we're thrilled to meet Joe Leste before the show. The tent fills up nicely and we secure a great spot stage left for one of the best later shows we've seen: 'Attack of Life'; 'Dancing on Coals' and of course 'Someone' being the highlights. We even had Lee from the Gypsy Pistoleros joining in on the latter before we left sweaty and satisfied.
Joe & Lee duetting on Someone

Setlist:-
Attack of Life
Ready to Go
Dancin' on Coals
I Came to See You
20th Century Boy
Don't Stop Now
Someone Like You
Joanne, meanwhile, went off to see Hermann Ze German, of Scorpions fame, who did not disappoint with a fantastic new band belting out some classic Scorpions songs, including 'Rock You Like a Hurricane', 'Loving You Sunday Morning' and 'Blackout'.
READ MORE ABOUT THE GERMANS AT ROCKLAHOMA HERE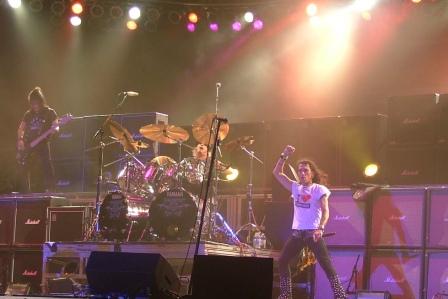 From 11pm Ratt are Ratt and tonight they played 'Out of the Cellar' in its entirety to celebrate it's 25th anniversary. Stephen Pearcy's voice continues to be thin and down in the mix, but there's no denying he is a great frontman. Pearcy bounced around full of energy tonight, flirting with every girl in the crowd, and the crowd enjoy it well enough - there are even a few faces front of stage for this that we haven't seen outside the campsite before now!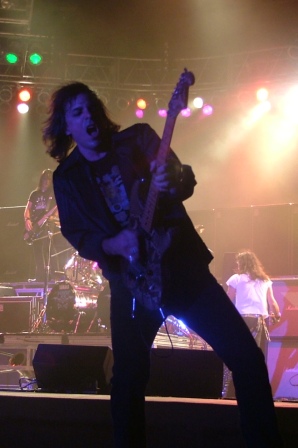 Warren DeMartini ripping up another Out In The Cellar classic
Big Cock - we caught up with Dave before the set to wish him all the best and let him know how much we were looking forwards to the set as well as Icon tomorrow. As we are headed to Phoenix, he lets us know he will be playing guitar with Bang Tango at the Dokken/MSG gig net week. As if on queue Joe Leste and the rest of Bang Tango join the crowd for Big Cock, and we're all treated to a great show.
Last year they were outside in the afternoon sun and put on one of my favourite sets of the festival; but at half past midnight under lights they are in their element!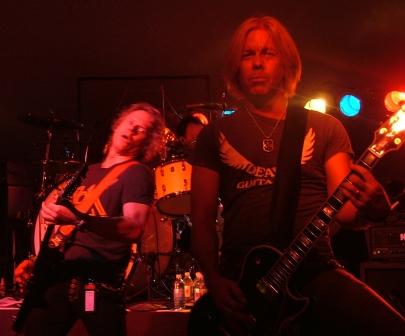 'Love is Hard to Swallow', 'Bad Motherfucker', 'King of Cool', 'Built for Speed' and the classic 'MILF' all did it for me. Big Cock melds the best sounds of the eighties with some great lyrics - more subtle than Steel Panther but a better band.
One of the sets of the year again, capped off with Robert Mason's great vocals (fresh from his earlier main stage set with Warrant) and a great way to wrap up a long day of party rock!

Other Links:
All text and photos by Mark & Shane Rockpit