RUN DEVIL RUN
Tuesday July 20th 2010
It has been almost a year since I last saw these guys at Rocklahoma in the Garden of Evil. A lot has happened in the camp since then, so it was always going to be an interesting night. With Dirty Penny on the bill too it was a great night to make it out to the Viper Room (sadly we missed Dirty Penny as we were told they went on after Run Devil Run when we called up earlier in the day)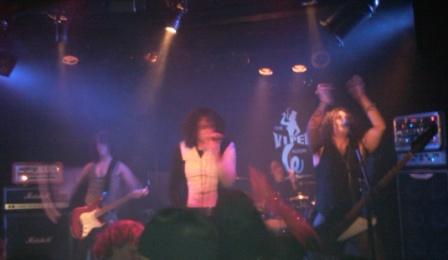 Still, in front of a pretty packed crowd RUN DEVIL RUN delivers a storming set on the Viper Room's small stage. Here you get to see a band in action who have all of the chops and know how to work a crowd. If there ever was a statement of intent then opening with the new balls-out rocker "CAN'T STOP ME" is it. It is quite simply a great song and the new leaner four piece RUN DEVIL RUN has a dirtier rawer edge than last time I saw them and it really works for them. We get treated to some of the best cuts from last year's "5X5" EP, a great cover of AC/DC's 'Highway To Hell'. After the song another Aussie on the crowd scribbles on the back of the set list that is the best AC/DC cover he has ever heard which Jeremy proceeds to read out. It's a great compliment, and well, it may just about be true.
| | |
| --- | --- |
| | Sally's replacement Jackie on bass does a great job and has the look of a young Joe Leste about him, Jeremy and Domo on guitar are barely contained explosions of energy and drummer Dave is tight as can be. It's a band that looks tight and as Jeremy tells us later a band who has been playing a lot more recently and who will hopefully have a full length release in October. |
When a band loses a musician of the quality of Randy you have to worry that it might spell the end. But tonight it is obvious that the opposite is true. RUN DEVIL RUN seems to have a new lease of life and a grittier and rockier feel to their music. The music is harder and it feels like something a little more dangerous has been unleashed. The other new number that closes the set is killer.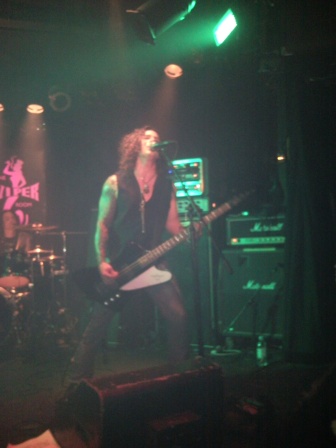 It's cool to catch up with Jeremy and the guys after the show and great to hear about the album - something we at The Rockpit can't wait to hear. On the basis of what we have heard tonight L.A. still rocks and RUN DEVIL RUN are up there with the best local bands you will see. Catch 'em while you can.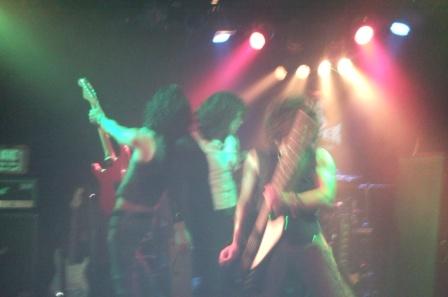 Mark Rockpit