FASTER PUSSYCAT/L.A. GUNS
HARPOS, DETROIT MI USA, 30 July 2010
Just another Friday night in Detroit Rock City. Except this Friday, July 30, Faster Pussycat will provide the soundtrack with special guests L.A. Guns (Tracii's version) and John Corabi, during this stop on the Triple Threat Tour at the long-standing venue, Harpos. I am informed early on that there are also four local bands on the bill tonight. This could be really good or really bad…
I meet up with the Faster Pussycat/LA Guns musicians as they are starting sound check. I chat a bit with Chad Stewart and find out Jeremy Guns has skipped this tour, as he could not make it out. So we are going to be treated to not only Chad pulling double duty, but FP bassist Danny Nordahl will be supplying the other half of the rhythm section. I get to snap a few photos and watch a couple 80's glam legends warm up and ready themselves for the assault they are about to lay on the Motor City. The highpoint is hearing L.A Guns warm up to "California" from the album 'Shrinking Violet.' After this, Faster Pussycat guitarist Xristian Simon makes sure I am taken care of and that security understands I am with them and he gives me a heralded tour laminate.
After sound check is complete, we wander outside to cool off, as this place is hotter than the center of an erupting volcano. While outside, I meet one of the local bands, Fillmore Slim. These guys seem cool and their vocalist is wearing something that will grab any guy's attention… perhaps the motivation behind their song, "Dirty Girl." They are up second and play a good set to help kick the night into gear. I wind up shooting the breeze with Ace Von Johnson, who has replaced Michael Thomas in Faster Pussycat (Michael is out on tour with Adler's Appetite), which causes me to miss the next local band. A couple texts back and forth with Troy Patrick Farrell, and John Corabi pulls into the parking lot. He has to hurry and set up as traffic has put him behind. He sets up and tunes quickly. With Troy on drums, Kevin Hunter on lead guitar and Topher Nolan on bass, John is ready to lay down some sound. As he ramps up into his set, he apologizes for being late and explains that he has driving over 1,200 miles and played two other venues in 48 hours to get to this gig and wonders who routed it. He moves quickly through a couple Union tunes and a couple Motley Crue tunes before he is told his set is over.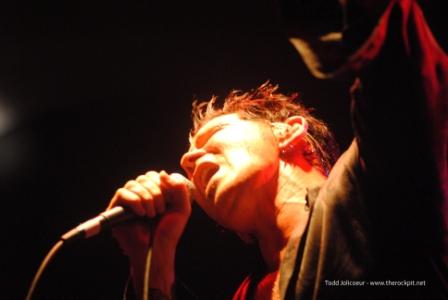 A couple more very unmemorable local bands grace the stage and then we are treated to the return of L.A. Guns featuring Tracii Guns on guitar and Jizzy Pearl on vocals. They kick the set into high gear with a blistering version of "Blackout in the Red Room" from Jizzy's former band, Love/Hate. Tracii and Jizzy, along with Chad Stewart and Danny Nordahl, move through all of the hits with crowd favs and rarities sprinkled in the set list. You would not know Nordahl is not a normal member of the band, as he plays every song as if they have been in his repertoire forever. Even this photographer and concert veteran cannot help but sing along by time they hit "Never Enough." After that, we are treated to the only song of the evening from the album, 'Shrinking Violet.' This song comes off as good as the record, if not better. Next up is the bands ballad hit, "The Ballad of Jayne." The band sounds great and is making everyone in the room remember what they came for… some kick ass 80's rock and roll. A few more great songs and the band tears into their final number, "Rip N Tear." Once the last note has been played, I am giving the guys high fives as they exit stage right. Thanks for a GREAT set guys… we needed it.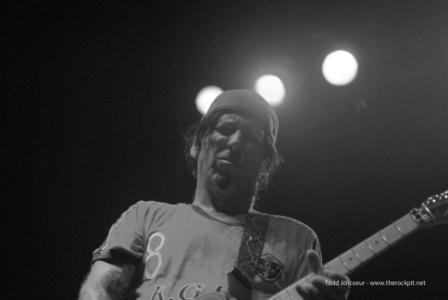 LA Guns set list
Blackout In The Red Room - Sex Action - Electric Gypsy - Never Enough – Dreamtime - Ballad of Jayne - Over The Edge - One More Reason - No Mercy - Rip N Tear
Faster Pussycat hits the stage ready to light it up. Chad is in place behind the drums, while long time members of the band, Xristian Simon and Danny Nordahl take their positions on the stage. Newcomer Ace Von Johnson takes his place on the far right. The band starts getting the crowd jacked up with glares, stares, smiles, etc. Finally, Taime arrives side stage. We have a small exchange of pleasantries and he says he will see me later. With that, he readies his entrance as the crowd is asked by Full Effects label owner Tony Srock, "Detroit, are you ready for some pussy?" The crowd is ready, but Tony does not think enough of the response and asks again. With that, the crowd gets to its feet and cheers on Taime's entrance.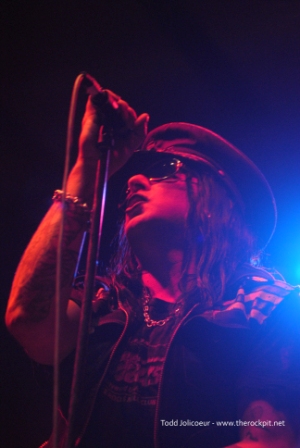 The band slips into gear and powers through the title track form the last studio album, 'The Power & the Gloryhole.' Then onto two now classics, "Cathouse" (which is substituted with "Whorehouse" in the chorus) and my personal favorite, "Slip of the Tongue." Three songs in and I am pleased as hell with the songs chosen so far. The band ventures into newer territory with two more songs from the last release, the rousing tunes, "Number 1 with a Bullet" and "Sex Drugs & Rock N Roll." They make the songs sound as crisp as they do when listening to that CD.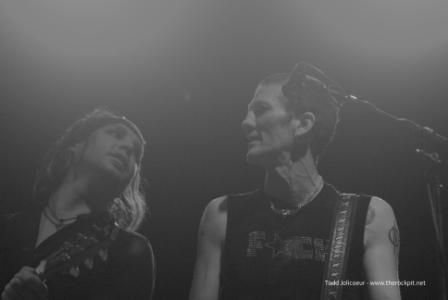 Now it is time for Taime to bring himself and the crowd together with the ballad "House of Pain." He sits on the edge of the stage and casually smokes his cigarette while inviting all of us into his world for those few moments. My new friend, Xristian Simon does what he does best (on stage that is) and plays the hell out of the acoustic guitar giving this song and moment the edge it needed to take us all back a few years. After the rousing rendition of arguably their biggest hit, the band drops the clutch and chugs into the next tune, "Nonstop to Nowhere" with help from the faithful in the audience.
Before winding down for the evening, they play one more new song, a cover from Betty Blowtorch, the classic, "Shut Up & Fuck." The rhythm section of Chad and Danny have played it cool and clean all night, and this only gets better as they revisit the first album for the final two songs of the evening, The perfect end to a perfect show. Nothing quite like hearing Taime sing "Babylon" on a Friday night. No sir, nothing like it.
Faster Pussycat set list
The Power & The Gloryhole – Cathouse - Slip of the Tongue - Number 1 With A Bullet - Sex Drugs & Rock N Roll - House of Pain - Nonstop To Nowhere - Shut Up & Fuck - Bathroom Wall - Babylon
Thanks for taking me back guys. Occasionally I like to be reminded where I came from musically, and this 2-1/2 hours of sleazy rock was just what the doctor ordered.
HUGE THANKS to two people who made this great and easy for me. First is Tony Srock from Full Effects Records, who made sure I hade the access I needed for photos and to their Tour Manager Paul, who truly looked like the busiest person in the place. He was busting his ass and still made sure I had good placement on the stage and even tossed me a bottle of water when it was apparent I was dying from the heat in this place.

Todd Jolicoeur
August 2010