EMERALD CITY / GASOLINE INC
with HAIL MARY & BASHAAM
ROCKET ROOM
Saturday August 28th, 2010
BASHAAM opened to a sparse crowd with a workmanlike set of promising but half-baked rock. Here's a tip for young bands - nervously larking about and treating the opportunity like a rehearsal in front of your best mates isn't a great way to win new fans over.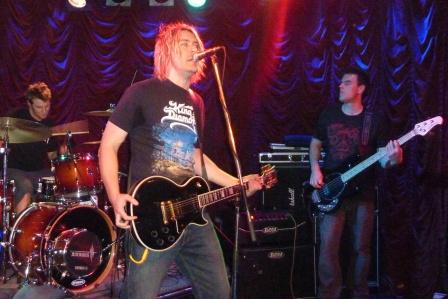 Hail Mary
HAIL MARY boast a Layne Staley AIC sensibility coupled with an open-minded classic rock-sprinkled approach. They impress the slowly swelling crowd with a mixed bag of tunes – they sound like U2 meeting Coldplay in a dark alley one minute, then a Moroccan Doors tribute act the next, with all sorts of other influences thrown into the melting pot. With tunes as strong as 2008's WAM rock song of the year 'Drag In Drag Out', and frontman Kevin Curran's sheer star-in-waiting attitude Hail Mary could get very big, very soon.
It's EMERALD CITY's night though, and they excite the tightly packed crowd with a well rehearsed, top class set. Singer Sal Abate's brash self confidence shows the way forward, and the band impresses as they blaze through tracks from their "Unleashed" EP and more.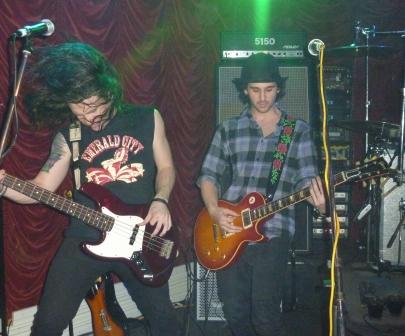 Emerald City's Simon Hallett & Nick Rossetti
Rock solid and inventive drummer Frank LiCastro is from another world – his drum solo is the equal of any international drummer we've seen this year, Joey Kramer and John Kottack included!
The Rocket Room is an intimate venue to say the least, and it lends itself to a more casual gig, providing teh opportunity for friendly interaction between the band and the front rows of the crowd. It's endearing and makes for a more personalised experience tonight, but the trade-off is we miss a touch of the band's larger than life "rock star" sparkle. No doubt we'll see that again the next time they hit a larger stage.
So, by just the second song, 'Dare to be Different', most of the crowd were singing along to the chorus, and as Emerald City closed their set with EP favourite 'Our Little Secret', new world beater 'Show & Tell' and a mass of screaming from adoring fans, they'd proven they are the equal of any young hard rock or glam band in the world.

Simon, Nick & Sal Abate

out front of Emerald City
The crowd had thinned a bit by the time GASOLINE INC burst onto the stage full of bravado and balls. Bluesier tonight than we've seen them, they are wisely rubbing a little of their studio sheen off and allowing themselves be a touch grittier and rawer live, giving themselves more heart and soul into the bargain.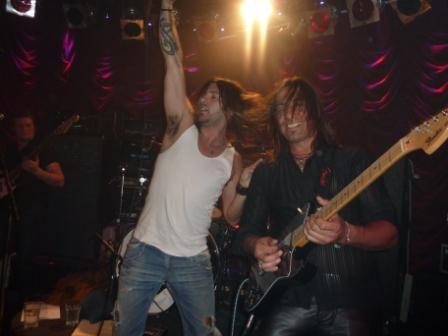 Jason Miller, Gabriel O'Brien and Andro Mestrovic, Gasoline Inc
The more casual vibe of the night may have worked against Emerald City (if only slightly), but with less stage to prowl and cavort upon Gasoline Inc's Gab O'Brien relished the chance to be less of a performer and more of a rock singer. The bluesier and old-time rock n' roll influences that were once buried beneath a more theatrical approach serve the songs well tonight, in particular set closer 'The Broken Ballet', which was beefed up and impressively rockier.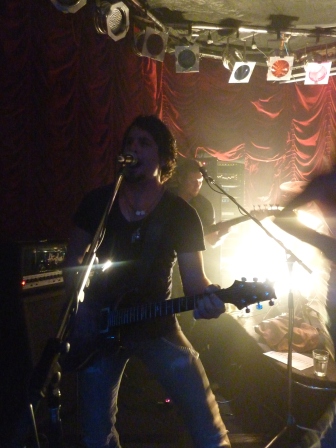 Matt Sofoulis
As usual the only thing holding Gasoline Inc from the world is their location – and a late September trip to Melbourne coming up (including a free gig in Federation Square to celebrate the AFL Grand Final on the 25th – in which Gab's brother Harry will be playing) will take them one step closer to the international recognition they deserve.
EMERALD CITY – SET LIST

Not Ready for love
Dare to be different
Play-boy
Foolscap Tommy
Ain't gonna get nothin'
It keeps me rollin'
She's a lover
Gotta get high
Our little secret
Show n' Tell




GASOLINE INC – SET LIST

Superstar
Candle
Crazy
Shedding my skin
Music is my religion
Sympathy for the devil
Wanted one
Friend of the devil
Nicotine & love
Dynamite
The Dirty three
The Broken ballet

Shane Rockpit