THE DEAD END KIDZ
Unfinished business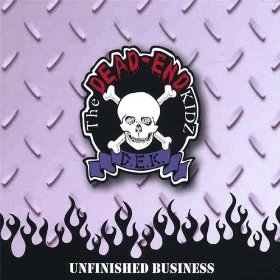 Released in 2007 and reeking of New York cool, the Dead End Kids album "Unfiinished Business" is the real deal. As brash and cocky as The Dictators in their heyday, "Unfinished Business" kicks arse (ass, for those readers from The States) like the veterans of the scene they are.
'The One' and 'One Way Ride' tear through the speakers like a ten foot biker on a Harley packing extra heat, as singer John Erigo weaves vocal melodies around a band tighter than a schoolkid's t-shirt on a size twelve.
'I Know What I Want' is top class bar band stuff – you could imagine this being the sort of sound Twisted Sister played in the clubs before breaking it big – catchy, rocking and classy, and when Erigo says "Okay boys, show 'em how to rock n' roll", the rest of the gang (Guitarists Scott Carlson and Michael LaBianco, Bassist Kevin Edell and drummer Tom Mahalko) don't hold back, kicking out the jams MC5 style.
'Do It Yourself' is a slice of encouragement – inspiration, even – to get out and achieve; and the album's penultimate song '1,000 Lies' is a scathing slice of vitriol against a deceiver who should know better.
All around the world there are bands like The Dead End Kidz playing some really great songs like these. It's not every day one of them get to release a slab of them sounding this good and let the rest of the world hear the fruits of their creative toil – get yourselves to www.myspace.com/dekmusic and get your hands on a copy now!
Shane Rockpit