GUNS 'N' ROSES
KWINANA MOTORPLEX, PERTH WA
With KORN and SHIHAD
11 DECEMBER 2010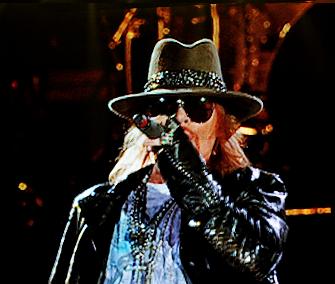 1. Chinese Democracy
2. Welcome To The Jungle
3. It's So Easy
4. Mr. Brownstone
5. Sorry
6. Better
7. Richard Fortus Guitar Solo (James Bond Theme)
8. Live And Let Die (Paul McCartney cover)
9. This I Love 10. Rocket Queen
11. Dizzy Reed Piano Solo
12. Street Of Dreams
13. You Could Be Mine
14. DJ Ashba Guitar Solo (Ballad of Death)
15. Sweet Child O' Mine
16. Instrumental Jam (Another Brick In The Wall Pt. 2)
17. Axl Rose Piano Solo (Goodbye Yellow Brick Road)
18. November Rain
19. Bumblefoot Guitar Solo (Pink Panther Theme)
20. Knockin' On Heaven's Door (Bob Dylan cover)
21. Whole Lotta Rosie (AC/DC cover)
22. Nightrain
Encore:
23. Don't Cry
24. Madagascar
25. Patience
26. Paradise City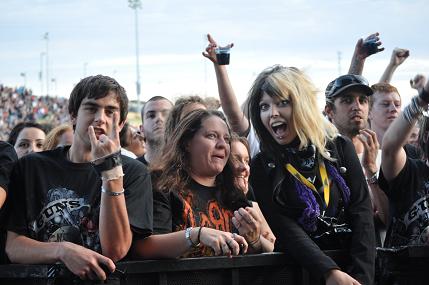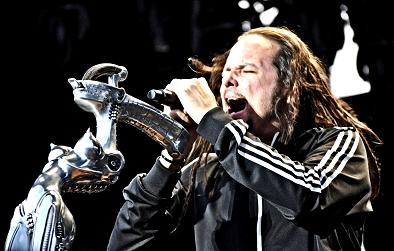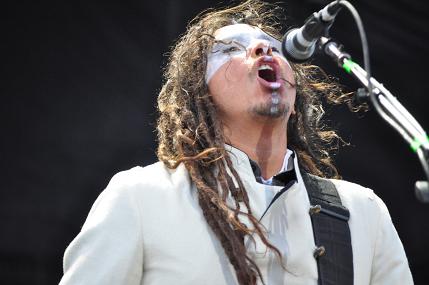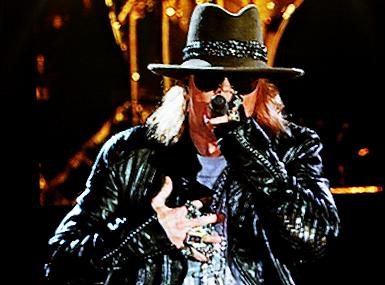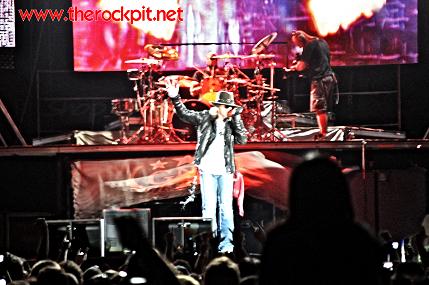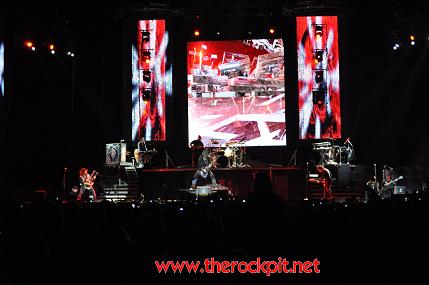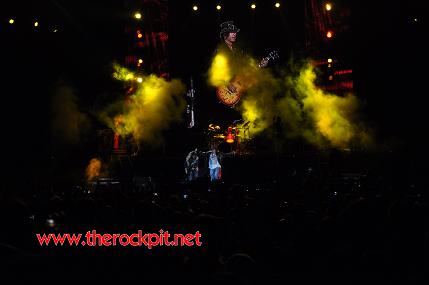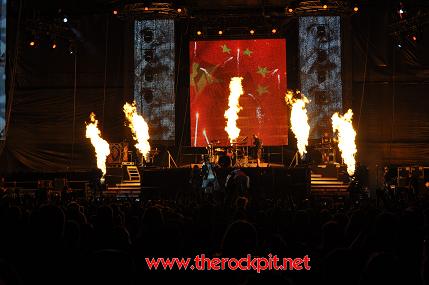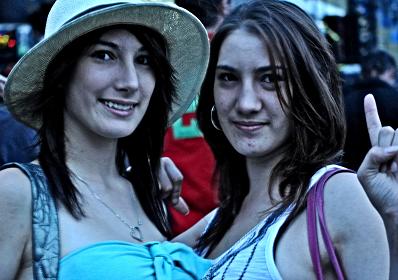 Check out the expanded photo gallery next week

I didn't think I would enjoy this as much as I did to be honest, but there you go. Maligned as the 'Axl Rose tribute show' in many quarters, not a lot of the kids here cared they just came for the music and on that count Axl and co certainly delivered.
There's a lot of security and a big Police presence in Kwinana tonight though the only real issues tonight seem to be alcohol related, kids going to hard too soon, nothing changes. The set up here in Kwinana is interesting: the stage straddling the drag racing track and built across the barriers there to protect the crowd, it ends up making the viewing area elongated with seats on one side and stagers grassed terraces on the other and the bulk of the GA crowd in between.

Openers Shihad put on an energetic set in front of a crowd that had had already been thinned out by security before they started, kids incapable of standing were sent home early and there were certainly a lot of walking wounded even whilst the sun was still up. If you like your rock and roll no frills with some bounce and a contemporary sound then Shihad tick the boxes. They are entertaining and the number of punters out there singing along is heartening.

KORN SET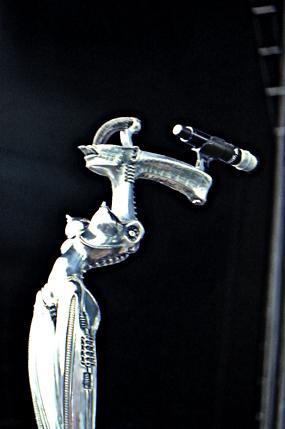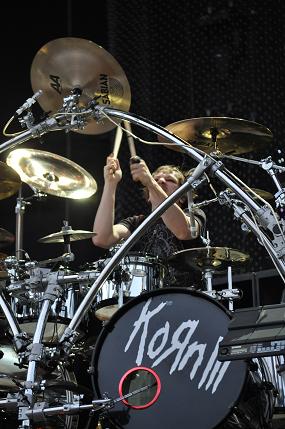 Korn is another story entirely. Down in the pit they are a great band to watch. Jonathan Davis is focused and strides the stage in his tracksuit whilst ably backed by Munky and Fieldy. The new and the old are melded together into a big joyous mess that has the majority jumping. The classics are all present: 'Freak on a Leash' and 'Coming Undone' really getting things moving. The bagpipes make an appearance as expected and the entire set benefits from a frantic momentum as much from the crowd as the band. As a Korn virgin I am very impressed and closer 'Got The Life' just leaves you wanting far more. This would certainly take some beating.

GUNNERS SET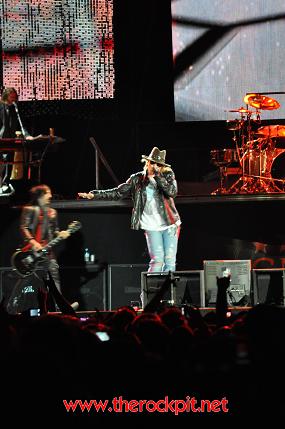 Starting a set with Chinese Democracy isn't the option the crowd would have chosen, but then again it is at least a statement of intent. We may have waited far longer than we wanted to for an album of less than we expected but tonight lets just put that aside and listen to the music. The real truth is of course that no matter how you look at it the older songs are just better songs and the newer songs chosen this evening just don't quite take you to the same place.

After the opening gambit we get a wonderful trifecta of "Welcome'; 'Easy' and 'Mr. Brownstone' this is certainly what the crowd were after judging by the huge difference in volume that greets these three from the classic Appetite album. Putting two new songs back to back straight after does drain the energy a little, but to be honest 'Better' sounds far cooler live, can't say the same for 'Sorry' though.
It's a nice stage show with the central big screen and ramp set up, and video projected on chain mail curtains; Dizzy off to the left elevated almost to the level of the drum riser and the three guitarists and bassist giving the crowd something to look at with Axl don't below. In fact it is the orchestrated trading of licks between the tree 'differently themed' guitarists that elevates the spectacle. Guns 'n' Roses as you probably realise don't need three guitarists to pull of the songs but the way the whole show is arranged by Axl actually makes sense of it all when you see it in a setting like this.

"Good Evening it's a nice Australian night here in Perth. Look at all you motherfuckers!" is Axl's introduction to the crowd already six songs in.

And then we are in to the first of the solos, to be honest Fortis' Bond-themed solo is not too long and the whole concert is interspersed with these musical interludes making the whole concert more like a musical than a run-of-the-mill rock show, I lose count of Axl's costume changes at six but Ashba is also in on that act sporting at least three different Slash-like hats. A fan mentions to me that she is glad to see Axl without the cornrows, while another one questions his Mexican-style moustache. I don't know these fashion-watchers!

I'm not entirely sure about the air-raid siren screams during 'Live and Let Die' and DJ Ashba's white Slash-style hat and spiking his cigarette on the guitar string makes it hard to tell if its parody or homage? Axl tells us that Tommy is just back today after his late brother's son passed away – Tommy plays a few snatches of Walk on the Wild Side by Lou Reed but the anecdote doesn't seem to have a point. The band intros get a few chants for Slash and everyone gets to play a little signature tune then it's the first of the piano solos.

Dizzy to be fair does a nice dark homage to Ziggy Stardust for his solo , then we fall into another new number 'Street of Dreams' played against a backdrop of familiar Hollywood street scenes. Axl sports his Mickey Mouse-eared skull shirt for this one: there really are more costume changes than hot dinners. Up on the drum riser there's a wonderfully out of time dude with knee-length shorts and a tambourine – he must surely be a competition winner!

After a lively and well-received 'You Could be Mine' DJ Ashba's solo sees him donning a stitched together hat and black and white t-shirt ensemble. He gets a nice intro from Axl and does a pretty competent job and the crowd goes really wild as he breaks into 'Sweet Child'. I wonder if it really does take two guitarists to handle Slash's solo?

Axl solo seems him play with 'Another Brick' like Korn before him, and he doodles around Elton's 'Rocket Man' but even Axl's solo is reasonably short. I never really cared for 'November rain' or any of Axl's other piano-driven lengthy ballads but the crowd seems happy enough around me and again I'm surprised by how good it ends up sounding. Right after Bumble foot's solo Pink Panther is entertaining but at the end of the day all are just takes on Slash's or Joe Perry's themed solos.

'Looks like it might be the national anthem down here' shouts Axl as the band wade into a high-energy version of 'Whole Lotta Rosie'. There's some Stonesy noodling before 'Nighttrain' Axl changes into a black jacket with what looks like red roses shot through it, the ripped jeans and the bandanna. The crowd is happy, I'm happy as we wait for the encores.

'Don't Cry' starts great with just Bumblefoot and Axl, deconstructing the song before the band chime in and ruin it, it's never a favorite but for a moment I thought they might try something a little different, well at least it started out nicely.

OK I'll admit it: 'Madagascar' with its wannabe epic Stairway-alike sound just doesn't do it for me. It's all a bit too obvious what it wants to be but it just doesn't work, and doesn't measure up to the song it so obviously shadows. There is a moment of mirth when DJ comes out in a fluoro top and hardhat and Axl makes a village people 'In the Navy' quip.

Everyone is expecting 'Paradise City' but Axl suddenly chimes in with 'Tommy wants to do another one' 'I don't know it's two ballads in a row but we haven't done Patience in a while, shall we do it?' he asks? There is of course no need to ask and we get a great version of the song that straddled the gap between Appetite and Illusion.

Paradise City on the other hand is just amazing, with the red confetti bursting from the soundboard and sweeping towards the stage, the fireworks and flames look great from up on the hill and with a final: "Aussie, Aussie, Aussie" chant from Axl it's all over.

It's been a beautiful night even though we were late getting started, we snagged an extra song and we're happy. In 2007 at the Burswood Dome, a venue that has to be acoustically one of the worst venues on the planet; the Axl show seemed past it and you felt he had it all wrong. Indeed I thought they looked like they were on the verge of falling apart. Tonight they seem fresh and alive and everyone is pulling their weight.

We may never get to see the real Guns and Roses again and Slash and Axl may never even be in the same room together but just accept it, get over it and enjoy whichever of the band you want to see.
I went to see Slash earlier in the year and with Myles Kennedy on board he put on a helluva show, Axl tonight did the same. Axl has finally delivered that beautifully executed stage show you always thought he was capable of, all the parts seem in place, it's a great night and beautifully executed. Much, much better than last time round.

Hey did I ever tell you about that time I saw Gunners on their first tour of the UK?


Mark