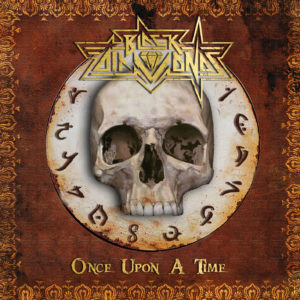 This has to be one of my favourite albums of the year so far: Black Diamonds, formed in 2004, are a hard rock band based in the Rhine Valley in eastern Switzerland and if you love the sound of classic 80's styled Hard Rock then these guys are the real deal. Releasing their first album in 2008, the appropriately titled 'First Strike', (of which two reworked songs make it here) they went on to produce 'Perfect Sin' in 2013.
Album number three is now here: 'Once Upon A Time' to be honest it's a great album from a band whose back catalogue you can be sure I'll be tracking down! The best thing about it is how perfectly they have captured the sound of 80's hard rock without necessarily sounding like any band in particular… That and the fact that every song here is golden!
Opening with the tolling bell and instrumental intro 'Tales Untold' (yep I still loathe intro tracks) is thankfully immediately forgiven by the stuttering riff to 'The Ghost and the Shadow': it almost immediately reminds you of the days when Hard Rock and Heavy Metal were a lot closer, and there's a distinct menace to the vocal and real sharpness to the guitar before the sweeping sheen of the melodic chorus. It is a fucking fantastic song!
After a song like that it's always the doubts that set in, "How on earth can they match that" I found myself saying out loud. Well the good news is that they do match it and then some. 'Love Stick Love' has a wonderfully fresh riff and nice drive and an almost vintage Motley breakdown before another spot on melodic refrain. The song ends with a harmonious codicil that just lifts it to another place. It's like some of your favourite moments of the 80's have been put in a blender and it's come out as a wonderful cocktail rather than the expected sludgy green mess.
'Romeo and Juliet' is just as cool – great harmonies, a cool riff and great drive, its a song you can just feel the sweat of the 80's dripping off, and believe me it ain't over yet!
The lighter melodic 'Pieces of a Broken Dream'; the gentle building ballad 'Love Lies Loneliness' and the dark drive of 'Thrillride' all more than tick your hard rocking boxes before 'Vampires Of the Night' provides another solid gold standout with its sing along chorus and rocking attitude.
There's always a sense here of a band wanting to outdo themselves and it's the same after that sizzling track – the off-the-dial 'Not Going Home' is maybe an even better song for that hard rocking party!
The album closes strongly too: 'Hard to Let Go' is another cool rocker with a big chorus; 'Years' simply soars, and closer 'This is a Love Story', the second and superior ballad, closes what has been a truly fine album in fine fashion.
Every song here delivers and BLACK DIAMONDS is a band that if you love the sound of late eighties hard rock you need to hear. You'll fall for them, just like we did.
www.black-diamonds.ch | http://www.facebook.com/BlackDiamondsRock
Tour dates:
18.03.2017: CD Release Party, Utzenstorf (CH)
25.03.2017: Black Point, Oberriet (CH)
08.04.2017: Sportgaststätte SV Riedmoos, Riedmoos (DE)
29.04.2017: Chillout, Boswil (CH)
06.05.2017: Hells Angels Update Party, Messehalle Dornbirn (A)
13.05.2017: Baragga-Fäscht, Sennwald (CH)
10.06.2017: Rock The Wolves Openair, Wolfhalden (CH)
12.08.2017: Openair Plandadein, Fanas (CH)