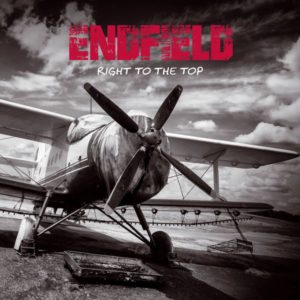 Light mainstream Rock done well and with no little sheen is perhaps the best overview of the music of the reformed Endfield whose roots go all the way back to 1998.
Sonically it might be a little light for some and not melodic enough for the AOR crowd but there's a novelty almost these days about taking the middle-ground and just produce nice accessible mainstream rock.
First single 'Not Alone' released in October last year pretty much sums things up, it's a decent song, radio-friendly and has a sort of mass appeal without, your rather imagine, creating a mass of slavishly devoted acolytes.
The album is certainly packed with MOR gems like 'Good Timing' and 'So Long' as well as rockier numbers like 'Masterpiece of Silence' and the most rousing track here 'The Game'. Sadly what could well be their best song is completely ruined by a trite and rather out of place 'Rap' by a bloke called 'Breezy'. I hate bands that do this – sure Rappers can get away with stealing a bit of Rock to inject some life into a musical form that seems incapable of Evolution but it doesn't work the other way – Rap hasn't had a new idea since the 1970's and never will and I don't want it within a million miles of my rock.  
There's a decent bluesy stab on 'Pokerface' which saves things somewhat. decent MOR but I still can't forgive what they did to their best song.