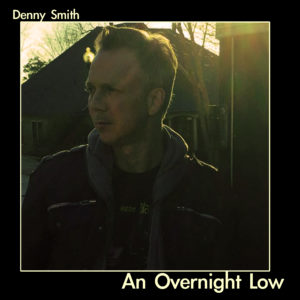 Reading the bio attached to 'An Overnight Low' you get the feeling that Denny Smith might be an interesting guy to hang with.  His musical pedigree and journey is certainly an interesting one, and this, his first real solo effort has the sort of patina that seems completely authentic.
I like this one, it's not demanding, nor is it throwaway coming across as it does like Ryan Adams and Butch Walker grew up listening to eighties Power Pop. More akin to his band The Great Affairs than his other outlet fORMER this is music that strikes just the right balance.
The opening pair here work particularly well together: 'Silver Lining' has a great melody to it and a grey-tone to the edges of the lyrics and 'Hard Stop' offers a faster tempo and a little more colour and hope.
There are moments of light Americana – like 'Leaving L.A.' but on the whole this is more about the Pop – 'All the Livin" brings a smile that stayed and 'Missing You' is a nicely executed understated ballad.
Elsewhere 'My Father's Son' has a certain Mellencampian (word for the day) charm and closer 'To Call this Home' is quite beguiling and possibly the simplest and best here. Lead single 'Rider' is rockier than most but equally cool.
Nice work.