THE EROTICS
Boulevard of Choking Screams EP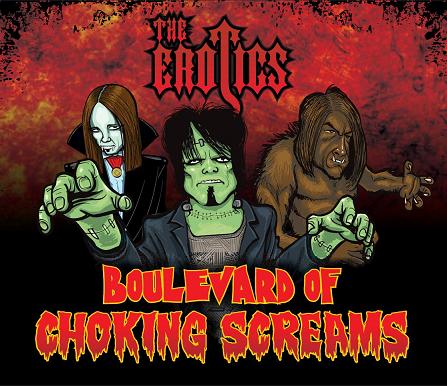 It's not often a band is as guilty of producing consistently great music as Mike Trash's EROTICS is: so any new release is always a welcome addition to your sleazy catalogue. The last full length offering 'Today The Devil Tomorrow The World' made The Rockpit's BEST OF 2011; then we had last years Limited Edition collection: 'Rarities and Reacharounds' to keep us warm. This latest EP 'Boulevard of Choking Screams' just goes to show that there's no let up in the quality control department at Erotics Central!
First single 'Your Bloody Frankenstein' isn't even my favourite track here but it picks up where 'Today The Devil Tomorrow The World' left off with a massive dose of noise: a real dirty Rock and Roll anthem for anyone who is still on the look-out for bands that stay true to their sleazy roots but can write a song that has you singing along and sweating real music through their clogged and tattooed pores!
In truth 'Boulevard of Choking Screams' is another masterstroke from a band that doesn't seem to be able to put a foot wrong. Opening track 'Death With A Heartbeat' has you thinking that old Uncle Alice (Cooper) has taken a step back in time to front vintage Crue, but with a chorus that neither can manage these days.
From there it's all cream 'Hell Is Where My Heart Is'; which is probably my favourite here; floors you with a riff that was probably tended in hell by a host of incubus before being let loose on an unsuspecting world. It's a song that leans dangerously towards the Sunset strip before it lost its heart and drowned in Aquanet.
If you like your choruses big, and don't mind a sound that revels in its rough edges then The Erotics capture an honest basic Rock and Roll that you just don't find too often these days. In a world where autotune is as acceptable as the air we breathe it's refreshing to find a band that spits on the grave of that diabolic invention and finds its inspiration in real gritty, down to earth Rock and Roll the way it's meant to be. This is the Rock and Roll your parent's parents warned them of and it's still alive and well in these grooves!
'Another Girl Gone' is a bleak anti-love song to infidelity that swaggers like vintage Dogs D'Amour on heat and closer the intriguingly-titled 'Wheelchair Fantasies of the Dumb and Retarded' takes it's lyrical cue from some of Mike's favourite obsessions and it's riff from The Ramones' book of catchiest riffs. The gang vocals may echo another age, but it's an age that we need to revisit more often. Rock and Roll can still be exciting and dangerous and here it is…
You'll end up wanting more.
By Mark Diggins