ROCKLAHOMA 2012
MAY 25-27, PRYOR CREEK OK

DAY ONE

MAIN STAGE: Adelita's Way | Cavo | Chevelle | Slash | Creed

HIGHLIGHTS: Slash | Creed | Eve To Adam | Redlight King | Ragdoll | Sunset Riot | Wildstreet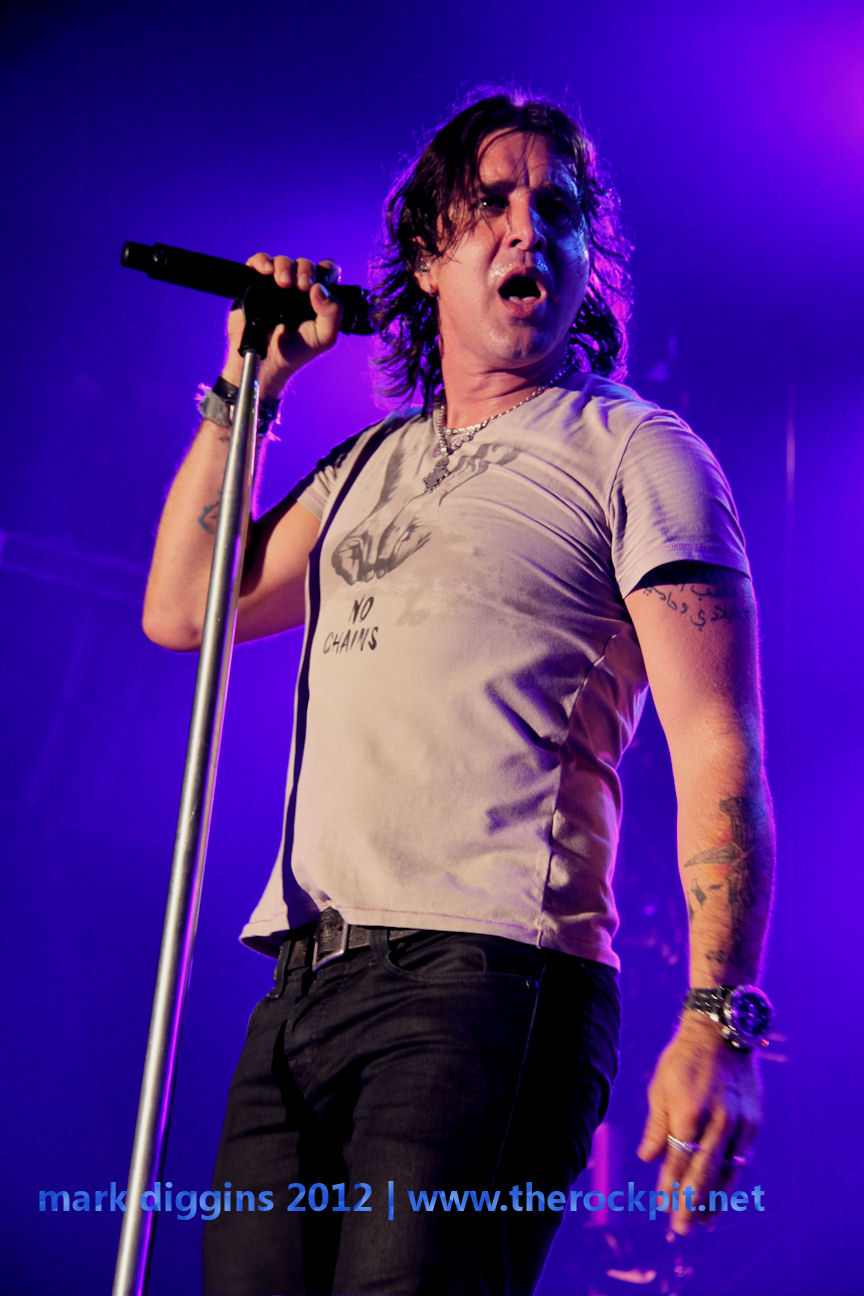 Rocklahoma started off for me as a pilgrimage way back in 2008, a great chance to see all the bands of my youth that didn't tour my part in the world, bands that I had either seen back in the day on the rare occasions that they hit Europe, but mainly bands I hadn't had the chance to see before.

Back in those days it was a dream, to see artists as diverse as Bang Tango; Lillian Axe; Baton Rouge; Bonfire; House of Lords; Vain: the list goes on. Then there were of course the headliners: big names of stadium rock like Twisted Sister; Ratt; Poison; Motley Crue and many more.

More than anything though Rocklahoma was a place where people from all over the world could gather together with a mutual love of great rock music, we made some great friends, and just as importantly partied…

In 2010 the format changed as AEG stepped in and things moved away from the primarily 80's bands theme to bring a more diverse set of rock bands to the crowd at Pryor Creek. And while there are plenty that hanker after those 'glory days' Rocklahoma 2012 has brought together a storming line up yet again. Organisationally the festival is a dream and all credit to the AEG guys for managing to put on yet another great show.
DAY ONE

Travelling in with one of the Australian bands on the bill – Ragdoll who hit the US for the first time this year we get in a little late to catch any of the campground action on day one. By the time we are through the gates there's time to catch up with the other Australian band – Sunset Riot who hail from Sydney. I feel sorry for anyone who didn't manage to check out these guys, or for that matter anything on the Retrospect or Hard Rock stages as there is a huge amount of talent out there right now and the only way a lot of these independent bands get to take it to the next level is with the support of festivals like this and by people taking the time to check them out.

Despite the early start SUNSET RIOT hit the stage full of energy and play an energetic set that takes a lot from Sunset Strip in its heyday. They're a tight band but also great performers with a stage show honed on the East Coast of Australia. It's ironic that the first time I get to see then is in the Mid-West of the US! Like Ragdoll who follow them Sunset Riot is definitely a band capable of much bigger things and take to the festival stage like it was meant for them.

RAGDOLL have that indescribable sound that takes from various genres and styles and melds it together to form something intensely modern but which sounds so familiar. Like classic rock with depth and soul with a modern hard edge and incredible melodies. It's not often you hear a three piece that can grab everyone's attention and hold it, but then again there aren't too many bands out there with Rydash's golden vocals, the guitar wizardry or Leon Todd and the huge drum sound of Cam Barrett. It's clear by Sunday that the word has spread as the substantial Friday crowd is beaten hands down.

Back out on the Main Stage the day's openers are one of the bands I most wanted to see ADELITA's WAY is just damn good modern rock, and catching up with them in the media tent later that day they are also a great bunch of guys too. If you've had a chance to catch their latest album "Home School Valedictorian" (one of the Rockpit's favourite releases of 2011) you'll know how good these guys are. Live they're better, On a stage that has a great day one line-up it's a set that pushes the bar high.

Back on the rock stage JANUS (who sadly our delayed ride in meant I missed the interview – sorry guys) prove that they are one to watch. Despite being around since 1998 there new CD "Nox Aeris" sounds to me like their best yet, and if you like your metal with a twist remember the name.

There always comes a point in a festival when you get torn and clashes happen and that's the great thing about this year having two sets of eyes and ears at the event. So while I catch up with duties in the press tent and then catch the end of REDLIGHT KING's set, Mike and Jess get over to the Retrospect stage to see one of our favourite sleaze bands: DOWN N DIRTY.

REDLIGHT KING for me are one of the finds of the festival – I only heard of them a few days before flying out to the US with their single 'Comeback' making the Avengers soundtrack. Great modern rock with melody it should be interesting to watch these guys over the next few years.

DOWN N DIRTY (who I will catch on Sunday) I am told rock in that way only bands who channel the spirit of the sleazy late eighties can. I last caught them at ROK I think in 2009 so it will be great to catch up with the guys again.

As I said the best thing about a Festival like Rocklahoma is that everyone is so friendly and you get to catch up all over again with people you've met from all over the world. I manage to chat with a FB friend Brian from Queensland who has flown in for ROK, he's one of many more Aussies, Swedes and Brit's we'll meet over the next few days. I always like to make sure I have a stack of shirts with Australian tour dates at a festival like this: the number of cool new people you meet just by wearing the shirt is amazing. Later in Texas we'll catch up with members of Ruff Justice and in OKC a few nights later we catch WILDSTREET, all of whom play the Retrospect stage this year.

Next up for me is a little CAVO on the main stage, who I must admit I quite like but don't seem to click with the crowd today. Then its decision time as our Canadian friend's HESSLER play the Retro stage while a friend of mine's band of the festival: RED play the hard rock. I decide to photo HESSLER then make my way over to catch RED. HESSLER's show is fun and frenetic but their sound leaves a lot to be desired and vocals are pretty much lost in the mix. It's a shame as they're a fun band and listening to the CD back on the trip to the hotel they sound so much better. RED however are another prospect entirely, I try but just don't get it (sorry Paul), I find my way edging back to HESSLER!

Then it's time for what will be the highlight of the day for most – SLASH on the main stage. We've seen him earlier in the year at Australia's Soundwave festival where he, Myles and co rocked the place. Tonight they sound even better and don't put a foot wrong with the set list that combines songs from Slash's illustrious career with stuff from the great new album. This is days before reports from Europe about Axl allegedly having fans ejected from shows for allegedly wearing Slash shirts. Why can't everyone just enjoy the music. Here we get to see the ex-Gunner having fun, doing what he does best and on the strength of what we've heard of the new album probably in the form of his career.

We choose to give POD a miss but probably unwisely judging by the fun the RAGDOLL guys seem to have had over there. Instead for us it's PRETTY LITTLE SUICIDE who we last caught closing out the after party at 2010's ROCK N AMERICA sadly they are beset with probably the worst sound of the day and the muddy mix does them no justice at all – something that is well and truly fixed by the time they take the stage again on Sunday. The faithful don't seem to mind too much though and we get to meet up with old friends from festivals gone by.

It's always surprising to see how different bands are received by different audiences in different countries. Today I'm surprised by the sheer number of people who are telling me that CREED is the band to see. CREED is a band that down under, where we're from, has never really been more than an also-ran. Tonight they pull the biggest crowd by far and the best audience reaction by a long way. Tonight CREED is the king of Rocklahoma. And from the photo pit I can confirm that their lighting is amazing. Pulling together a set far more familiar to the locals they don't seem to be able to put a foot wrong, Scott's vocal stylings and trademark moves are all present and the remaining members of the band play to the crowd like true pros.

CREED's show is one that is so different from the one that we last saw in Australia you would think it was a different band. The audience is captivated from the first notes to the last and 'Arms Wide Open' and 'Higher' tonight has everyone singing along. It's a great and for us unexpectedly captivating way to close the main on the opening night.

We close out the evening with a couple of great bands WILDSTREET bring their New York attitude to an LA-styled sleaze-fest. They look like they have crawled out of the Rainbow cark park circa 1987 and have a seemingly unlimited number of catchy rock and roll anthems. Eric too is what a front-man should be, sneering and untouchable onstage with a presence that holds the crowd entranced. (Great to see Jonny (ex-Dirty Penny) there on guitar too). A band you should check out if you get the chance.

EVE TO ADAM for me over at the Hard Rock stage at midnight put on one of the best performances of the day. I've been listening to their latest album 2011's "Banquet for a Starving Dog" since we hit the US after being impressed with "Queens to Eden" what seems like far too long ago. On stage tonight they manage to hold that ground between modern rock and old school eighties rock that is so hard to balance and please everyone. Let's just say that they do it in style.

ROK 2012 has pulled off the first day in style and looking at the line up and the interviews planned for Saturday and Sunday things are looking to go off the dial.

We close the night back at the Retro stage for LYNAM – who are fronted by ADLER's new vocalist. I've always had a soft spot for the band since seeing them years ago when they released "Tragic City Symphony" but whether it's the jetlag or the heat I don't know but they just don't seem to do it for me, despite a great and lively set. FIST OF RAGE on the other hand who follow them send us all off to bed with some great old school metal! Nice – great to see the locals doing it so well.
DAY TWO

MAIN STAGE: Pop Evil | 10 Years | Theory of a Deadman | Megadeth | Rob Zombie

HIGHLIGHTS: The Darkness | Lillian Axe | Trivium | Pop Evil | Megadeth | Theory of a Deadman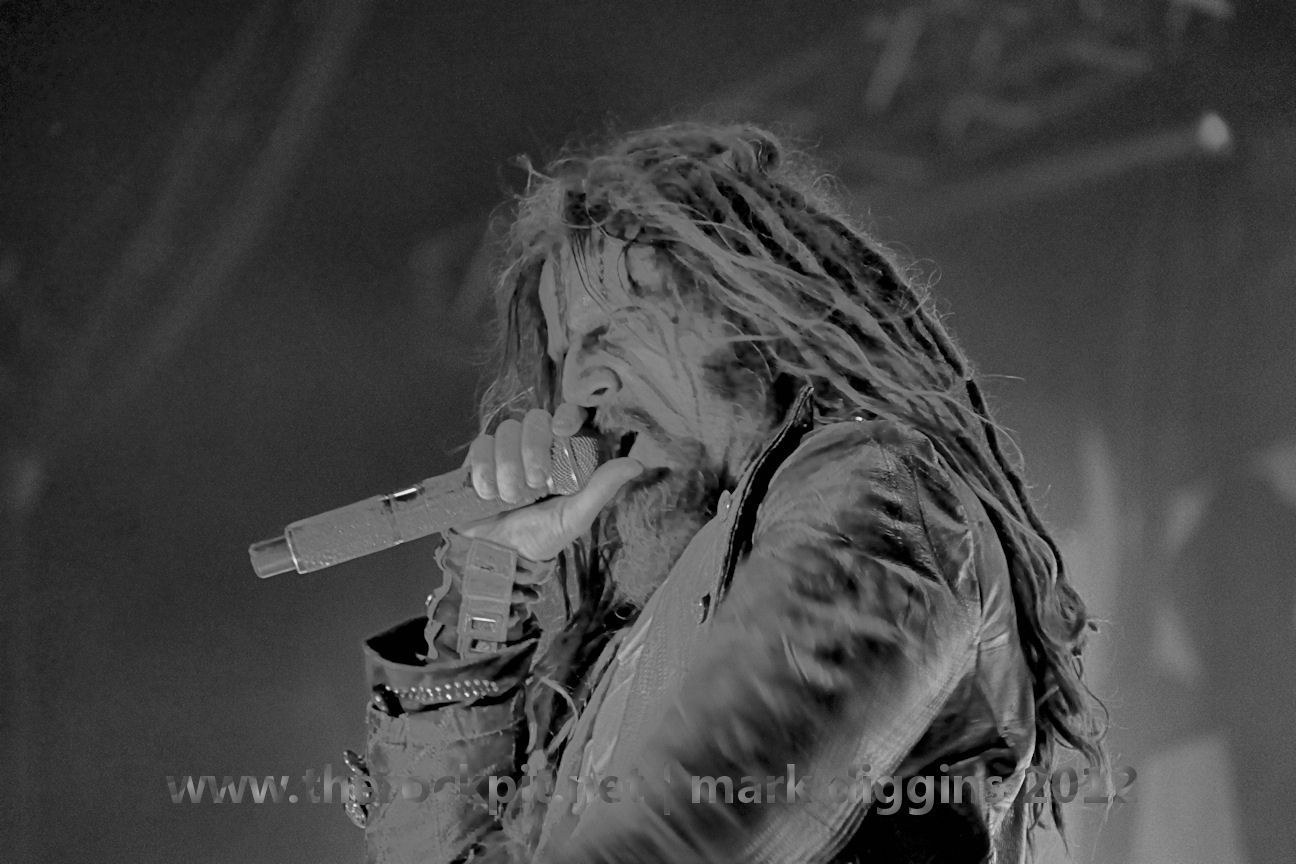 For me the sign of a great festival is that despite getting in at close to 3.00am and still struggling with jetlag and what seems like the onset of flu you spring out of bed in the morning not wanting to miss anything.

Today proves to be another great day with some of my favourite and most diverse acts on the bill. There's a Hard Rock stage that has Trivium, The Darkness and Volbeat back to back and a couple of great headliners in Megadeth and Rob Zombie, but again it proves to be the acts I'm less familiar with that open my eyes to some new music and let's face it that's what it's all about.

First stop of the morning though is the media tent for interviews and catch ups with the great bunch of radio and magazine guys assembled there. RAGDOLL is in doing the rounds of interviews interested in the international angle and it's great to catch up with Steve Blaze of LILLIAN AXE again (check out or interview from earlier in the year and the new one when it's posted later this month). I also get to catch up with two of my favourite photographers – Brian Denton in the tent and in the pit and Vernon Gowdy – both of whom have contributed to the annual Rocklahoma Coffee Table book in past years. These guys have a great eye for a great picture and if I get part of the way there I'll be happy!
DAY TWO

DIEMONDS put in a great set on Retro stage to kick us off, proving that those Canadians know their Glam Metal. It's a set that makes you want to drink beer and many of their crowd are indulging already despite the fact that there's a full working day of music ahead of us all!

Back at the media tent it's nice to be able to catch up with Matt and Corey from TRIVIUM who are regular visitors down under, it's great to get a chance to talk to Corey outside the constraints of a formal interview just about touring and life in general and nice to hear a band that loves coming to see us in Australia so regularly. This will be my tenth Trivium show and despite it's brevity, probably one of the best.

THE DARKNESS may be a no show in the media tent but I manage to catch up with Justin, resplendent in his white tennis gear, as I get the camera out of the car. I grew up pretty close to where the band is from and he's just as cool as you imagine he would be snapping a shot of us next to the bright orange portaloo reserved for the media.

POP EVIL is a band I've heard and quite like but live, boy do they deliver. I feel like slapping myself on the side of the head and revisiting their back catalogue immediately I get home. If you want to see a band that can take their catalogue to a new level live then these are the real deal.
In between interviews with SOULICIT who played a blinder yesterday on the camp ground stage and LILLIAN AXE I manage to take in a few songs of Retrospect artist SWITCHBLADE SCARLETT, a bunch of young guys off the back of a long drive who are amazed that we made it in from Australia! They've got a great sound and a knack with their songs that make them feel like you've heard them before. Both Glam and Sleaze they turn more than a few heads – a promising sign for a young band.
Then it's time for TRIVIUM, as I said, regular visitors down under and today on stunning form as they tear through their catalogue heavily drawing on the latest album "In Waves". To be honest I don't know where to start here, Trivium is probably my favourite Thrash band and this comes from someone not particularly in love with the genre. There's just something they have that I guess is probably their inherent tapping of great melodies and marrying them with brutal guitar. Man, they rock today and the crowd loves them. Security in the pit is pretty heavy – it looks like a Gridiron team in there with us and I'm stunned that no one is crowd surfing. It's one of those moments when you think back to Soundwave in Australia when after three songs probably a hundred people have been over the barrier and here: not one. The culture shock is astounding and refreshing to say the least and the non-aggressive atmosphere of people just getting off on the music is something I'll always remember.
Over on the Retrospect stage veteran rockers RUFF JUSTICE rock the tent with a real old school Dio meets Dokken attack. A band well worth checking out.
THEORY OF A DEADMAN is a band I really never paid much attention to in the past, probably writing them off as a nu-metal band with little to offer. On the basis of their show today I really have to throw my hands up as they proceed to put on one of the best performances of the day. As I said that's what I love so much about festivals and just to rub in the fact that I know so little about them as soon as they hit the stage I realise I've been chatting to Tyler earlier in the day! Nice guy he was too. Blistering set, nuff said!
Then over on the Hard Rock stage came my set of the day, and one of the real highlights of the weekend. THE DARKNESS may not be familiar with everyone here but they draw a pretty good crowd and as far as entertainment goes, or 'how to put on a festival show' these guys were made for headlining. Only ever having seen them in small clubs in the UK and Australia it's immediately noticeable that these guys were made for bigger things and can command a stage of any size.
Justin Hawkins is a born performer, it's as simple as that, animated, funny, charming, acrobatic, He has it all even if some find his falsetto a little hard to take. As far as the song selection goes it's perfect: the best of the first two albums and a taste of the new unreleased CD. As far as the old stuff goes half the crowd were amazed and those that were familiar with the band were going wild. New songs like 'Concrete' and 'Everybody Have a Good Time' particularly hit the spot and to close with "Love on The Rocks (With no Ice)" just left everyone wanting more. When you add to the music Justin's headstand on the drum riser and his excursion amongst the crowd on the back of a security guy to play out a solo as the sun went down on Rocklahoma it was pretty much perfect!
MEGADETH play out a great set on the main that sounds great from up front but reports of the wind taking the sound further back mean that some don't get to hear the set as well as it should be heard. That's the problem with festivals I guess and it's similar with QUEENSRYCHE on Sunday where reports differ depending on where you were standing – the joys of festivals.
Musically MEGADETH kick ass, and whilst they might not quite be up to the level they were when they played Australia in 2010 and we are banished from the pit into the VIP due to the smoke machines Mustaine and the guys pull out all the stops. Here again I have to say that as a photographer people actually moving out of the way for you at a festival is just mind-blowing. You'd never see that in Australia and my respect for the people of Oklahoma just went up another few notches! In a set that is essentially a greatest hits festival pleaser there's still room for a few new numbers prior to them hitting the European Festivals in June.
VOLBEAT hit the Hard Rock stage with a lot to live up to: there had been a lot of talk about the Dane's show on the forums prior to the event and a lot of people talking them up as the band to see. As a first timer it was something I'd been holding out for, but without an album since 2010's "Beyond Hell/Above Heaven" it would be interesting to see what they put on the set list. With a style that encompasses everything from Metal to Country to Punk they certainly have an individual sound and the show they put on had the sizeable crowd wanting more. They do live up to expectations and if you get the chance to see them on their tour with Hellyeah and Iced Earth it will be something to tell the kids about on the basis of tonight's set.


ROB ZOMBIE took the stage late and emerged through a sea of dry ice to a rapturous crowd of Zombie fans. I'd always had a general interest in Rob, particularly the early days when White Zombie kicked some serious ass. Part Barnum and Bailey showman, part horror movie villan, Zombie certainly knows how to put on a spectacle which is kind of an Alice Cooper show on steroids with more metal. As a show there's a lot going on and musically the band is as tight as a drum. Sometimes you have to look back and realise how long he's been at this to really get a hold on what his eventual legacy may be. Tonight he has the ROK crowd in the palm of his hand.
Playing pretty much a bit of everything from his career he had the crowd where he wanted them from the opening of "Jesus Frankenstein" to "Dragula" though I still must admit it was White Zombie's "Thunder Kiss '65 that topped it for me just before the encore. Great show, great spectacle and an amazing way to round off Day two on the main stage.
All that was left for us after that was to see LILLIAN AXE back on the Retrospect Stage. Playing a longer set more than made up from their rescheduling almost two hours later than planned. Now I've been Lillian Axe fan for a good few years now and followed them through line-up changes over the years but the core always has been guitarist/writer Steve Blaze and tonight may be just have been about the best I've seen them.
Earlier in the day we caught up with Steve for a brief interview (Coming Soon) where he talked about his plans for the next album but tonight was all about the new singer – Brian Jones who we'd chatted to earlier in the day too and a nicer guys you couldn't meet but the big question was could he cut it live? After having some great singers in Ron Taylor and Derek LeFevre was Brian the man? Half way through the first song we knew that he was.
Now for those unfamiliar with LILLIAN AXE what you get is a mixture of epics songs, beautiful ballads and melodic metal that has stood the test of time. To me LILLIAN AXE will always be one of those bands that you just sit and wonder why they aren't huge. They are the kind of band that has such a body of music behind them that they could play for three hours and you could still call out songs you wanted to hear!
Tonight's set draws equally on the newer numbers from latest release "The Days Before Tomorrow" and the older classics. Really you can't hear enough of songs like "Show A Little Love", "All's Fair In Love And War", "Ghost Of Winter", "True Believer", "No Matter What", or the more metallic "Crucified" or "Deepfreeze". But the new stuff is equally good, if a little less familiar to some in the packed tent. Between Brian and Steve there seems to be a real chemistry and the band is enjoying itself tonight before embarking on a great summer package tour "America Rocks" with the likes of Jack Russell's Great White, Faster Pussycat, Bulletboys and Pretty Boy Floyd. (The only mystery for us Lillian Axe fans as I told Steve is their billing on that tour).
Tonight is one of those nights where the best is saved for last: a great lengthened set by a band on form where any questions about the new guy are instantly dispelled!
We get back to the hotel at a similar time!
DAY THREE
MAIN STAGE: Black Stone Cherry | Puddle of Mudd | Jackyl l Queensryche | Chickenfoot
HIGHLIGHTS: Black Stone Cherry | Queensryche | Chickenfoot | Puddle of Mudd | Charm City Devils | Ragdoll | Wildstreet | Sunset Riot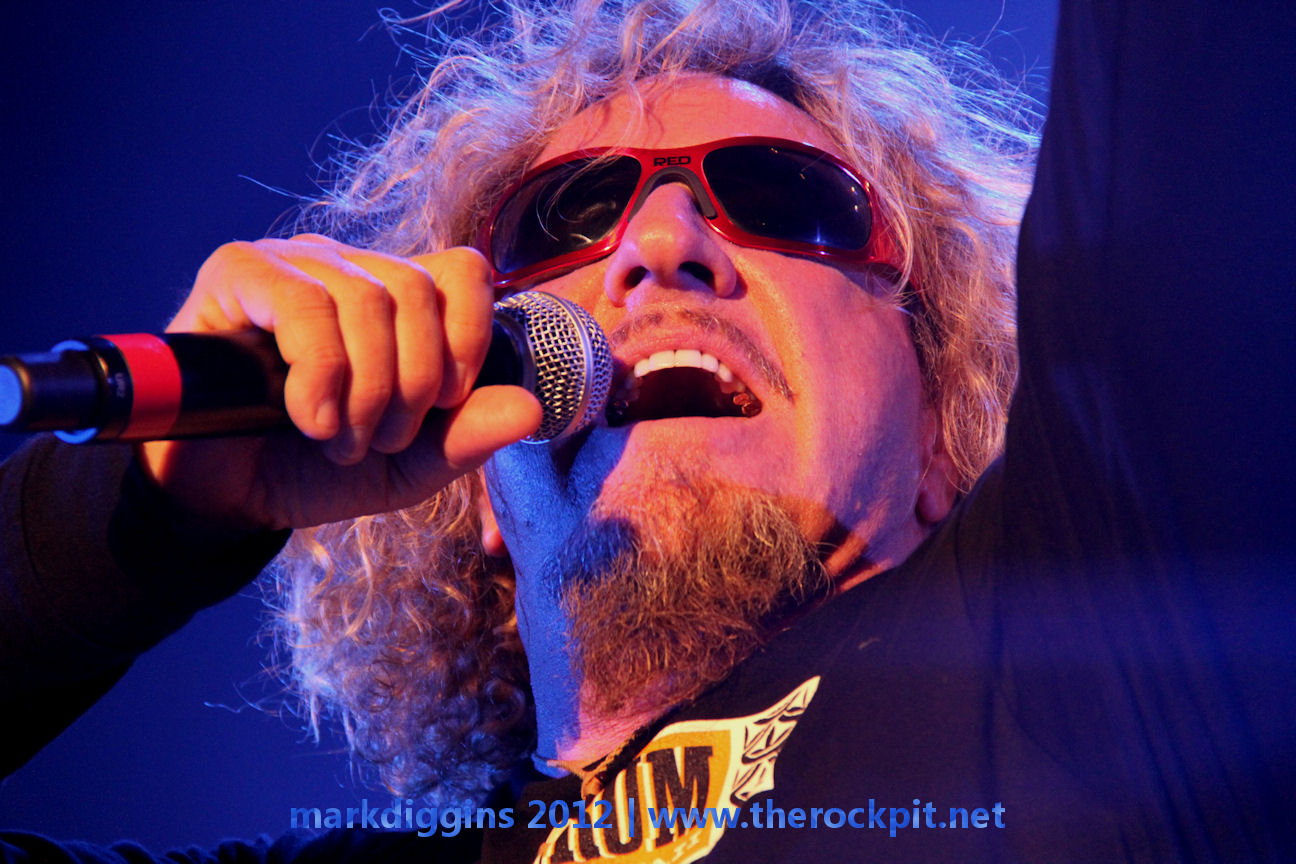 The final day of any festival is always a little sad in the fact that you know a lot of the people you have met you won't get to see for some time, but that is always compensated for by the fact that today's line-up is arguably the strongest of the Festival. After all the main stage seems to have no weak link and the other stages pretty much rock all day long. For some the events of the day will be pretty interesting too.
I interviewed Geoff Tate on the Day before the festival started and had a very long and interesting conversation with him where we talked about all kinds of things and went way over our allotted time. I felt then that there was something he'd perhaps left unsaid but maybe hinted at and after tonight's performance and the words said and the events of the next few days I'm left wondering if I maybe had the last interview with Geoff before the end of Queensryche? I guess we'll find out in due course.
Today for me at least is a chance to see a few bands I've had on my must see list for a while now and I finally get a chance to catch up with John Allen from CHARM CITY DEVILS – one of my bands to watch in 2012 after the release of their second CD – "Sins".
DAY THREE
Out in the campgrounds all the talk is about London's Dungeon and their promotional man-sized chicken! Take a pocketfull of metal, an ounce of sleaze and some insightful lyrics laid on a bed of eighties rock and you have something that is sure to grow stronger. Given that this is the Dungeon's first live show there's so much promise here it's not funny. Check them out in the Dallas area soon! The guys have been distributing their first demo exclusively at Rocklahoma so if you have a copy keep hold of it!
We hit the ground running today with local metal outfit FIST OF RAGE who put on a fist-pumping show on the Retrospect stage followed by a blistering set from Australia's RAGDOLL who have clearly picked up a good few fans over the weekend which merits them a signing over at the Jagermeister booth after their set and just before HELLYEAH!
To see a local Australian band billed next to HELLYEAH may just be a sign of things to come as songs from the new EP – "Here Today" go down a storm particularly the pumping "Tell Me" which gets huge applause and ballad "Could It Be Love" that pays homage to the best ballads of the 80's and gets its live debut today in front of an appreciative crowd. The band is even joined on stage for a great cover of ZZ Top's "Tush" by Retrospect's head honcho and consummate keyboardist Sam McCaslin: asses are kicked! This is modern rock at it's very best – distinctively new with a real depth that breaks the mould. RAGDOLL embarks on a short tour after ROK which should be something to see – don't expect these guys to not blow you away.
Baltimore's CHARM CITY DEVILS is a band I've been keeping an eye on, I loved their first CD "Let's Rock N Roll" which seemed to be a good head above a lot of their contempories (and one of my albums of the year) in managing to take the best of the eighties rock and bring it up to date. New CD "Sins" with its lead single the cover of the American classic "Man of Constant Sorrow" is similarly stunning, I expect big things of these guys and the live set doesn't disappoint at all.
Elsewhere on the Retrospect stage I'm reliably informed that DOWN N DIRTY again kicked ass with their Sleaze for a new generation.
ARANDA another local band seem to either be overawed or going through the motions, they're good but nothing particularly special, but being locals pull a good crowd.
It's then back to Retrospect for SUNSET RIOT's second show which even surpasses the Friday set as RAGDOLL did earlier. Great to see two unknown Aussie bands drawing a crowd and even better to see that the crowds for both bands are equally into it! As a front man Del has the live presence to pull it off and draw you in and their cover of "Evie" must have most of the crowd (except me, Ragdoll and Brian from Brisbane) thinking it's just another great original.
To be honest as a ROK veteran it almost brings a tear to the eye to see two great Aussie bands holding their own on a stage in the Midwest, winning new fans and putting on such great performances to many more people than they are used to playing to back home.
And then it's time for QUEENSRYCHE who like most bands do play hell with the lighting for the photographers before bringing out the great lighting on song four. I'll forgive them that as their set was, shall we say, more than memorable and the news immediately after even more so.
As you will probably have seen now on YouTube words were said and who knows where from here. If this was the last show Queensryche play in their current format then it was here at ROK and so be it. Getting back to the music close up (without the wind that affected the sound further back) they played a great show that showcased why they have always been such a cool live band. I've seen them in clubs, seen them in stadiums and even here at Rocklahoma a few years back when they played Mindcrime in its entirety. Tonight despite obvious tensions they are consummate professionals and deliver what press around the world are suggesting may be their last show with Geoff Tate after all kinds of stories about increasing dissatisfaction and knives…
With a set primarily drawn from Mindcrime and Empire albums, it's a crowd pleaser even if Geoff's comments to the crowd that "You guys suck" weren't perhaps the best way to ingratiate yourself. I'm listening back to that interview with Geoff now and reading between the lines… who knows? But it will be up at www.therockpit.net soon. After thirty years at least we are left with a great legacy.
Judging by the new songs HELLYEAH are heading in the right direction. I heard nothing tonight from the new material that didn't surpass their already recorded catalogue. And that is a huge accolade to the BBQ and Metal purveyors. The security got given a briefing before that set that "Some of these guys like to come over the top" and again we got the Gridiron sized guys in the pit but again there was little on and Australian scale! A few came over but they were politely and easily dealt with and again that's kudos to the crowd: more into the music than the mayhem!
And then we are left waiting for CHICKENFOOT. If there was a band that could close Rocklahoma then what better than one that has a drummer with few peers, a guitar God and two parts Van Halen (though that doesn't give Sammy full credit, I know). I'm alone in the pit with one other photographer and he seems to know exactly where to be, as I look back I see the rest of the photographers in the VIP behind me but asking if I'm OK to be there I'm just told "You're fine mate- your Australian!" I guess it pays to spend time talking to security over the weekend? Whatever it is I have a blast out there and the band is absolutely on fire from the off.
If you haven't managed to catch CHICKENFOOT live then you really must do as soon as you can. The songs that may have seemed a little ordinary on the CDs sound amazing live and the songs that sound amazing on the CDs sound out of this world. All of the guys too seem to be having such a great time, digging the music as much as the crowd. They also know exactly how to play to the crowd and the photographers, lining up, getting in close and personal and generally making it all seem effortless.
From "Lighten Up" to "Future in the Past" the set kicks ass, and the encores of "Oh Yeah" and Montrose's "Rock Candy" (where it all began for Sammy and a great tribute to Ronnie Montrose) just ice the cake. A great and fitting end to what has been a great Rocklahoma.
Back at Retrospect the GLITTER BOYS and WILDSTREET continue to kick ass before a jam of Led Zep's Rock N Roll closes what for a lot of us has been a festival we'll never forget. See you next year!