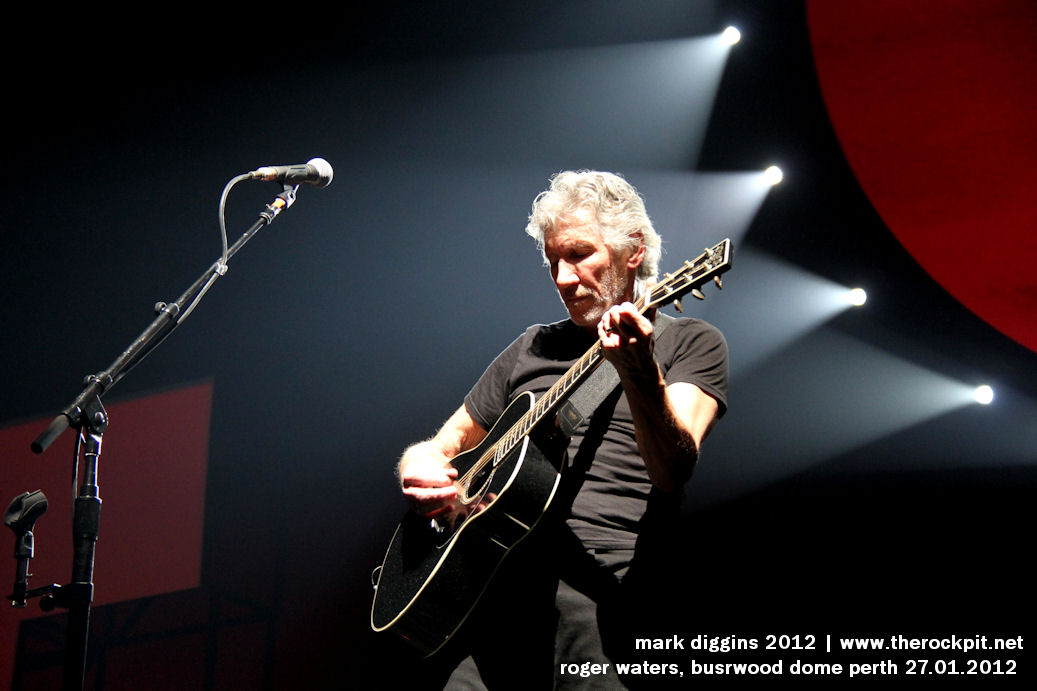 By Shane Pinnegar
Photography by Mark Diggins
On paper, a rock opera about the disassociation of a rock singer with his audience, encompassing paranoia, fascism, drugs, groupies, a smothering mother, a war casualty father, an abusive and henpecked teacher, fame burnout, infidelity and madness seems rather at odds with rock n' roll's shallow and self-indulgent reputation as a disposable art form, yet somehow Roger Waters and the rest of Pink Floyd managed to pull all this and more together in 1979 to create a remarkably cohesive, musically iconic and enduring work of unparalleled genius.
Through the original double album, live shows in England and Germany, the Alan Parker directed & Bob Geldof starring 1982 movie, to Waters' star studded 1990 Berlin concert to commemorate the falling of the Berlin Wall (and, by extension, the Cold War) the story and show evolved and was quickly afforded legendary status.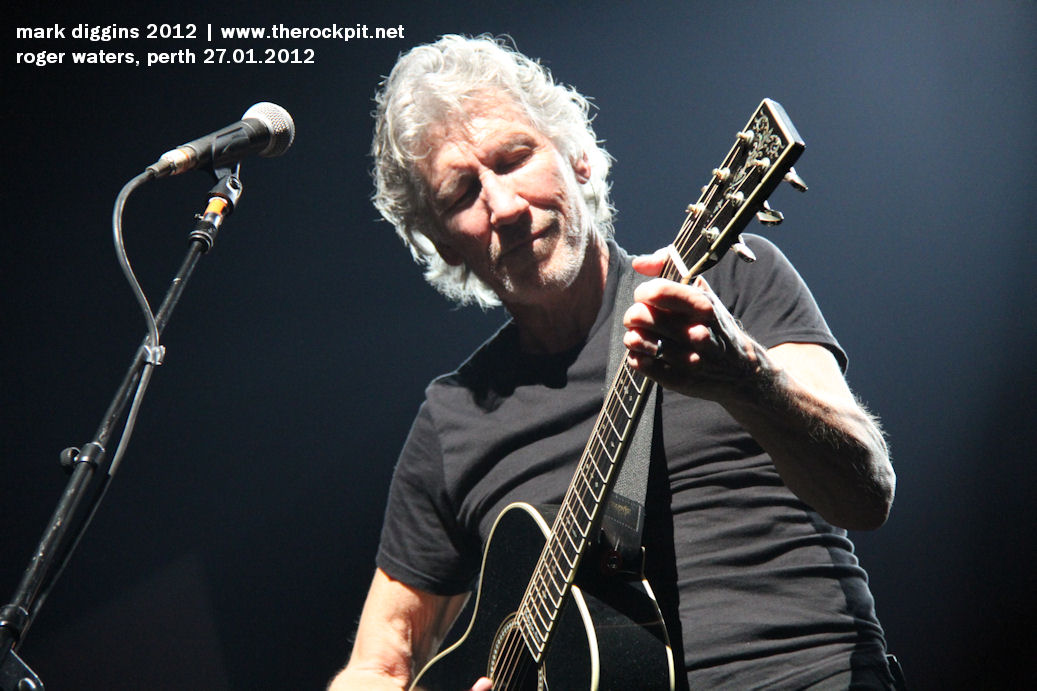 Fast forward to 2009 and Mr Waters redeveloped the work alongside original and new collaborators to put together a multi-million dollar production of the story utilising all the bells and whistles modern technology can provide, hitting the road in Europe and The States in 2010 through to July 15th, 2011. Fast forward again to January 27th and The Wall is back on the road, with the first of two nights here in Perth.
From opener 'Outside The Wall'/'In The Flesh' it's obvious that no expense has been spared on this lavish production – the wall itself uses stunning technology in projecting images so precisely and in such high definition onto every single brick to fantastic effect, whether it be graffiti, faces of soldiers, activists and civilians who have died in armed conflicts over the past century, or thought provoking slogans and messages.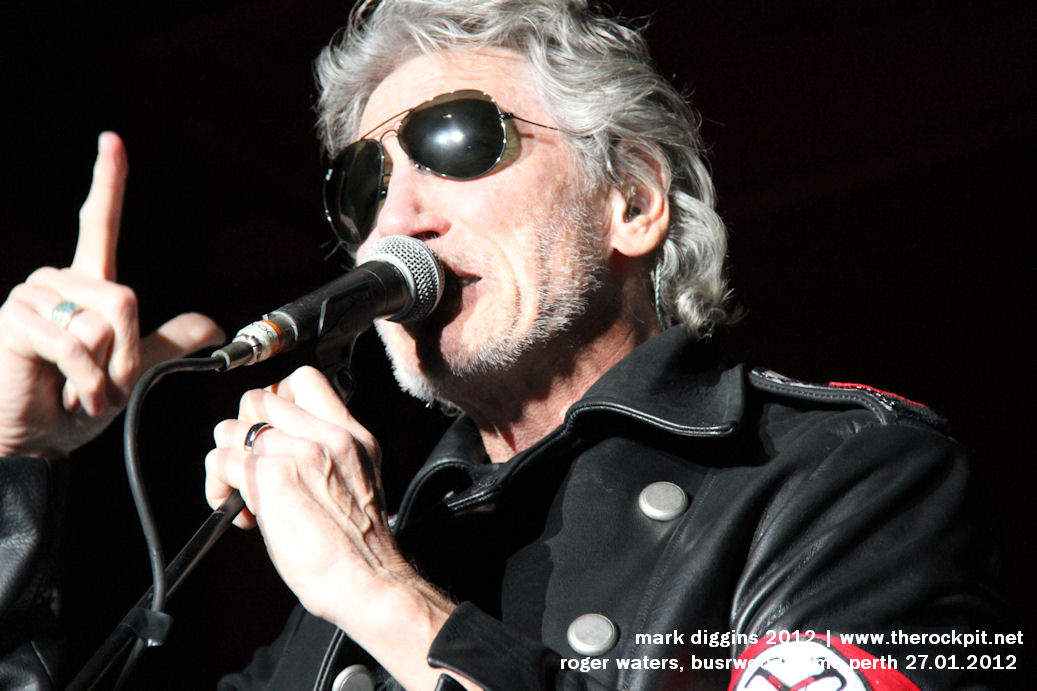 A small choir of kids joins a giant teacher puppet for the only bonafide "hit" from the album, 'Another Brick In The Wall Part 2', and it's really hard to find suitable superlatives to adequately praise the grand ambition and audacious vision and realisation of this production without gushing.
When Waters introduces a duet for the wonderful 'Mother' between himself now and a projected film of "sad little miserable, fucked up Roger" from a 1980 Earls Court concert, it's obvious this is no normal rock n' roll show.
The show has, of course, evolved from those early days – political, religious, corporate and financial globalism and institutionalised greed, war and injustice all earn the withering glare of Waters' ire in the 2012 version – 'Goodbye Blue Sky' sees projected bombers dropping payloads of dollar signs, McDonalds, Shell and Mercedes Benz logos, Stars of David and Christian crosses; images of destruction and horror blend with Gerald Scarfe's iconic imagery from the 1982 movie – copulating flowers, teachers mincing children, marching hammers and more, all augmented with new work and projected onto the ever-growing wall as the band are slowly but surely obscured by bricks.
As the wall builds and builds, Waters/Pink's descent into madness is brilliantly realised – as 'Last Few Bricks' plays and the band is finally shut off with the one last hole in the wall filled, the projection shows chunks of bricks appearing to float off leaving nothing but blackness as Waters utilises his uniquely raspy voice to convey all sorts of raw emotion on 'Goodbye Cruel World', and suddenly the first half is over.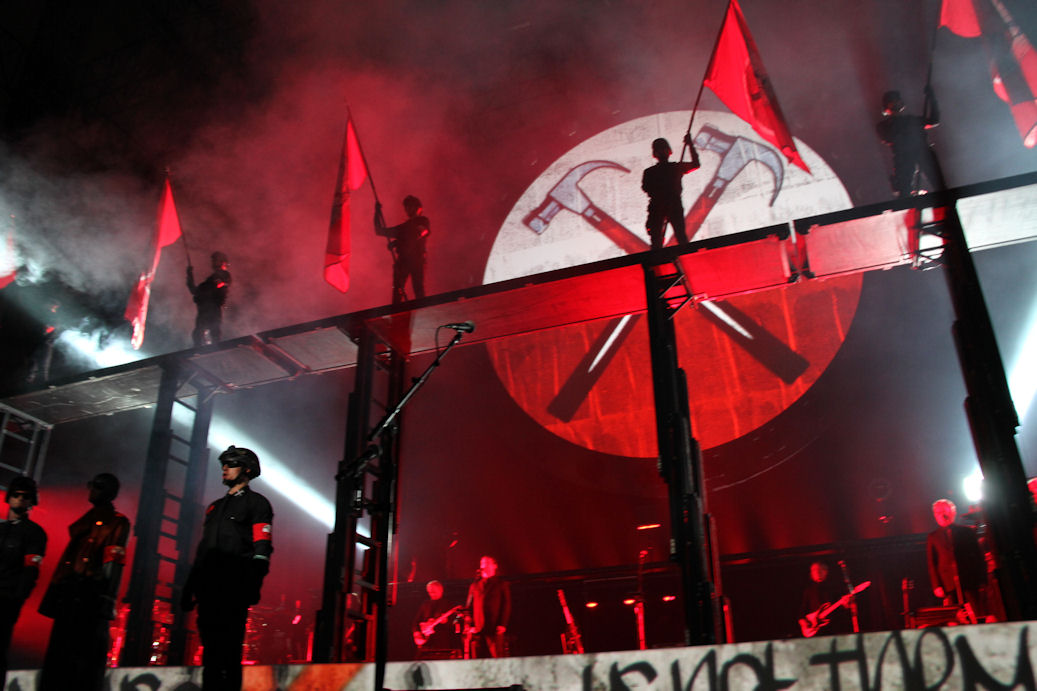 The anti-war message is emphasised even through the intermission – photographs of servicemen and civilians lost to conflict, which were sent in by fans, are highlighted by the slogan "We will remember you", and early in the second half an impassioned 'Bring The Boys Back Home' features a particularly moving video of a US schoolgirl overcome with emotion as her father enters the classroom, presumably unannounced from active service. These little moments resonate as strongly as anything in the actual music.
A quote from Dwight D. Eisenhower, projected over backdrops of the horror of war, hammers the point home:
Every gun that is made,
Every warship launched,
Every rocket fired,
Signifies
In the final sense
A THEFT
From those who hunger
And are not fed
Those who are cold
And are not clothed
Perhaps to prove that he is no longer the cranky bugger he was reknowned to be in the Eighties, Waters follows these sombre moments with the light-hearted addition of a huge remote controlled, inflatable, graffiti covered pig – harkening back to his Pink Floyd days as well as providing some light relief while he plays the fascist rally leader through 'In The Flesh 2'. The entire grandiose spectacle is simultaneously utterly worthy with it's lofty messages against injustice and violence, and pure spectacle with digital trickery, explosions and multiple props all appealing to our basest lust for pure unadulterated entertainment.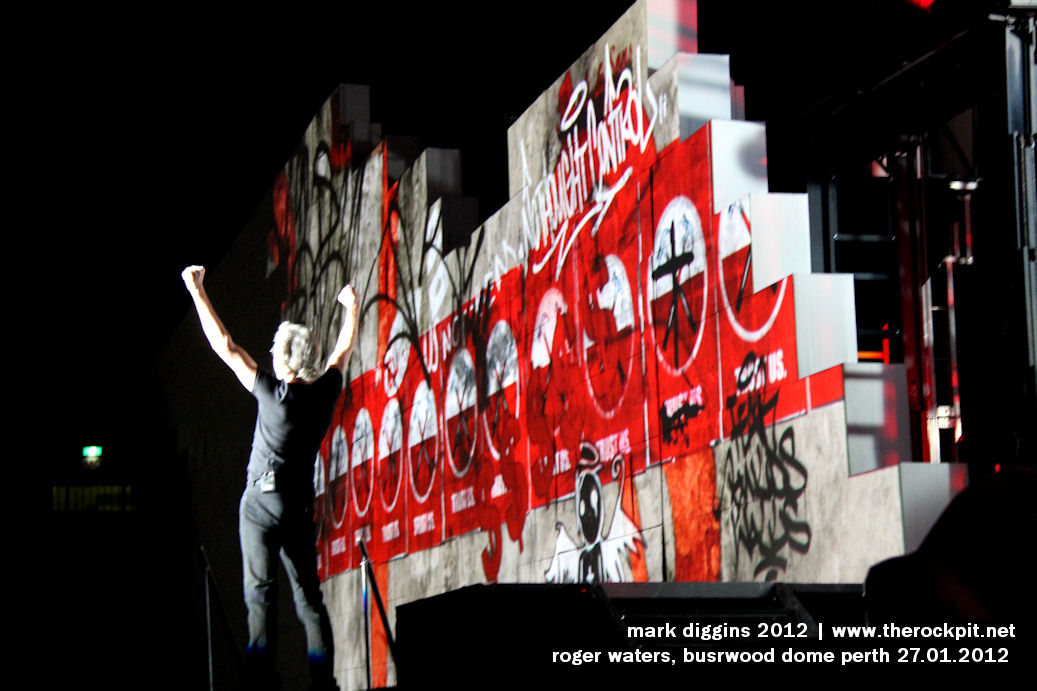 'Run Like Hell' – another centrepiece to this classic album – is a musical highlight for this amazing band featuring ex-Thin Lizzy guitarist and long time touring partner Snowy White, drummer Graham Broad (The Drifters, The Temptations, Aretha Franklin, Sam Moore, Solomon Burke, Stevie Wonder, Eric Clapton, Jeff Beck and many more), Hammond organist Harry Waters (Nick Cave, Tom Jones, Marianne Faithful), guitarists G E Smith and Dave Kilminster (Keith Emerson, John Wetton, Geoff Downes) and numbering 15 in total.
The climactic trial sequence of the album and show leans heavily upon Scarfe's animations until Waters gets the crowd chanting "tear down the wall" – and with a crescendo hundreds of "bricks" fall triumphantly, leading incongruously and perhaps anti-climatically to the core band standing in a line in front of the rubble, performing a sparse 'Outside The Wall'.
Waters makes a surprisingly heartfelt thankyou, saying that despite how grumpy and disenfranchised with rock n' roll he used to feel, he "couldn't be happier to be in this room with [us] all tonight", and with band intros and a bow, it's all over, leaving the capacity crowd tonight unanimous on two points –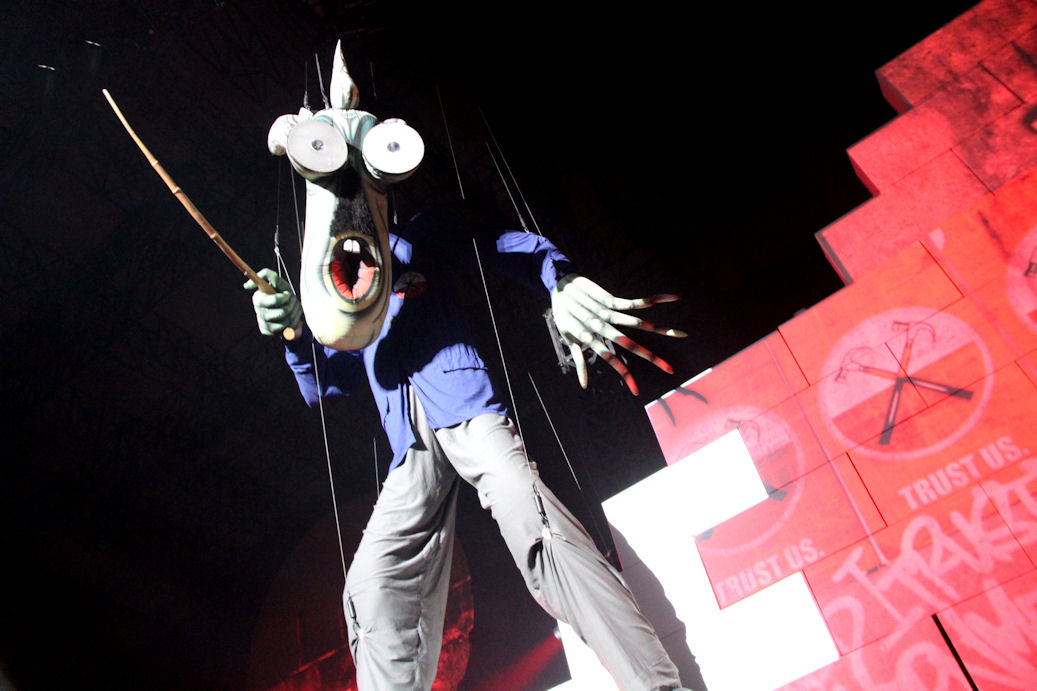 None of us are likely to see a show any time soon that is so remarkable, so visionary and moving, so challenging and brave, and so musically enrapturing, eye-opening and thought provoking…
And that Roger Waters – we will remember YOU.