SCOTT KELLY (NEUROSIS) AND JOHN BAIZLEY (BARONESS)
LIVE AT THE CIVIC HOTEL, PERTH
4TH FEBRUARY 2012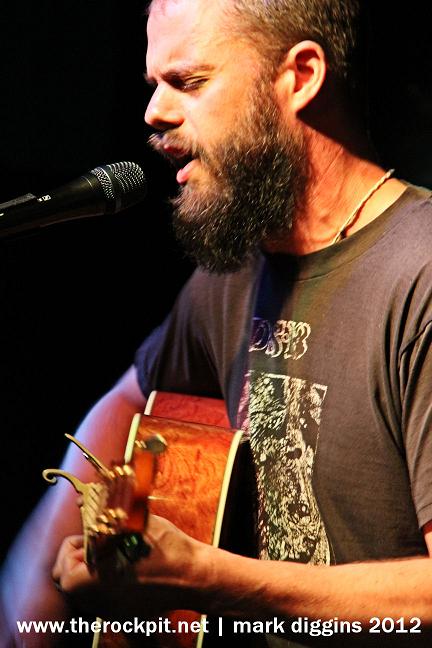 I'm a big fan of artists who aren't afraid to step out of their comfort zone and present their work in an unfamiliar format, so getting to see John Baizley and Scott Kelly acoustic was a real treat. I'm a big fan of John Baizley's visual art as well as his work with Baroness, especially their last album "Blue Record", and I was eager to see how his guitar chops and voice translated to an intimate acoustic setting. I was also curious to see Neurosis main man Scott Kelly out from behind his usual doom laden setting. The results, while not perhaps for everyone, really hit the mark with the audience of open minded metalheads gathered at the Civic.

The evening began with Perth's own Andrew Ewing, of local band the Devil Rides Out, presenting some of his new solo material and Devil Rides out material. While starting a tad shakily, Ewing soon hit his stride with his urban bohemian styled grunge folk, a rather more organic blend of Leonard Cohen, than you would expect possible. Standout track was the beat poet inspired track he simply dubbed 'his rambler', a droney ode to suburban paranoia and disenfranchisement. let's hope we hear some more acoustic stuff from Andrew in the future; until then, I'd highly recommend checking out his band The Devil Rides Out.

As soon as John Baizley took the stage the rather tense atmosphere eased, urging the audience to come close to the stage, as it would make him 'feel a whole lot better about doing this'. Within the first few bars of the Baroness track 'Steel That Sleeps the Eye' Baizley asserts himself over the audience and his instrument, coming across as a consummate solo performer; not bad considering it was only his fourth solo acoustic show ever!

The Floyd influence really comes to the fore with the first few tracks, Baizleys finger picking a lilting accompaniment to his Gilmour-esque vocals. His between song banter was excellent, drawing the audience in and bringing to light the characters and stories behind the songs. Imagine Meddle era Floyd crossed with acoustic Baroness and you'd be close.

Speaking to John after the gig, he revealed that most of the material was in fact new Baroness material, which really excites me; the quality of the songs, lyrically, melodically and harmonically really stood up well in the stripped back format. After taking the audience on a rather intense and emotional musical journey, Baizley capped off his set with a cover of the Bruce Springsteen song - In My Father's House. Not exactly conventional, but that was the theme of the night!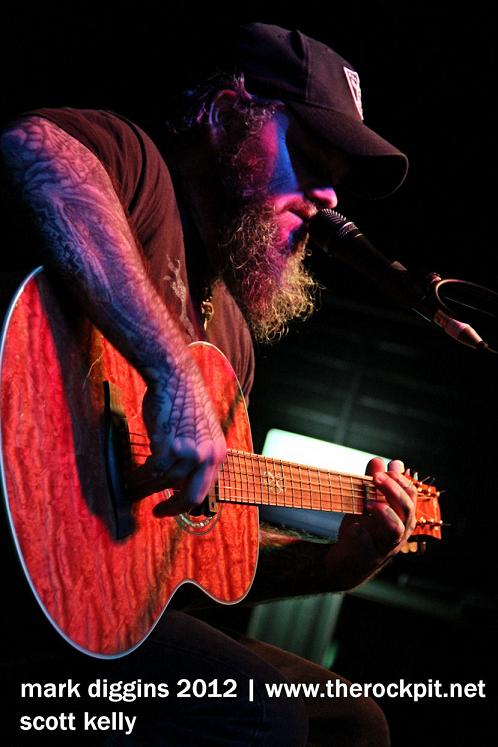 John Baizley warned the audience that Scott Kelly 'will destroy you'. He wasn't joking. Adorned with tattoos, a trucker hat and an acoustic guitar, Kelly took to the stage with the minimum of fuss, saying very little and getting down to proceedings. As a legend of the Doom genre, he didn't need to say much; nearly everyone in the audience seemed to know every lyric and change to a set of songs covering his back catalogue with Neurosis, as well as side project Shrinebuilder and solo albums. Kelly's acoustic sound merged dour minimalist storytelling set to the pace of a doomy funeral dirge. While there was little variation between songs, the understated intensity of his performance really came to the fore with the highlight of the set, a minimalist doom take on Springsteens 'My Fathers House'; with just an acoustic guitar and his voice he managed to 'out-heavy' any metal gig I've ever seen. Terrifying in fact.

The evening finished with Baizley joining Kelly for a few songs, finishing on a rather lighter note with a cover of Townes Van Zandt which served to lift the mood and leave the audience feeling satisfied after the deluge of doom laden storytelling and emotional overtures made throughout the night. While you had to be a real devoted fan to get the most out of the evening, I found the material translated quite well to an acoustic format and there was enough to keep the casual listener engaged; whether it was the ominous stage presence of Scott Kelly or the melodic finger picking of John Baizley. Hopefully we'll see a lot more tours like this in the near future, as it's a great format to shed light on songs in a genre which often gets criticised for its lack of 'real songs'
Words by Leon Todd & Images by Mark Diggins