DOOBIE WHITEHORN
Touché
2009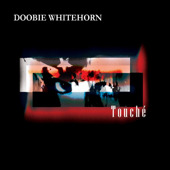 By Shane Pinnegar


There are an awful lot of albums slipping under the radar nowadays, so it's worth keeping an ear out for missed gems such as DOOBIE WHITEHORN's 2009 album "Touché".
Doobie, as his name implies, might like a little toke – but this is far from stoner music. Layered and intricate, melodies writhe around each other, slinky and muscular guitars sliding in and out of the songs, burrowing deep one moment, springing forth the next. It's good stuff, and backed up by some really good tunes.
'Teeth' comes on all sexy like a rocked up Tom Petty or The Cars, but without the naff Eighties production, and gives The Doobster a chance to really flex his six string chops; the title track brings to mind Primus without the wacky noodling; 'Tremblin' Soul' has an insistent melody which won't let you ignore it; 'Someone's Little Girl' shows a Bob Dylan-esque edge to his work; and album closer 'Draggin' Me Down' sees Dylan, The Dead, ZZ Top and Tom Petty all rolled into one to end on a high note.
Whitehorn's strengths are as much in his multi-faceted production as in his songwriting and multi-instrumental skill (he plays, engineers and produces everything here), and "Touché" will reward repeated listens, slowly revealing it's mysterious treasures like Salomé peeling off veil after veil.