ufo
seven deadly
roadrunner records
released 2012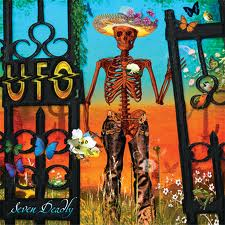 UFO's new CD 'Seven Deadly' is their 20th studio album proper and while it may never be held in the same high esteem as their 70's classics Force It, Obsession or Lights Out it is nonetheless a great solid disc of classy old school hard rock.
As a long time fan of the band I could sit here and crave a return of many elements long past the most obvious being the mercurial guitar talents of Michael Schenker but to do so is to dilute the worth of the current line up featuring original members Phil Mogg (Vocals) and Andy Parker (Drums), long time keyboardist Paul Raymond and virtuoso guitarist Vinnie Moore who have delivered an album chock full of delights.
The album opens with three fiery rockers Fright Night, Wonderland and Mojo Town and right from the beginning you can tell this album ain't like the last one (2009's critically acclaimed The Visitor) which had a more laid-back bluesy feel throughout. In particular Wonderland harks back to the sort of stuff UFO did back in the 80's an era of the band that is somewhat underappreciated. In these tracks alone one can detect a renewed spark and vitality that hasn't been heard from the band in some time.
Track 4 is the big ballad entitled Angel Station which really lets Mogg shine - his vocals and lyrics as great as they've ever been. Vinnie Moore's solo is outstanding also on this track, in fact his playing seems to be getting better and better with his songwriting fitting the UFO style more each album.
Further highlights on the album include Year Of The Gun, The Fear and closing track Waving Good Bye. The digipack version of the cd and the 2lp limited edition vinyl also include two bonus tracks Other Men's Wives (too good to be a bonus track surely?) and the traditional blues work out Bag O' Blues.
Overall another tasty piece of work from these English hard rock veterans. Lets hope there's more to come before the band really do start waving goodbye.
By Glenn Odin