RAGDOLL
HERE TODAY EP
Beautiful Disaster Records
Released 2012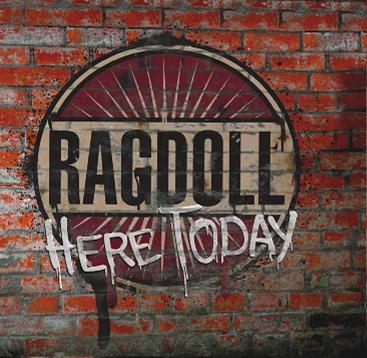 Sometimes you get that feeling that you are hearing something that could be rather important. Something that could just explode. After hearing Ragdoll's fist EP (Ragdoll Rock) I thought that I had heard something that had a lot of promise, but hearing 'Here Today' I am absolutely convinced that this band from Perth, Western Australia is destined for much bigger things.
Put together in double-quick time in preparation for their first overseas tour 'Here Today' had a lot to live up to after the great reception to their 'Ragdoll Rock' EP which sold out in a matter of months and is now only available digitally (it was also www.therockpit.net's EP of the year last year). 'Here Today' takes the band and the listener to another level entirely as far as the songwriting and musicianship is concerned; indeed it's hard to believe this is an independent release.
Every track here is a winner; it's as simple as that.
We start with 'Here Today' which spits vitriol about loss over an enormous riff and powerful vocal from Rafferty. It's a song that sees the whole band come to the fore. The canvas is large: the sound is distinctly modern, the musicianship tight as can be, but above all there's that feeling of timelessness: like a marriage of the best of modern rock, but with reverence and respect for classic rock traditions, and that's both unusual and refreshing in a young band.
The track that really grabs me though is 'Tell Me' which is as good a song as I've heard all year, maybe longer. It's so hard, so immediate and clinical. And it's here that you realise what great musicians these guys are: Barrett's drumming is solid, fresh and while not flashy, he's clearly more than just another rock drummer. Todd is simply sublime, a guitarist who stands out more than someone of his age should: like 40 years of craft have been forced into his twenty-something year old hands. The real jewel though here is Ryan Rafferty, whose golden vocals get a chance to open up and show you glimpses of what he's capable of. There's a lot of Glenn Hughes in there and he let's a little of it out here on what just may be Ragdoll's best song to date.
And then just when you think that you've put your finger on what Ragdoll now sounds like comes the ballad 'Could It Be Love' with its deceptively simple refrain and understated longing. It's a song like they used to make back in the eighties when a ballad was essential on any rock album except here it's gloriously brought up to date, the gloss taken away and the bones of the song left to glimmer in the sunlight. It's also a song that leaves you wondering how they dare do that? How can they start with two explosions then juxtapose it with something like that?
Ragdoll strikes you as a band that isn't afraid, isn't following fashion, and isn't going to take the easy route if the more difficult path is more interesting. It's almost more indie than the indie bands and certainly a lot more uplifting.
'Heaven Above' is a song I know the band has been playing live now in various forms for sometime now (I really need to get over West to see this band!) and here it's almost a song of two halves, uplifting modern rock with progressive leanings that clocks in at almost eight minutes. It's also like nothing you'll have quite heard before: seemingly ending at close to four minutes before a simply stunning three minutes of guitar from Leon Todd guides you out. Clever from many perspectives, not least that it is essentially a ready-made radio edit.
And that leaves us with what is probably the most straightforward song on the EP. The foot to the floor head-down boogie-laden rock and roll 'Overnight Sensation'.
I have played this EP constantly since I received it and still haven't scratched the surface. Like I said: every song here is a winner. And while you may hear that a lot of the time I'll stick my neck out and say that these guys are the real deal.
Do yourself a favor and check out the EP: bands like this don't come around too often.
Available through the band's own website www.ragdollrock.com or through Amazon.com and i-tunes
By Leslie Phillips