OCTOBER RAGE
OUTRAGE
SELF RELEASED
2011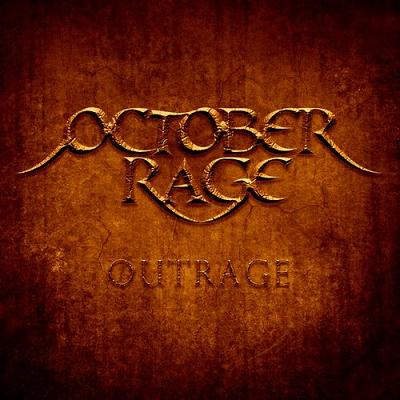 I didn't expect this... From New South Wales' Central Coast comes a band that I expect will be making a few waves very soon. It's been a while since I've heard a debut album from a homegrown band that sounds this good.
If you take the modern rock of bands like Shinedown, throw in some early Stone Temple Pilots and pump up the melody you have something special, but there's even more to October Rage than that...
You'd be hard pushed to find a better opener to an album this year than 'Set You Free' which storms out of the speakers like the bastard son of Shinedown and is immediately followed by the equally powerful 'Wayside' that recalls Stone Temple Pilots from their first and best release. This is modern rock with intent, a great ear for melody, and some not inconsiderable musicianship. Makes you kinda want to visit the Central Coast just north of Sydney to check these guys out live! It's 'Wayside' too that first hints at the more expansive side of October Rage that we see later.
If you were looking to see how they handle a slower number 'Silver Line' is a helluva song that seems to somehow have distilled all that is good about the modern rock ballad ad discarded the detritus. It's a song you would expect from a band with a few more years and albums under the belt, and to be honest puts a lot of the more successful, 'bigger' bands out there to shame. Love the tone out of that guitar too!
One of my favourites here is 'Home': a great modern rock song that shouts 'quality' and if you heard it on the radio tomorrow you would be turning up the volume to find out who it was by.
On the more contemplative side 'Supernova' has a gentle kick that starts out almost country-tinged but builds and falls and takes you on a ride that packs some real emotion. Again I'm amazed that these guys haven't already been spotted and picked up.
The rest of the album doesn't stack up too badly either – I certainly can't pick any filler on here that's for sure! 'Eastern Road' is a mid-paced number that hints at what the band can be: elsewhere riffed-Up 'Two-Sided Blade' and acoustic-led 'Into the Night' show the different facets of a band that promises so much more to come. Closing track 'Under the Wind' too is a pretty special slower number to close that really showcases Nick's vocals.
It's perhaps the extended 'Reign of Fire' though where it all comes together best of all: a slow-burning Southern-tinged ballad that has life and space and energy and soul in its six minutes and seventeen seconds. It's a song that builds perfectly until someone lights the fuse four and a half minutes in and you witness what surely must be a wonderful song live.
I always feel so guilty especially when talking about a new band in pushing home a real connection, but there is definitely a lot here for fans of bands like Shinedown or even Alter Bridge. Don't for a minute think that October Rage is in any way an inferior copy though: this is all class all the way. If you only take one 'lucky dip' this year to chance a band you've never heard before this is probably the one to pick…
Seriously a contender for the best of 2012 list.
By Mark Diggins