NOSTICS
AWAKEN
2012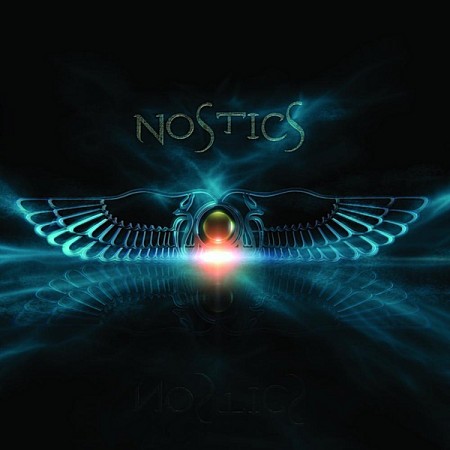 I initially thought that I wouldn't like Nostics – looking at the name and the album art I immediately thought 'Prog': I mean a name that recalls that weird bunch of semi-mystics- the Gnostics (damn this classical education!) surely it had to be Prog?!

Well let's just say that the opening three numbers (which are probably some of my favourite here) are more like vintage Goth if any of those vintage Goth bands like The Sisters of Mercy or (early) The Cult that put the guitars to the fore. I like this and both 'Broken Down' and 'Clarity' benefit from sounding refreshingly familiar but tantalisingly out of reach and hard to pigeon-hole.

The best of these? Check out 'Creature' the single, it's as good a place as any to start.

So with a sound that initially grabs you with its classic Goth threads what happens? Well they open the toolbox and show you the rest of their toys. There's a Prog Rock meets Garage meets the Cramps sound to 'Prophecy' but we don't stop there…

'Take a Chance' is probably one of my favorite tracks here, essentially a mid-paced rocker that leans back and rests on a big chunky riff…

'Peter Pann' is a rap with Rob Zombie-like attitude and a beautiful blues-fused guitar sound…

Elsewhere we do venture off into more experimental territory with the Sabbath meets Prog of 'Iscariot'

'Galileo' serves up a Zeppelinesque eastern vibe before resting on a wandering bass and dark vocal shadowed by a faintly eastern female vocal that hints at Ofra Haza. (Even if the Galileo, Galileo refrain does make you smile wondering if the broke out into Queen's Bohemian Rhapsody more than once in the studio).

We're still in the East with the tribal drums that open 'The Light' before the guitar kicks in and we open up to the riff.

Now there are stumbling blocks: the rap section that starts 'System' put me off the rest of the song, which is a real shame. The faux-traditional folk opening to 'Journey Man' too came off a little too 'Spinal Tap' for me. But I'm quibbling…

What works is the blues intro and burst into riffage of 'Drunken Ambition'; the searching almost early Soundgarden meets STP meets Tool meets Incubus taste of 'I Go Blind' and the revisiting of my favourite track 'Take a chance'. More please…