ICONIC TONIC
ROCK AND ROLL
2012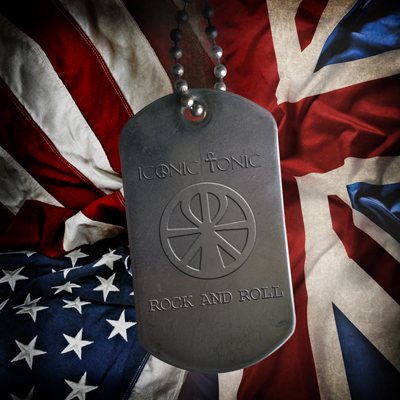 Iconic Tonic eh? With and ankh symbol for the 'T' in tonic – beats an umlaut I guess but what should we expect? Tales of Egypt? The meaning of eternal life? How about something that sounds very Van Halen meets Bulletboys via Sunset Strip's eighties blossoming? Infact it's something more than that.

First off the mark – 'Out Loud' has that stuttering riff Eddie VH perfected in the seventies and it sets out the stall. Nothing new, a little derivative but bloody good all the same.

We slow down for I Can't Breathe' which owes a lot to the Sunset Strip of yore and probably early Poison. OK I'm getting it – take some great influences and replicate them? No, not quite.

'Paramount' takes it's queue from early Collective Soul, at least to these ears – there's that faintly trippy guitar and vocal that had part psychedelia, part Black Crowes as it's beating heart. It's a winner.

Then what do we have here? Rob Zombie channelled effectively on the odd man out: 'Zombie Baby' I personally don't like it and to me it sticks out like the proverbial sore-thumb. If you're a Zombie-acolyte though it will have you hopping about with Zombie joy.

'Lost at Sea' is more like it, a slower song that again has a Collective Soul element to it fused to a band with more progressive leanings, I'd hate to say Pink Floyd but to be honest this is what I imagine Collective Soul would sound like covering them. I love it. Lovely chords.

One of my favourite tracks is another slower number 'Bring You Down' which is altogether more Metallic in a Guns 'n' Roses meets Lizzy Borden way. Sounds incompatible? Well yes it does, but like a lot of the songs here it works when you hear it.

'Time to be With You' and 'St Abbey' though for me are mis-steps that veer off into more experimental territory that I rarely venture into. A little pompous, a little Prog-leaning (I like Prog) but untimately unfulfilling.

In truth this could have been so disjointed with the clear and seemingly incompatible influences at play, but somehow Iconic Tonic pulls it off and saves the day, leaving you with an enjoyable album, well worthy of multiple spins. The only worry is those more experimental tracks. Let's hope they aren't heading too far that way? Otherwise I think you'll enjoy this one.
Jo Rockpit
by Jo Rockpit