GREAT WHITE
ELATION
FRONTIERS RECORDS
Released June 2012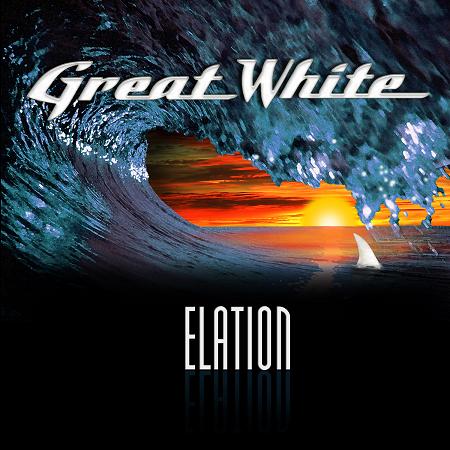 This is a very interesting one for me personally having seen the very last show Jack Russell played with Great White, and before that a great show at Oklahoma's Rock In America Festival. I was also lucky enough to catch the very first show Terry Illous played with the band (at very short notice - he told me he heard that morning) out at the Brixton in Redondo Beach in 2010 where I snagged Jack's Rising tour shirt. I also met Michael Anthony that night for the first time but that's definitely another story to be told after a few Jacks…
When you then add to that the fact that I've always been a big fan of Great White and also a fan of Terry's most well-known band XYZ, to say that the anticipation was killing me would be a huge understatement.
But let's just put all that aside from the moment and listen to the music.
The opening track on Elation '(I've Got) Something For You' to be honest, with it's AC/DC meets The Angels riff sounds like classic bluesy Great White with Terry coming across like a cross between Jack, Doc Neeson and Bon Scott. It's not a huge opening statement, more of a subtle slap in the face to the recalcitrants but it does the trick well enough.
Better still is the track that follows: the down and dirty bluesy class of 'Feeling So Much Better' which just sounds so right that you feel that even Jack would be nodding along. OK I know that there will probably be a division here between the 'Jack is the voice of Great White' camp and the rest; but if you put all that aside this looks like turning out to be a pretty solid album by a band that obviously has something to prove, And as we all know sometimes it's that pressure that produces something really special.
To be perfectly honest I quite liked the last two Great White CD's 'Back to the Rhythm' and especially Rising' where the writing was largely shared by the partnership of Kendall, Lardie and Russell and whilst some might bemoan the absence of Russell as vocalist as far as the quality of material is concerned 'Elation' stacks up very nicely indeed.
'Love Train' is just one of those simple blues steeped songs that leaves you with a great feeling, it's not showy, it's not flashy, just a great song that is one side of what Great White does best. 'Heart of a Man' is the other side of the Great White story – full of melody and recalling the best of what we loved about eighties hard rock. There's a nice mix of songs on Elation and not a dud amongst them.
'Hard to Say Goodbye' is a decent enough ballad; 'Resolution' has a razor-keen edge and that trademark heavier sound that will please just about everyone; and 'Shotgun Willie's' is just damn good feel-good rock and roll.
To be honest there's really little here I didn't enjoy: 'Promise Land' is an accomplished slow melodic rocker that simmers beautifully and 'Love is Enough' is a delicate sweeping ballad; whilst 'Lowdown' has echoes of Alannah Myles 'Black Velvet' in the build up, to a nice extended blues. It's perhaps only 'Just for Tonight' which slips by, it's a nice mid-tempo number but about the only track that passed me by without making an impression.
Closing the album with 'Complicated' which has a definite honky-tonk good-time party feel about it is probably a wise move – ending with a celebration and a song that's bound t go down well live.
I'm not sat on the fence on this one at all. A great band is still a great band when a key member leaves, and a great voice is a great voice. When all is said and done 'Elation' is a great collection of songs by a group of musician's who still know how to write a great song.
Terry Illous is not Jack Russell but whether he's a better or a worse singer is irrelevant for me at least, I love both voices. This sounds like a great album, it sounds like a great Great White album and Terry Illous does a wonderful job. If you are a fan of the band, you will want this album and hopefully you will get out to see both Great White and Jack's band this summer.
We need music like this to show us that not only is Rock and Roll still alive but that it's also in safe hands.
By Jo Rockpit