GIGANTOUR MARCHES THROUGH DETROIT…
LEAVING A CROWD OF SATISFIED ROCKERS

9 Feb, 2012, Detroit, USA
Words & photos by Todd Jolicouer
When Dave Mustaine and Megadeth announced they were reviving Gigantour for 2012, I couldn't wait to see it hit Detroit… and hit Detroit it did. On February 9, 2012, all of the willing participants that made their way to The Palace of Auburn Hills found themselves getting a rock-crushing blow (or is that a crushing Rock blow) between the eyes - said blow being delivered by metal masters Megadeth, seasoned rock veterans Motörhead, great Danes Volbeat, and the best thing to come from Italy since my wife's ancestors, Lacuna Coil.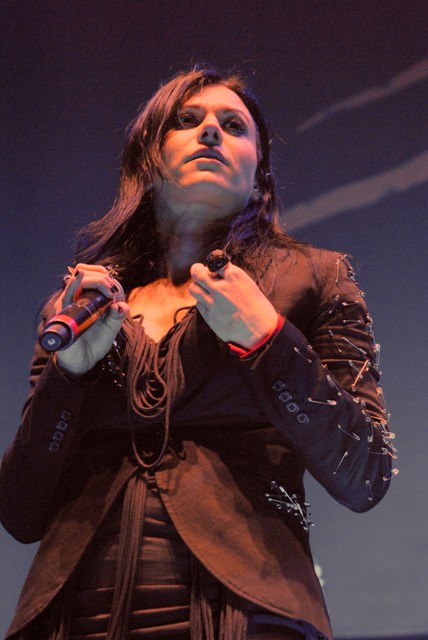 Italy's premier metal band Lacuna Coil kicked the night off in the right direction with songs from their back catalog, as well as a couple numbers from their latest release, "Dark Adrenaline." Lead vocalists Cristina Scabbia and Andrea Ferro team up to be one of the best 1-2 punches in modern metal. The way they use their own voices to play off of each other is nothing short of fabulous. These two kept the crowd engaged and on their feet while allowing the band to show you what modern metal sounds like. The guitar work is a wonderful dual attack supplied by "Pizza" and Maus and the rhythm section, bassist "Maki" and drummer Criz, kept everyone in tune and on track. They didn't get long to dazzle the crowd, but they got a rousing wave of applause and screams when they announced they would be back to Detroit in April (I can't wait!!).
Next up were "metal-lite" rockers Volbeat. How did they get this title? Not sure, but is seems to work, as they are heavy, but not too heavy and appeal to a vast cross-section of rockers. These guys are 2012 metal. The songs have a familiarity and consistency that make it easy to like every song, while recognizing that they are different songs. They played several songs off of their last disc, "Beyond Hell/Above Heaven." The songs came off as seasoned and kept the heads banging and fists pumping. One of the highlights of Volbeat's portion of the show was the insistence that a guy in the front of the crowd buy his girlfriend a Volbeat t-shirt. When the guy claimed he had no cash, lead vocalist Michael Poulsen dug the money out of his own pocket and gave it up so the girl could get a Volbeat t-shirt. That is how you build a fan base. These guys seemed to convert quite a few people, as the crowd was much thicker at the front of the venue as their set ended.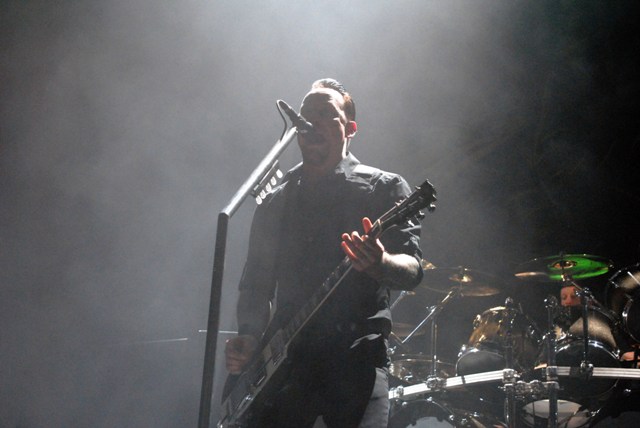 Motörhead… metal legends. I had never seen these guys before and was very excited to see them. Having seen many videos, read several reviews, and heard songs for years, it was a bucket list moment for me. Lemmy, Phil, and Mickey came out and simply destroyed the crowd as only they know how. The bands set list seemed to run the gamut of hits and new songs. Their latest, "The World Is Yours" was represented and added to the dynamic of the set. Looking through the crowd, you knew who the diehards were and who knew the basics. The band kept everyone on edge while getting to what is conceivably their greatest hit, "Ace Of Spades." I myself was left in the lurch waiting to hear those famous words muttered in Lemmy's unmistakable voice and accent… "We Are Motörhead, and we play rock and roll." Rock And Roll indeed. This group of rockers took command of the stage and didn't let up until their time was through. Where is that list again? See Motörhead - CHECK.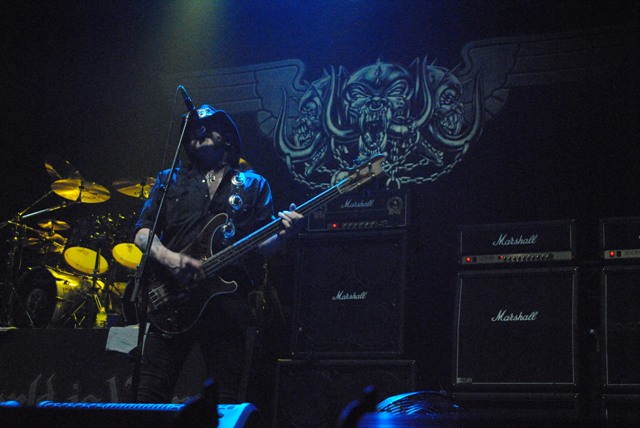 Finally comes the headliner and only band to play every Gigantour, Megadeth. As I have told more than one person, I remember seeing them on one of their first tours through Detroit. They were opening for Alice Cooper and not many people really cared for them, but I will say the crowd at this show is the extreme opposite, as they are chomping at the bit in the moments before the lights go down and Megadeth hits the stage. Dave Mustaine still has the chops to lead his band through their set, which spans their catalog. Songs from "Thirteen" come off well and are every bit as spectacular as the hits and fit the mold the band has created over the years. A major highlight is when Dave explains to the crowd that the song, "A Tout le Monde" was initially intended to be a duet, but that no voice could be found to do the song justice. Mustaine corrected that tonight when he had Cristina Scabbia join him on stage to demonstrate exactly how beautiful a song he can create. We can only hope he takes this collaboration a step further. As the band plows through all of their songs and finished their run with "Holy Wars," you sense these guys have tons of shows left in them. Gigantour may take a rest once in a while, but the Megadeth juggernaut will keep moving along.
Thanks much to Bari Lieberman, Rhonda Saenz, Steve Karas, and Carise Yatter for access and my good friend Willie Gee for being himself. Toddstar