Interview - Diabulus in Musica - Lead Vocalist Zuberoa Aznárez
By Todd Jolicouer, February 2012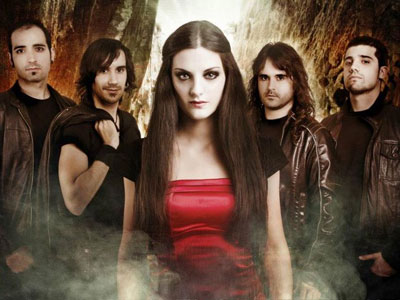 ToddStar: Thank you so much for taking time out of your busy schedule for The Rockpit.
Zuberoa: My pleasure! Thank you for your interest
ToddStar If it is okay, I would love to jump right into discussing your debut, Secrets. I knew nothing of the band or CD until I was searching out symphonic/melodic bands. This album, released in 2010, had several good reviews, so I figured I would check it out. I find myself keeping it in my normal rotation of CDs since I got it late December. What can you tell us about that CD?
Zuberoa: Oh I'm happy to learn that!
Well, by 2008 we had more than twenty songs so we thought it was time to select some and record an album. The recording was really ambitious because neither our producer, nor us, had recorded an orchestra and a choir for a metal band before so it was really challenging! Actually, it was a hard recording, we had to cope with the departure of our former drummer, with the different timetables of the musicians, and each member's jobs… so the recording took a long time.
Anyway, our main goal was to record a good album. We had had some experiences in recording with our previous bands and all of us had the same impression that due to one thing or another we had never achieved exactly what we wanted to achieve with a demo or album. That had to change with DiM! And actually it changed! We learnt loads of things during that process.
As for the production, Secrets was recorded by the Spanish tech-producer Iñaki Llarena, mixed by Ad Sluijer (ex EPICA) and mastered by Sascha Paeth. We also counted with the collaboration of great classical musicians.
As for the songs, the album contains 11 songs plus 2 intros, one in the beginning and another one in the middle. Although it's a Symphonic Metal album, on the B side you can find darker songs and the variety of influences can be easily heard in the whole CD as well. The whole album tries to keep the feeling on the top all time.
Regarding the song lyrics, they cover a wide range of topics, from love to introspection, mythology, nature and social issues.
ToddStar: You have a new album recorded and ready to be unleashed on the world, The Wanderer. I can't wait to purchase my copy of The Wanderer (to be released March 2012). What can you tell us about the new disc? How does it vary from the debut? What elements did you carry over?
Zuberoa: I think The Wanderer it's a big step forward. We kept our main influences: classical music and metal, but the arrangements are more ambitious and there is space for more 'mystic' sounds as well. I'd say this second album reflects a clear and natural evolution and maturity.
The main difference between Secrets and The Wanderer is the concept, as the new album is a conceptual one. We first thought about what we wanted to tell and then start to work on the songs, having a very clear idea about how they should sound. We maybe were searching for something more like a 'soundtrack'. Music had to fit what we wanted to tell in each song, it had to recreate the atmosphere we had in mind in each 'scene'.
I think The Wanderer is a very passionate album. All the feelings are perfectly captured. I would say that it's denser, more bombastic… but also more refined than Secrets.
As I said before, we learnt many things while we were recording Secrets so this time we did the whole production by ourselves. Maybe many things could be improved (we are still learning), but I think that we found the magic atmosphere that The Wanderer needed. We tried to join different music influences in the best way and at the same time, let each instrument having its own 'space'.
ToddStar: Several songs are very strong from the debut. Are there any favorites of yours that you find yourself going back to? Any you wish came out sounding different?
Zuberoa: That's difficult to say because every song is special for me in one way or the other. It also depends on my mood… One of my favorite songs of Secrets could be Evolution's Whim, because I think it's very expressive, also Ishtar, because it was the second complete song I wrote alone (the first one wasn't included in Secrets and I really liked the result, it was exactly what I was searching for.
Anyway, every song is special and has its own story, collaborations, and memories from the studio… Come to Paradise for example, was the second song we wrote when we started with DiM in 2006, so it has a very special meaning to us. When I listen to it I remember the same excitement I felt when we were about to start the project. It has changed a little bit, but it sounds almost as it was at the beginning. St. Michael's Nightmare is the last one we wrote and I think it can be like a summary of all the ingredients of DiM. We had a lot of fun writing it, so it's also special to us. Oddly, these two songs appear in the album in the same order they were written, 2nd and last.
Regarding the sound, if I had written the songs now, of course I would have done some things in a different way, but this doesn't mean I would change their sound now, because Secrets represents a period, it's a very fresh album and it wouldn't express the same feelings if it sounded in a different way.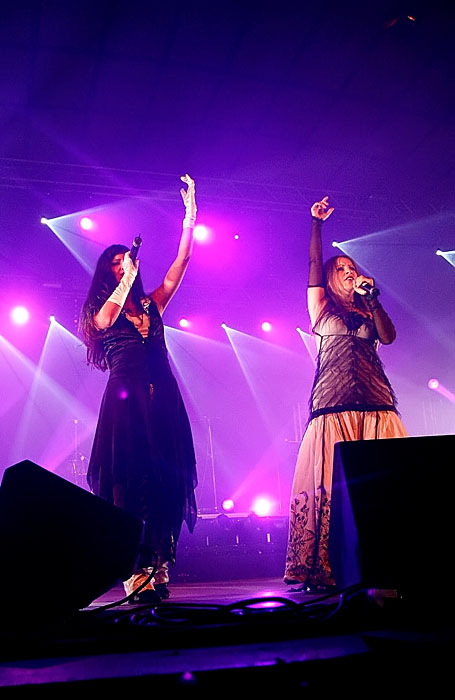 ToddStar: Regarding The Wanderer, were any of the songs easier to write than others? You often hear about an artist that sat down to write a song and that essentially the song wrote itself. Were any of the songs difficult to get out? If so, which?
Zuberoa: I only write if I'm inspired, otherwise it is very hard to work and you rarely achieve something you like… As you said, the song sometimes writes itself and you have to wait for that to arrive, you need to wait for "muses" to come (hehe). I'm talking about the main idea of the song, because after writing the structure and main melodies you have to work many hours on the arrangements.
As for The Wanderer, we were four of us who wrote the music, so it was easier. We started early with the idea, even before Secrets was released. As we knew which kind of songs we wanted to write, it was usually one of us who chose which song to write. We did alone our own song or songs and then forwarded it to the other band members. It was in that moment when we started to work together again, to arrange the songs until we considered they were completely finished.
We also had very clear that all the songs in an album are very important and it is necessary to keep the interest through it, that's why we took care about and we listened and re-listened the songs in the right order to be sure that the end and the beginning of consecutive songs was nice and interesting (just as a good book that you cannot stop reading - hehe). This way everything flowed really well, we had no special difficulties. Basically the story inspired us to write the music.
ToddStar: If you had to describe the sound of Diabulus In Musica to someone who had never heard of you, how would you do that?
Zuberoa: I would say we make symphonic metal music which tries to brim magic and passion, mixing the elegance of classical music with the most heartbreaking metal.
I would emphasize that we don't have only a musical influence, we like different stuff and we have no boundaries in creating music. I really love Early Music, folk and world music, so it is easy to find some ancient and ethnic winks in some of the songs. You can expect anything from us ;)
ToddStar: You have toured extensively - when will the United States get a taste of what Diabulus In Musica can do live? Are there any other countries you would like to tour and make aware of Diabulus in Musica?
Zuberoa: Oh that would be more than awesome! I've never been there yet and I would really love to hit the States! I love traveling and know other cultures, so there is no country I wouldn't like to go (hehe).
Unfortunately this doesn't depend on us, so I really hope that people get to know and like our music and that the promoters from the World are interested in taking us to their countries! ;)
ToddStar: When performing live, do you find that you mix the material evenly from your two albums, or do you tend to play more of the newer material? Are there any songs from your first releases that you feel will always be a part of your live show?
Zuberoa: We only had one album so far, so we usually played almost all the songs from Secrets plus some extras (classical stuff or so). We haven't started the shows for The Wanderer yet. The first one will be in Brussels, the 27th February, supporting Tarja. We won't have a lot of time to play so we will focus on the new songs and probably play one or two from Secrets. For the following shows, we will also focus on The Wanderer, as we will promote its release in March and April, but we will also keep some songs of Secrets.
Regarding the songs we will keep, I would say that New Era, Ishtar and Nocturnal Flowers could be the best candidates, as I think they are the ones that the audience enjoys the most, also St. Michaels Nightmare is cool, but maybe it's too long… it also depends on the time, above all when you aren't the headliner. I would add that it is very important to perceive the feedback from the audience to choose the repertory, so we will see what people ask for!
ToddStar: What is next for Diabulus in Musica?
Zuberoa: Play as much as we can! I like writing and recording new songs, but I think that they are complete when you play them live and you have the feedback from the audience straight away. All of us love playing live, we feel very comfortable on stage and feeling the heat of the crowd is something magic.
ToddStar: You have toured with some of my favorite artists (Arch Enemy, Doro, and Sabaton). If you had to pick possible pairings for an ideal tour, what other bands would you like to see Diabulus in Musica out on the road with?
Zuberoa: Oh that's a very tricky question! I love so many bands that it would be really difficult to choose. We have already played with awesome bands, but haven't gone for a complete tour yet. We'll do it to promote The Wanderer, probably with two more bands from the label, but cannot confirm anything yet… Anyway, I would love to go with any of the bands I like and it would be great if besides, it's one of the bands we are friends with, we have shared so many good moments with some of them…
ToddStar: If there were one piece of music in the history of time that you wish you had written, what would it be and why?
Zuberoa: Another tricky one (hehe) Well… my favorite music period is the Renaissance and Baroque. It is impossible for me to choose, because there is too much quality and Early Music is really touching! I will say any of the pieces from two of my ever favorite composers: Tomas Luis de Victoria and Henry Purcell.
ToddStar: We are just starting a fresh year with 2012 - any regrets from 2011? Do you have any resolutions or goals for 2012 professionally or personally?
Zuberoa: It has no sense to regret, we have always tried to do our best, even if things didn't always turn out the way we would have liked. Anyway, we will keep doing our best simply because we love what we do and we cannot live without it! My main goal would be to live on music, that way I could spend the whole day doing what really fulfils me. Now it's really difficult to deal with our normal jobs and music.
ToddStar: What is the meaning of life?
Zuberoa: Our nature as human beings always makes us to wonder that… and the worst thing is that we will never get a clear answer. Anyway, I think a lot about it and what I think I've learnt about is that we have to accept things we cannot avoid, we have to try to understand each other, we have to value what we have, we have to do our best in all the fields of life… simply because we are a part of a whole, our energies are connected and will be connected forever.
We shouldn't forget we are sons of the Earth and we should learn to respect her rules, otherwise, this will have a tragic end… Everyone should figure out what is the meaning of his/her own life and try to make their lives 'complete', of course not in a material way…
ToddStar: Thanks again for taking the time and we look forward to 2012 and more Diabulus in Musica!!
Zuberoa: Thank you for the questions and the support!!