Diabulus In Musica
The Wanderer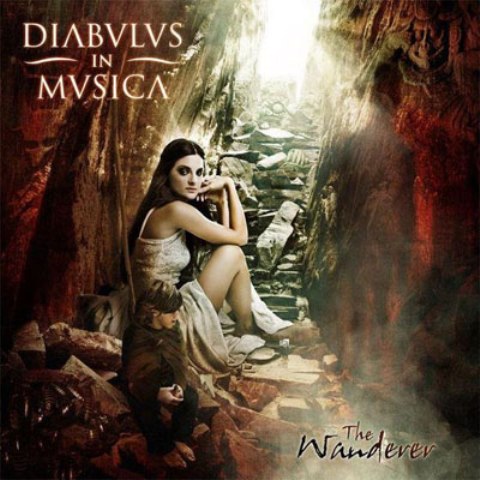 By Todd Jolicouer

After nearly wearing out my copy of the band's debut release, Secrets, I couldn't wait to hear The Wanderer. One of the best parts of the debut was the surprising voice of Zuberoa Aznárez. Her vocie graces this disc as well, but something has changed. The music is stronger from a base stand point and the musicianship is as good, if not better. I guess it is just personal preference to not hear tons of male vocals being screamed over this disc.
"A Journey's End" is an ample musical interlude to set up the first real track. "Ex Nihilio" is good and shows off the musical chops of the players here. Zuberoa's vocals are good, but seem to be lessened by the screaming male vocals. "Sceneries Of Hope" comes along to correct the sins of the last song, and allows the siren's vocals to soar and provide hope for the rest of this disc. Again, the musicianship is strong and pairs nicely with the lead vocals. "Blazing A Trail" helps the band spread its wings, but again, the male vocals detract from the song. The use of choral pieces as background vocals is great and adds to the vocal mix.
"Call From A Rising Memory" is another pleasant introduction that builds into a gem. "Hidden Reality" is the song on this disc that was written to provide Zueroa with a proper vehicle for her voice. The strength and range of her voice really comes to life. If only the band would utilize her strengths this much throughout the disc. "Shadow Of A Throne" is a song I cannot get through - the male vocals here are horrible. "Allegory Of Faith, Innocence, And Future" is another song that would fare much better without the male vocals.
"Sentenced To Life" is one of the most beuatiful duets I have heard come out of the symphonic metal world. The male vocals here totally compliment Zuberoa's voice, while remaining solid in their own right. "Ohiuka Bihotzetik" again features choral arangements that build the song, but the sparse male grunt and screams ruin the tune. "No Time For Repentance" repeasts the bad combination of Zuberoa's vocals being matched against screaming… and bad screaming at that. "The Wanderer" leaves me with more hope for their next release. I love the acoustic sound mixed with Zuberoa's voice dialed down a bit to blend perfectly with the acoustic guitar.
The Wanderer did just that. It wandered all over the place, and unfortunately, it wandered into grunting and screaming male vocals that had no place on this disc. Hopefully they will get it right and fix this moving forward… a few more tracks like those on Secrets, "Sentenced To Life" and "The Wanderer" from this disc, and you have a winning combination.