ZEROKING
A Taste Of Self Destruction EP
2011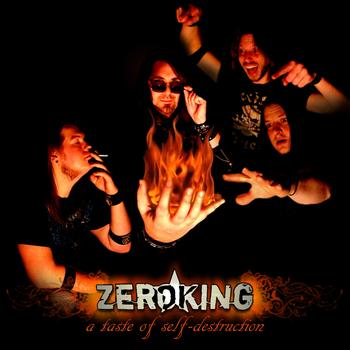 By Shane Pinnegar


A taster for their forthcoming album, Zeroking's debut is full of unapologetically in-your-face riffing, anthemic melodies, a few touches of tasteful sleaze, and some clever, self deprecatingly humourous lyrics.
The EP opens with the punchy 'Girls Of California', a diatribe against the fake which is tailor-made to annoy the neighbours with on a hot and sunny day, before hitting up a wall of groove on 'Stone Cold Bitch'.
'Black Friday' is not dissimilar to Aussie rockers Grinspoon (who, coincidentally, had a song with the same name) – before they developed drug problems and went "alternative" – like the rest of the EP, it features super-strong melodies, Andy Haught's powerful vocals, a relentless rhythm section and some commanding guitar work.
Saving the best for last, 'Kings of Self Destruction' is a full frontal riffage assault, with a rhythmic groove underpinning the guitar conjuring, a booming bass drum, and another great melody.
Zeroking have worked long and hard to make this EP as good as it can be, and it's paid off in spades. "A Taste Of Self Destruction" is confident and inspired and should open plenty of doors for the boys in advance of their full length album release.