WEDNESDAY 13
CALLING ALL CORPSES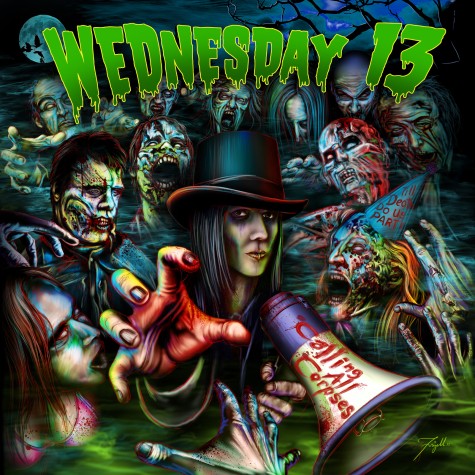 By Will Hollonds



If your after a CD with catchy choruses, addictive and energetic music and lyrics about ghouls, corpses and the devil, this is a must have for you!

After being busy recording and touring with his many bands, Wednesday 13 is back with his fourth 'solo' record of new material, his first since 2008's 'Skeletons.'

The album starts off a lot different to 'Skeletons,' so straight away I am thinking this will be something along the lines of his classic album from 2006 'Fang Bang.' With 'Blood Fades to Black' being an introduction to the album, I am intrigued to hear what this genius of horror has come up with. As soon as 'I Wanna be Cremated' blasts over my speakers, I am in love.

With a catchy riff and anthemic chorus about Wednesday wanting to be cremated, 'I Wanna be Cremated' is one of my favourites from the album. Wednesday has always been one of my favourite songwriters and lyrics like 'Just fry me like KFC' makes my ears rejoice and crave more.

'Ghoul of my Dreams' and 'One Knife Stand' are solid tracks, but it's not until 'Calling All Corpses' starts playing that the fist pumping begins. This track has repetitive lyrics and only 3 phrases but is my favourite track from this album. With a chorus 'Tonight, tonight- we drink your blood tonight,' I am literally jumping out of my seat and imagining this track being played live. Definitely a classic Wednesday tune.

Other memorable tracks from this record include 'Silver Bullets,' 'Candle for the Devil,' and 'Bad at Being Human' which has really grown on me from numerous listens. 'Something Wicked This Way Comes' provides the listener with some background information about Wednesday and his life with lyrics like 'Alice Cooper and G.I. Joe taught me everything I need to know.' This track is up there with the best songs from the album and is a great closer for 'Calling All Corpses' apart from the reprise of 'Blood Fades to Black.'

Wednesday 13's band is amazing on this CD and the backing vocals and guitar work is brilliant with melodies and riffs that get stuck in your head for days like (One Knife Stand.) The drumming from Jason 'Shakes' West is also excellent with some awesome fills which gets me air drumming to many parts of 'Calling All Corpses.' Wednesday really has delivered a fantastic album with tracks reminiscent of his early solo efforts. Despite there being a couple of filler tracks, I thoroughly enjoyed this catchy and creative album and can't wait to see him live in February. This is a must from any Horror punk/rock or Wednesday/Murderdolls fan.