The Fairchilds
Our Revolution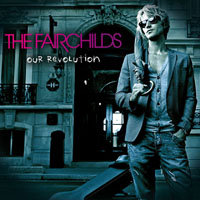 By Todd Jolicouer


I love when I get a CD in the mail that I wasn't expecting, with a note that essentially says, "not sure you will like this." Being the guy who can listen to Alice Cooper on a Saturday and then Barry Manilow on Sunday, nothing is outside my scope.
Disc opener "I Need You" is a great song to kick of a debut album with. You get great lyrics, vocals, and the music is quite good. You find out soon that there are weapons which recent import from France Cyril is keeping hidden. The title track follows, and I am treated to good rock with pop sensibility. This one has an interesting mixture of big choruses and varied background vocals - quite the pleasant mix.
"Unbreakable" is next up, and not only is it self-descriptive, it is one of the better songs on the disc (especially the bonus track remix). This song lends itself to AOR and modern rock radio. Next comes "Who Am I." The song starts in one direction and quickly does a u-turn, and for the better. Cyril was clearly headed down a wrong road, but corrected and took this song back into rock territory.
"Story Of My Life" sounds familiar, but I can't pin it down. Maybe I am just digging on a song that again holds all the components of a AOR Rock song. This one gets the toes tapping and I can picture rocking out to this one live. "High is the first ballad-type song here, but it is still a solid song that keeps you from advancing looking for another rocker. I gave this one a chance and am very glad I did. "Body Of Lies" brings the swagger back to the CD, but you have to wait for the next song, "Life Is Beautiful" for the big vocals and grand harmonies. This tune really helps keep the second half of the disc on track, if you are looking for great pop sensibility and hooks.
"Misery Likes Company" is probably one of my favorite tracks on the disc. This song has all the angst of a modern rock song, chilled vocals of a great STP song, absolutely killer guitar work, and it builds itself into a solid rock piece. "My Name" barges in with conviction and runs rampant all over the place with authority and solid musicianship. This song has more pop and less rock, as does the next track, "Song 12." The chorus has solid rock pieces, without being over done. It keeps its simplicity and, if you added a screaming guitar solo ala the 80's, you would have a great rocker. Disc closer (with the exception of the aforementioned bonus track remix) "Turn Back Time" is a mellow song that leaves you wanting more. With soaring vocals, a nice touch of keyboards, and good guitar work, this song begs for another disc.
Did Cyril blow his proverbial load on the debut disc from The Fairchilds? Only time will tell, but let me say… damn, I hope not. Do yourself a favor and check this one out – you just might be as glad and pleasantly surprised as I was and am.