THE EROTICS
TODAY THE DEVIL TOMORROW THE WORLD

Released 2010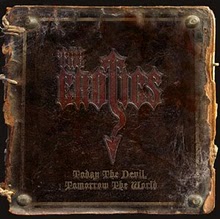 In my take on the Universe the Erotics are a major player, taking the best from a slew of cool bands they serve up dark sleazy, dirty mayhem in a way that is insanely catchy and certainly dark enough not to even contemplate taking them home to meet your family.
On 'Today the Devil, Tomorrow the World' the guys have come up trumps again. With guitars like Thunder (Johnny, that is) and vocals that sound like they come from a throat that has downed one too many pints of petrol, and smoked a million cigarettes, this is remarkable stuff.
If you loved the New York Dolls and worship at the feet of The Stooges, and like to take in a bit of early LA Guns, with maybe a smattering of Dog's D'Amour; all stirred madly with the tortured soul of Punk; then the Erotics should be a band you will want to get to know. Add to that a bunch of cool lyrics and insanely catchy choruses and you are backing a winner.
It's an interesting start though with opening pair 'Blast off' a pretty generic sleaze anthem and 'She Sucks the Life', despite its great chorus not really lighting my fire fully. Don't get me wrong though both are definitely above-average.
Third track 'Over my Dead Body' has a real touch of Dog's D'Amour about it and for me, three tracks in, the guys really kickstart the magic. '19 going on Homicidal' is a laid back punk classic that The New York Dolls would have been proud of first time round. The title track that follows is a nice twist on the Robert Johnson story and has a rolling swagger like Bang Tango did so well on Psycho Café.
From here we don't put a foot wrong: 'Anything' with its magical refrain 'I'll f**k anything, anything just to f**k you' is a crowd-raising classic! There's more Dolls influence on the sing-along 'Wrapped Around Your Neck' another wonderfully catchy, wonderfully strong tune!
After about ten listens I must admit I'm hooked 'I Think I Wanna Die Tonight' is sing-along Glam punk of the highest order. 'Hogtied and Waiting' (for her Daddy to arrive!) shows you what a bastardised Georgia Satellites would sound like! Closing with as touching a ballad as these guys are capable of 'I Feel Nothing' is a masterstroke just when you least expect it, with a vibe like Heaven's Door meets 80's Hair Metal, just a lot dirtier!
If you like your Sleaze dirty, wringing wet with punk attitude, and your choruses big then this three piece in my opinion can't be beaten at the minute. If you like this check out also their last effort 'Rubbish' or the classic '30 seconds over you' then the Erotics will be rocking your world too.
F**k these guys are good!!!
Mark Diggins