DIRTY DEEDS – My life inside and outside of AC/DC
Mark Evans
Allen & Unwin, 2011, rrp $32.99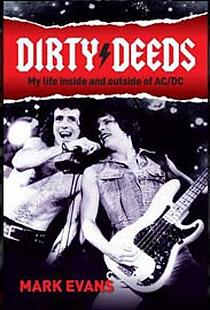 By Shane Pinnegar

There have been countless books written about AC/DC's rise from humble Aussie pubs to global hard rock supremacy, but this is the first written by an actual insider, detailing the nitty gritty of being in a struggling band in the Seventies, and the interpersonal relationships within this complex unit.
Mark Evans joined the band in 1975, played bass on three of the albums which made their name – "T.N.T.", "Dirty Deeds Done Dirt Cheap" and "Let There Be Rock", moved with them to London, toured the world, drank enough to sink a battleship, screwed his way from town to town, and was ousted from the band by the notoriously fickle Young brothers less than three years later.
"Dirty Deeds" lays down Evans' rocking adventure like a Boys Own story – the highs, the lows, the regrets and wishes, and he is never less than generous of the talent of those around him and the mistakes he made along the way.
The fact that this memoir was self-written (with editorial help from Jeff Apter) means the reader gets a real feel for Evans's own voice, and he seems a really decent bloke – certainly one I'd like to spend a few hours drinking and shooting the shit with.
Whilst AC/DC might the focal point of this tome, it's far from the be-all and end-all of his story. We are treated to snapshots of inner-city Melbourne life in the Seventies, a run through of the author's time playing with Contraband, Heaven, Robin Riley's Beast and others, right through to his current gig as half of the acoustic blues duo Tice & Evans.
Touchingly, he also places his family first, and the incredibly moving description of how his daughter fell life-threateningly ill only to make a full recovery, then be taken in a senseless accident a few short years later saw tears welling up in this reviewer's eyes.
A tale of fun and adventure as a marauding rock soldier doing it rough in a bygone era, an amusing and candid glimpse behind the looking glass at the early days of one of the biggest bands on the planet, and a touching and melancholic tale of personal loss and tragedy. Put simply, this book is a must read for any AC/DC-ophile or lover of that prime decade of Aussie pub rock, and an interesting tale of a life far less ordinary beyond that unique experience.