Hollywood Undead
American Tragedy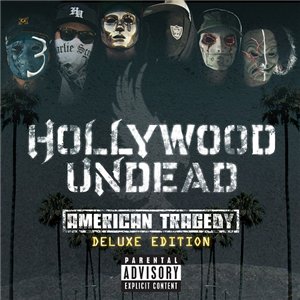 By Todd Jolicouer

After some experience in the studio and honing their skills on the road, Hollywood Undead now ready the world for an "American Tragedy." They go for the jugular from the first strands of 'Been To Hell.' 'Apologize,' the next song, shows what they can do while making no apologies for what they do or how they do it. I have trouble finding any songs here that I don't like. Each song is similar, but different. The themes are as recurring as the loops and beats in the rap breakdowns in each song.
Don't be mistaken though, as the rock parts of each song are solid. The guitar work and musicianship is great. All of the members take their turn at the mic, as you can hear several different voices, even within each song at times. 'Comin' In Hot' describes what the guys may encounter in any of L.A.'s night clubs and is followed by 'My Town', which is an anthemic tune about their home of L.A./Hollywood. The next two songs, 'I Don't Wanna Die' and 'Hear Me Now' are introspective and address feelings of fear and depression. The latter has great hooks and guitar work. Next up are 'Gangsta Sexy' and 'Glory.' These are capable tunes, but lead you into better songs.
Several of the songs are written from a very interior view. 'Lights Out' was written about a former member who released a song about/against the band. 'Coming Back Down' deals with loss and 'Bullet' takes a light and lively approach at dealing with suicide. Sex, alcoholism, and love are the issues dealt with in 'Levitate.' The last two songs, 'Pour Me' and 'Tendencies' are great disc closers, with the former being performed from the view of an alcoholic in despair and the latter simply written as a moshpit song for the fans. The deluxe edition contains four bonus tracks – each one good enough to be on the disc – these are not throw away tracks! Love this disc and can't wait to see them on May 21 performing these live on their headlining tour.
For photos of their Detroit performance while on the Avenged Sevenfold tour, go to: http://toddstar-photography.smugmug.com/Music/Hollywood-Undead-February-5/15989048_N7F6R#1199370674_c4gib