Black Veil Brides
Set The World On Fire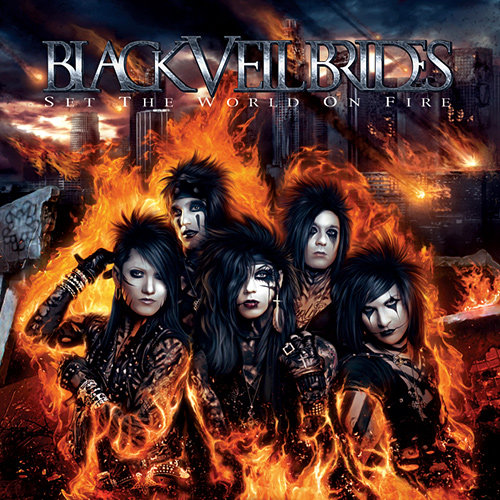 – CLASSIC OF THE MONTH (JUNE 2011)
By Todd Jolicouer
DAMN!!! I have quickly become a huge fan of these guys since an introduction to their debut, We Stitch These Wounds, back last November. I really liked that album – although I had never previously been a big fan of screamo-metalcore type rock. Something about these guys was different. Maybe it was the attitude. Maybe it was the underlying music.
The newest release, Set The World On Fire, points directly at what I love. They are this generation's answer to what I grew up on. The music and vibe are something I can relate to. The disc opens with 'New Religion' which lets you know these guys know who they are and why they are here. Better yet, it is putting the rest of you on notice – you will not get rid of us. Sound familiar to anyone who listened to hair metal back in the day?
The great songs keep coming with the title track and then the lead single, 'Fallen Angels.' This track has the entire big anthem – arena rock feel, with an updated soundtrack of loud crunchy guitars courtesy of Jake Pitts and Jinxx and the solid rhythm section of Ashley Purdy and C.C. (Christian Coma).
This disc (their major label debut) is light years ahead of their debut. Listening to 'Love Isn't Always Fair' shows the growth in musicianship while tipping their hat to their roots. 'God Bless You' could have been written and recorded in 1987 – complete with guitar squeal, running guitar solos, and the catchy chorus, but retains many of the modern day features of their music. 'Rebel Love Song' is another one that gets the feet and head moving.
Hell, who am I kidding, I am bouncing in my chair listening to it wanting to beat the hell out of a drum kit. The down tempo ballad, 'Saviour' actually is one of two songs to feature any amount of screaming from original member Andy Biersack. His lyrics and vocals on this album totally bury anything he has done previously. He actually shows you what he can do with a microphone instead of just screaming. 'The Legacy' follows and is diverse in its tempo changes and the vocals themselves. Once again, this song shows how much these guys have come together as a band. All of the touring has paid off in spades gentlemen.
The fun doesn't stop there folks. "The writings on the wall" is the first line of 'Die For You' – and the song doesn't let up. It is a beautiful and dark love song. The next song, 'Ritual' is another strong song that is more geared for my generation than the typical BVB fan. It is just another example of why this disc is so strong. The vocals are perfectly balanced with the guitar solos. The chorus is so rhythmic; I can see thousands of lighters swaying in unison in my mind. 'Youth And Whisky' drives this disc home with sheer force. I swear reading the lyrics that Andy is my long lost twin. "I grew from those who hate me… cigarettes and lyrics made me."
Everything about this album takes me back while keeping me planted firmly in the present. These guys know how to rock. I cannot wait for my Japanese import of this to arrive so I can listen to the bonus track!!!
Sophomore slump?? I think not!!!

Check out Todd's photos of Black Veil Brides LIVE here