THE ROCKPIT INTERVIEW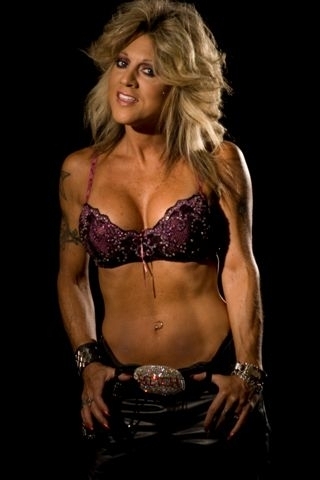 Thank you for taking the time to answer our questions and welcome to the Rockpit.net!.
What bands did you listen to when you were growing up?
MY ALL-TIME, TOP 2 FAVORITE BANDS ARE ALICE COOPER AND CHEAP TRICK. OF COURSE WHEN I WAS VERY YOUNG I ADORED THE BEATLES, THE MONKEES, HERMAN'S HERMITS, ALOT OF THE 60'S POP BANDS. AFTER THAT (AND AFTER I MOVED FROM NEW JERSEY TO L.A.), I WENT THROUGH AN EARLY 70'S GLITTER-GLAM ERA WHEN I WAS INTO DAVID BOWIE/ZIGGY STARDUST, ALICE COOPER, ANGEL, SLADE, N.Y. DOLLS, ETC. THEN I STARTED GETTING INTO HARDER STUFF, SUCH AS JUDAS PRIEST, DEEP PURPLE, IRON MAIDEN, MOTORHEAD, ETC. NOW I LIKE ALL OF THAT AND MORE. I'M VERY INTO CLASSIC ROCK AND METAL.
What were you like at school?
IN MY ELEMENTARY SCHOOL YEARS I WAS ACTUALLY VERY QUIET, INDEPENDENT AND USUALLY OFF TO MYSELF. WHEN I GOT INTO JR. HIGH AND HIGH SCHOOL I STARTED APPRECIATING THE SOCIAL ASPECTS OF SCHOOL. I SORT OF ONLY EXCELLED AT THE SUBJECTS I WAS INTERESTED IN - THE CREATIVE SUBJECTS, MOSTLY WORD STUDIES LIKE JOURNALISM, ENGLISH/GRAMMER AND CREATIVE WRITING, AND OF COURSE I WAS IN GLEE CLUB & GOT TO SING AND FIND MY VOICE AND REALIZE I HAD GOOD PITCH AND PROJECTION. ALL OF THE ACADEMIC SUBJECTS LIKE SCIENCE, HISTORY, ADVANCED MATH, ETC. - THOSE SUBJECTS BORED THE HELL OUT OF ME, BECAUSE I WASN'T INTERESTED IN THEM AND NEVER SAW HOW THEY WOULD BE APPLICABLE TO MY LIFE IN THE FUTURE.
You were born in NJ. What are your earliest memories?
MEMORIES OF LIVING AT THE BEACH - OUR HOUSE PRACTICALLY ON THE BEACH. THE OCEAN AND THE BEACH WERE A BIG PART OF MY LIFE GROWING UP ON THE ISLAND OF BRIGANTINE, N.J. BEING A LONER AT THAT AGE, I USED TO LOVE TO TAKE LONG WALKS ON THE BEACH BY MYSELF, LOOK FOR SHELLS, I WAS A REAL BEACHCOMBER. I REMEMBER THE INNOCENCE OF THAT TIME AND LIVING IN A SMALL SEASHORE TOWN. ALOT LESS WORRIES THAN TODAY.
Who were the first band you saw live?
YOU SORT OF UN-WITTINGLY JUST ANSWERED YOUR OWN QUESTION! THE FIRST CONCERT I EVER WENT TO WAS "THE WHO" AT THE FORUM HERE IN LOS ANGELES. I WAS 14 YRS. OLD AND I REMEMBER WHAT AN IMPRESSION SEEING A FAMOUS BAND AT A HUGE VENUE MADE ON ME. I STILL ADORE GOING TO CONCERTS. TO THIS DAY IT'S ONE OF MY FAVORITE ACTIVITIES.
Your first band was The Boxboys who were a SKA band. Did you know immediately this wasn't the music for you?
WE DIDN'T START OUT SKA; WE STARTED AS MORE NEW-WAVE ROCK, ALMOST WITH A PUNK EDGE TO IT - BUT THEN THE GUYS DECIDED THERE WERE TOO MANY BANDS OUT THERE SOUNDING THE SAME, SO THEY SWITCHED TO SKA. I SORT OF WENT WITH THE PROGRAM, ALBEIT UNDER DURRESS. I WASN'T CRAZY ABOUT THE MUSIC AND THEY REALLY WANTED TO DOWNPLAY MY SEXUALITY ONSTAGE - KIND OF MAKE ME ONE OF THE GUYS (HENCE THE NAME "THE BOXBOYS"), THEY HAD ME WEARING A SUIT AND TIE, SNEAKERS, HAIR UP, NO MAKE UP - DEFINITELY NOT ME. SO IT WAS SORT OF A MUTUAL AGREEMENT THAT ANOTHER SINGER WOULD FILL THE BILL BETTER THAN I. I HAD A GREAT TIME PLAYING WITH THOSE GUYS THOUGH - GOT SOME STAGE AND RECORDING EXPERIENCE - ALL REALLY NICE GUYS, SO NO REGRETS. AND IF WE HADN'T PARTED WAYS AT THE TIME WE DID, I NEVER WOULD HAVE HAD THE OPPORTUNITY TO FORM BITCH.
Bitch were formed in 1980 and your first show was with Dante Fox who later became Great White. What are your memories of that show?
THE SHOW WAS AT THE TROUBADOUR IN WEST HOLLYWOOD. I REMEMBER JACK RUSSELL AND COMPANY WOULDN'T LEAVE THE DRESSING ROOM WE WERE SHARING, AND I NEEDED TO CHANGE INTO MY STAGE CLOTHES. I EITHER GOT NAKED IN FRONT OF THEM OR CHANGED IN THE LADIES BATHROOM - I DON'T RECALL. BUT I REMEMBER OUR SHOW WENT REALLY WELL. I THINK WE WENT ON AT MIDNIGHT ON A SUNDAY IN EARLY MAY, HAD A REALLY GOOD CROWD, AND I REMEMBER HAVING THE REALIZAION THAT WE HAD THE START OF SOMETHING REALLY COOL UP ONSTAGE THAT NIGHT.
You were friends with Nikki Sixx before his Crue days. What was he like?
REALLY NICE, FRIENDLY, CONGENIAL GUY. I KNEW HIM FROM A BAND HE WAS PLAYING BASS IN CALLED "LONDON". MY SISTER JANE AND I USED TO SEE THEM AT THIS REALLY COOL L.A. CLUB THAT NO LONGER EXISTS CALLED 'THE STARWOOD', SO I STRUCK UP A FRIENDSHIP WITH HIM THEN. I REMEMBER TALKING TO HIM ON THE PHONE WHILE I WAS STILL LIVING WITH MY MOM. THIS WAS AROUND 1980 AND HE WAS TELLING ME ABOUT THIS SEED OF AN IDEA HE HAD TO PUT A ROCK/GLAM BAND TOGETHER - SORT OF IN THE SAME VEIN AS "LONDON", ONLY BIGGER AND BETTER AND MORE OVER-THE-TOP. HE RAN THE NAME "MOTLEY CRUE" BY ME AND ASKED MY OPINION. I LIKED IT AND OLD HIM SO.
What were the early days like? Was it a struggle to finance the band?
IF YOU'RE REFERRING TO THE FIRST BITCH RELEASE, WE PULLED IT TOGETHER SOMEHOW. IT WAS SORT OF A JOINT EFFORT WITH METAL BLADE, OUR OWN RESOURCES, INVESTORS, ETC. PRIOR TO THAT, METAL BLADE GAVE US OUR START WITH CUTS ON SEVERAL METAL MASSACRE RELEASES. WE MADE SOME DECENT ROYALTIES FROM OUR OWN RELEASES, SO THAT PRETTY MUCH PAID FOR REHEARSALS, TRAVEL, ADVERTISING, BAND EXPENSES SUCH AS THAT.
What were the conditions of some of the venues like?
SOME WERE REALLY NICE AND SOME WERE TOTAL DIVES. SOME WERE RIGHT IN THE MIDDLE. BUT WE ALWAYS MADE THE BEST OF IT. NO MATTER WHAT, THE FANS DESERVED TO SEE WHAT THEY PAID FOR AND DESERVED TO BE ENTERTAINED. WE'VE DEFINITELY PLAYED SOME INTERESTING VENUES THOUGH. A FEW THAT COME TO MIND ARE 'BILLY BARTY'S DISCO ROLLER RINK'; WE PLAYED THAT SHOW WITH RATT AND METALLICA, ON A STAGE IN THE MIDDLE OF A ROLLER RINK AND PEOPLE WERE SWIFTLY ROLLER-SKATING AROUND US WHILE WE WERE BANGING OUT THE METAL MUSIC. ANOTHER WAS A PLACE IN FRESNO CALIFORNIA, NORTH OF L.A. THAT WAS A COMBINATION ROCK CLUB, AND BAIT & TACKLE SHOP. WE SHARED A DRESSING ROOM WITH A TROUGH OF LIVE SWIMMING MINNOWS AND JARS OF WORMS ON SHELVES - THEY ALSO SOLD CHRISTMAS TREES IN THE PARKING LOT, SO THERE WAS SOMETHING FOR EVERYBODY AT THAT PLACE! WE PLAYED AT AN UNDERGROUND CLUB CALLED 'CATHAY DE GRANDE' WITH THE MENTORS, AND IT WAS LITERALLY UNDERGROUND - IT WAS IN A BASEMENT OF A CLUB OFF OF HOLLYWOOD BLVD. WE ALSO PLAYED THIS REALLY COOL HUGE THEATRE IN SAN LUIS OBISPO WITH SLAYER, AND WE PLAYED THE BANG YOUR HEAD FESTIVAL AND THE KEEP IT TRUE FESTIVAL IN GERMANY FOR THOUSANDS OF ADORING METAL FANS.
Whose idea was the S&M angle? Was it yours or the bands as a whole?
THE IMAGE JUST SORT OF EVOLVED AFTER WE STARTED WRITING SONGS SUCH AS "LIVE FOR THE WHIP", "LEATHERBOUND" AND "BE MY SLAVE". WE FIGURED, WITH THE SUBJECT MATTER, THAT IT WOULD BE A GREAT GIMMICK FOR THE BAND - TO GIVE THE AUDIENCE VISUAL ENTERTAINMENT TO GO ALONG WITH THE KICK-ASS METAL MUSIC BEING DELIVERED.
Did you choose the name for the shock factor?
WHAT BETTER NAME FOR A FEMALE-FRONTED LEATHER & STUDS HEAVY METAL BAND WITH A HOT, DOMINANT LEAD SINGER?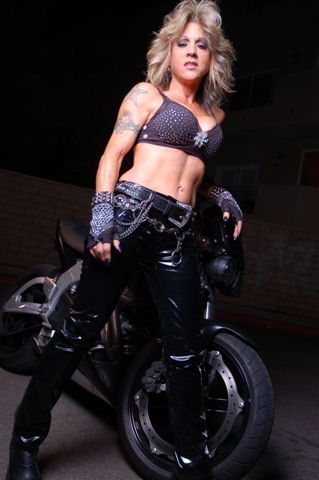 You must have a lot of great stories. Have you ever thought about an autobiography? (or at least giving us a story or two)
IT NEVER OCCURRED TO ME TO PEN MY LIFE STORY, BUT WHEN AND IF I EVER RETIRE FROM THIS LIFE OF ROCK AND ROLL, IT'S FOOD FOR THOUGHT. IT WAS GREAT PLAYING WITH BANDS AND METAL BLADE LABEL MATES SUCH AS LIZZY BORDEN, SLAYER, ARMORED SAINT, METALLICA, W.A.S.P., RATT, ETC. WE WERE ALL ONE, BIG, WILD & CRAZY HEAVY METAL FAMILY. THERE WAS A DEFINITE COMARADERIE BETWEEN THE BANDS. WE PLAYED ALOT OF SHOWS TOGETHER AND PARTIED AFTER EACHOTHER'S GIGS TOGETHER. METALLICA ONCE OPENED UP FOR BITCH IN SAN FRANCISCO WHEN DAVE MUSTAINE WAS STILL IN THE BAND, I BELIEVE IT WAS AROUND 1982. ONE NIGHT IN L.A. AFTER A BITCH GIG, WE WERE HAVING OUR AFTER-PARTY AT MY MOM'S HOUSE, ATTENDED BY MANY PEOPLE, INCLUDING MEMBERS OF ARMORED SAINT AND METALLICA. SOMEONEONE PUT MOTORHEAD'S "ACE OF SPADES" ON THE STEREO, AND THE RESULTING MOSH PIT IN MY MOM'S DEN RESULTED IN A DOG PILE, WITH PHIL SANDOVAL, GUITARIST FOR ARMORED SAINT, ENDING UP ON THE VERY BOTTOM. DAVE MUSTAINE TOOK A FLYING-LEAP ONTO THE PILE AND ENDED UP BREAKING PHIL'S FOOT. SAINT HAD A GIG THE NEXT NIGHT AT THE TROUBADOUR IN HOLLYWOOD, AND PHIL ENDED UP PLAYING THE ENTIRE SHOW SITTING ON A STOOL WITH A HEAVILY BANDAGED FOOT. BITCH ONCE HAD THE OPPORTUNITY TO PLAY WITH SPINAL TAP IN L.A. THE ACTORS WHO PORTRAYED THE MUSICIANS IN THE MOVIE GOT TOGETHER TO PLAY A CHARITY SHOW, WE OPENED UP FOR THEM, AND THEY ENDED UP BORROWING A LOT OF OUR EQUIPMENT FOR THEIR SHOW THAT NIGHT.
Did you enjoy the stage show, which famously featured 'S&M and Slaves?
I HAD A TOTAL BLAST ONSTAGE WITH THE IMAGE AND STAGE SHOW AND PLAYING THE CHARACTER OF BETSY BITCH. IT WAS ALL IN FUN - ALL DONE FOR ENTERTAINMENT. WE NEVER TOOK THAT ASPECT OF THE BAND SO SERIOUSLY THAT WE DIDN'T HAVE A GOOD TIME WITH IT. I LOVE BEING A PERFORMER AND ENTERTAINER AS WELL AS A VOCALIST.
Did you ever have any accidents with any of the stage props?
OTHER THAN INADVERTENTLY WHIPPING MY FELLOW BAND MEMBERS IN THE HEAD, NOT REALLY. I'VE KNOCKED OVER A FEW MIC STANDS, CYMBAL STANDS, AND HAVE GOTTEN THE STRAPS FROM THE WHIP CAUGHT IN GUITAR KEYS & KNOCKED THEM OUT OF TUNE. NONE OF THIS WAS INTENTIONAL, MIND YOU.
I'm assuming the crowd were mainly males. Did you enjoy all the attention?
YOU ARE CORRECT. I REMEMBER THE GIRLS USED TO TRY TO KEEP THEIR DATES FROM STANDING IN FRONT OF THE STAGE IN THE EARLY DAYS. NOW THE GIRLS ARE VERY SUPPORTIVE. THESE DAYS, I GET A LOT OF 'GIRL POWER' AND 'YOU GO, GIRL!' AND YES, I DID GET ALOT OF MALE ATTENTION, ENJOYED IT THEN, STILL GET ALOT OF MALE ATTENTION. STILL ENJOYING IT – IMMENSELY!
What feedback did you get from female fans about your image?
BACK IN THE EARLY 80'S WHEN IT WAS CONSIDERED RACIER THAN IT IS TODAY, IT WAS ABIT THREATENING TO WOMEN. SOME OF THEM WERE ALL FOR IT, BUT SOME WERE OFFENDED. NOWADAYS, THEY'RE ON MY SIDE.
You were featured on the Metal Massacre album. Did you feel that was going to be a big break?
IT DEFINITELY GAVE BITCH THE INITIAL PUSH WE NEEDED, BECAUSE IT GAVE US THE NATIONAL AND INTERNATIONAL EXPOSURE. WE REACHED ALOT OF METAL FANS WORLD-WIDE WITH OUR CUT, "LIVE FOR THE WHIP" ON METAL MASSACRE I. IT PUT US ON THE HEAVY METAL MAP.
What are your memories of the recording sessions for the Damnation Alley EP & Be My Slave album?
RECORDING "DAMNATION ALLEY" AND THEN "BE MY SLAVE" WERE MY FIRST REAL STUDIO EXPERIENCES. I REMEMBER FALLING IN LOVE WITH THE RECORDING PROCESS, THE TRACKING, THE LAYERING - AND BEING THRILLED TO HEAR HOW IT ALL CAME TOGETHER IN THE END. I WAS REALLY EXCITED TO BE RECORDING MY FIRST RELEASES IN A REALLY PROFESSIONAL STATE-OF-THE ART RECORDING STUDIO WITH TALENTED PROFESSIONALS HELPING US EVERY STEP OF THE WAY. I ALSO REMEMBER SOME EXTREMELY LATE NIGHTS THAT TURNED INTO MORNINGS, SLEEPING ON SOME REALLY UNCOMFORTABLE STUDIO COUCHES AND i REMEMBER SOME MONOTONOUS NEVER-ENDING RE-TAKES, BUT IT WAS ALL WORTH IT.
You attracted the attention of the PMRC. Was that the best publicity you could hope for?
TIPPER AND THE PMRC GAVE BITCH SOME OF OUR BEST PUBLIICITY TO DATE. SHE WOULD TAKE OUR ALBUM EVERYWHERE WITH HER TO SPEAK ON BEHALF OF HER CAUSE. WE EVEN GOT EXPOSURE ON THE TELEVISED HEARINGS ON CNN. ONE OF THE SPEAKERS READ AN EXCERPT FROM OUR SONG "GIMME A KISS", A TOUNGE-FIRMLY-PLANTED-IN-CHEEK TUNE ABOUT ROUGH SEX. IT WAS HILARIOUS TO HEAR THAT CONSERVATIVE CONGRESSMAN READ OUR FILTHY LYRICS ALOUD, ALONG WITH THAT OF THE MENTORS, WASP, TWISTED SISTER, ETC. CLASSIC!
You played a lot on Sunset Strip. What was it like in those days?
WHAT COMES TO MIND IS THAT THE L.A. METAL SCENE IN THE EARLY 80'S WAS LIKE NO OTHER. NOT JUST WEEKENDS; ANY NIGHT OF THE WEEK YOU COULD GO SEE A GREAT BAND AT ANY CLUB. AND OUTSIDE THE CLUBS, ALL UP AND DOWN THE SUNSET STRIP WERE BANDS HANDING OUT FLYERS AND PROMOTING. IT WAS A HEAVY METAL PARTY IN THE STREET.
Did you watch a lot of the other bands who played at The Whisky etc?
YES, I WENT THERE ALOT, AS WELL AS THE TROUBADOUR, THE ROXY, GAZZARI'S, I FREQUENTED ALL THE COOL HOLLYWOOD CLUBS, AS WELL AS PLAYED THERE MYSELF. THE CLUB I PREVIOSULY MENTIONED IN THIS INTERVIEW, THE STARWOOD, WAS A REALLY GREAT CLUB. I SAW CHEAP TRICK THERE, THE RUNAWAYS, UFO, Y&T (WHEN THEY WERE CALLED 'YESTERDAY & TODAY') AS A MATTER OF FACT, I'M GOING TO THE WHISKY TOMORROW NIGHT TO SEE A SPECIAL COMMERATIVE SHOW THAT ALICE COOPER IS DOING THERE TO MARK 42 YEARS SINCE HIS DEBUT THERE WHEN HE WAS FIRST STARTING OUT.
Did you consider yourself to be an early pioneer for women in rock and metal specifically?
ACCORDING TO POPULAR OPINION, I WAS PRETTY MUCH THE FIRST WOMAN TO FRONT AN ALL MALE LEATHER-AND-STUDS METAL BAND - SO YES, I GUESS I DID BLAZE A TRAIL IN SOME WAY, SHAPE OR FORM.
You had management problems which delayed the release of The Bitch Is Back. That must have been frustrating.
WE GOT TIED-UP WITH SOME MANAGEMENT WHO HAD OTHER IDEAS FOR THE BAND'S DIRECTION AND WERE ADIVISING US TO WAIT WAY TOO LONG FOR OUR NEXT RELEASE, AND FOR SOME REASON THAT REASON ESCAPES ME AT THE MOMENT. WE FINALLY BROKE TIES WITH THEM AND RELEASED "THE BITCH IS BACK". IT WAS SOMEWHAT BENEFICIAL TO WAIT THAT LONG, AS IT GAVE US ALOT OF TIME TO COME UP WITH NEW MATERIAL.
You thanked Tipper Gore of the PMRC for the publicity. Did you ever meet her face to face?
NEVER HAD THE PLEASURE OF MEETING MS. GORE ONE-ON-ONE.
You appeared on the Lizzy Borden album Terror Rising. What were they like to work with?
I HAD A GREAT TIME RECORDING THAT SONG WITH LIZZY.. IT WAS HIS IDEA AND I WAS THRILLED THEY INVITED ME TO SING. I THINK IT CAME OUT REALLY COOL. THEY WERE ALL REALLY GOOD FRIENDS OF MINE IN THE FIST PLACE, SO I THOROUGHLY ENJOYED THAT RECORDING SESSION.
Is there anyone else you would have like to work with?
THE SHORT ANSWER TO THAT WOULD BE ALICE COOPER AND ROBIN ZANDER.
What made you decide to get the classic Bitch line-up back together in 2004?
I ACTUALLY DIDN'T. THE CLOSEST I CAN COME TO ANSWERING THAT IS THAT WE WERE INVITED TO PLAY THE BANG YOUR HEAD FESTIVAL IN GERMANY IN 2003, SO ORIGINAL MEMBERS DAVID CARRUTH, ROBBY SETTLES AND MYSELF, ALONG WITH ONE-TIME BASSIST JOHN ZELL, WENT OVER THERE TO PLAY THAT SHOW. THAT WAS A GOOD INCENTIVE TO GET MOST OF THE ORIGINAL LINE-UP BACK TOGEHER.
In 2008 you joined Witch for some live shows. Was this a fun thing to do?
I HAD GREAT FUN DOING THAT. I HAD KNOWN THOSE GUYS FOR YEARS, AND THEY WANTED TO GET A REUNION TOGETHER AND THEIR ORIGINAL LEAD SINGER WAS UNAVAILABLE, SO "WITCH, FEATURING BETSY BITCH" WAS THEIR IDEA AND I WAS HAPPY TO HELP THEM OUT. THE SONGS WERE COOL, AND EASY FOR ME TO SING, SINCE THEY WERE ORIGINALLY WRITTEN FOR MALE VOCALS. WE PLAYED GIGS TOGETHER OFF AND ON FOR A COUPLE OF YEARS.
Original drummer Robby Settles sadly died in 2010. Do you still keep in touch with any other old band members?
UNFORTUNATELY, ROBBY LOST HIS BATTLE WITH LEUKEMIA LAST YEAR. I HAD BEEN WITH ROBBY AS A BAND MEMBER SINCE 1980, AND AS A FAMILY MEMBER (MY BROTHER IN LAW) SINCE 1985. SO WHEN HE PASSED AWAY, IT WAS EXTREMELY SHOCKING TO NOT HAVE HIM IN MY LIFE ANYMORE. HE WAS ONE OF THE BEST DRUMMERS I'VE EVER HAD THE PLEASURE OF WORKING WITH, A KIND PERSON, A GREAT HUSBAND TO MY SISTER, AND A LOVING FATHER TO MY THREE NIECES. HE WAS FUNNY, SMART, TALENTED AND A VERY UNIQUE PERSON. I MISS HIM TREMENDOUSLY. ORIGINAL GUITARIST DAVID CARRUTH WAS MY "SIGNIFICANT OTHER" FOR 24 YEARS. WE LIVED TOGETHER FOR THE ENTIRE TIME AND BROKE UP IN 2004, AND HE'S SINCE GOTTEN MARRIED. WE ARE STILL VERY CLOSE AND KEEP IN CLOSE TOUCH. I JUST SAW LONG-TIME BASSIST RON CORDY A FEW WEEKS AGO WHEN HE CAME TO A BITCH GIG. I HADN'T SEEN HIM IN A QUITE A WHILE AND IT WAS GREAT TO SEE HIM AGAIN.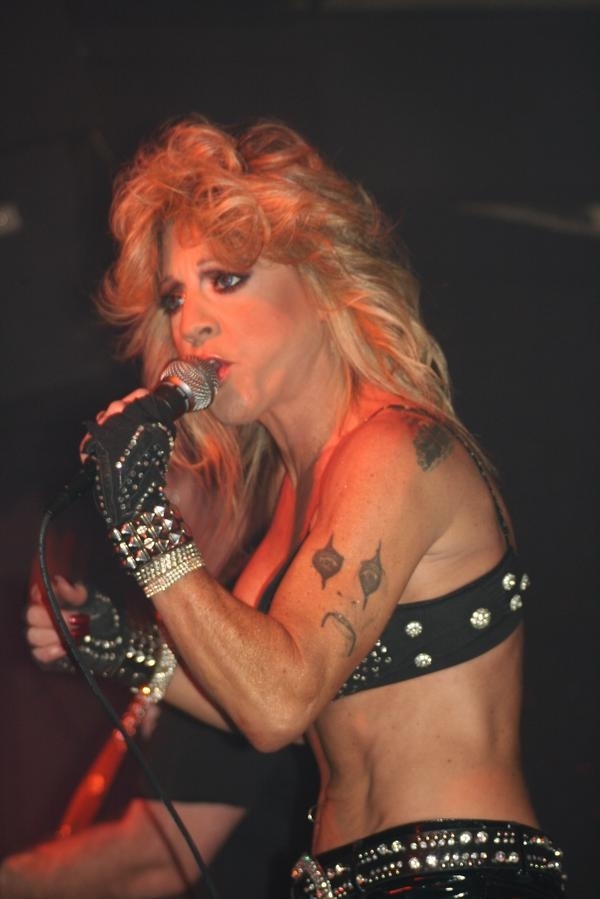 This year you toured Europe for the first time ever. Why the long wait?
TIMING IS EVERYTHING AND WE WERE FINALLY ABLE TO PUT TOGETHER A EUROPEAN TOUR. MY ONE-TIME BITCH BASSIST, STEVE GAINES, HAD FORMED A BAND CALLED 'ANGER AS ART', WHEREIN HE WAS PLAYING LEAD GUITAR AND SINGING. HE WAS WELL AWARE OF THE FACT THAT THERE WAS STILL MAJOR INTEREST IN BITCH FROM FANS AND PROMOTERS, ESPECIALLY IN EUROPE. SO HE OFFERED TO BOOK SOME SHOWS FOR BITCH, WITH ANGER AS ART AS MY BAND, BITCH. IN APRIL WE DID A TOUR OF EUROPE; PLAYED SEVERAL GIGS IN HOLLAND, BELGIUM, AND ENDED UP AT THE KEEP IT TRUE FESTIVAL IN GERMANY. IT WAS AN AWESOME EXPERIENCE. THE FAN SUPPORT OVER THERE IS OVERWHELMING AND COMPLETELY VALIDATING. THEY LOVE THEIR METAL MUSIC, AND I WAS HONORED TO BE A PART OF THAT.
Will we ever see you in Britain?
ONE CAN ONLY HOPE - I WOULD LOVE TO PLAY THERE.
Do you see yourselves coming back to Europe for more shows?
WE HOPE TO PLAY MORE EUROPEAN SHOWS IN THE NEAR FUTURE.
Looking back with hindsight, would you have changed any decisions you made?
THE ONLY THING I'M REMISS ABOUT IS I WISH WE HAD MORE TOUR SUPPORT BACK WHEN WE WERE FIRST STARTING OUT. THAT WOULD HAVE PROBABLY BROADENED OUR FAN BASE, BUT OTHER THAN THAT, NO REGRETS. THERE'S NO SENSE IN THINKING LIKE THAT ANYWAY; EVERYTHING HAPPENS FOR A REASON.
What would Betsy now, say to a Betsy just starting out?
HAVE CONFIDENCE, BELIEVE IN YOURSELF AND YOUR MUSIC, HAVE INTEGRITY EVERY TIME YOU STEP OUT ONTO THAT STAGE AND EVERYTIME YOU OPEN YOUR MOUTH TO SING, AND GO KICK SOME HEAVY METAL ASS!
You've just re-issued Damnation Alley/Be My Slave with a bonus DVD from April 2011.Do you have any of the early shows on tape?
YES - THAT'S HOW THEY WERE ABLE TO BE TRANSFERRED ONTO THE DVD. WE VIDEO TAPED ALMOST EVERY SHOW WE PLAYED. I'M THRILLED THAT METAL BLADE DECIDED TO RE-MASTER THE COMBINATION 'DAMNATION ALLEY/BE MY SLAVE' RELEASE. IT INCLUDES ALOT OF GREAT "EXTRAS", SUCH AS A BITCH T-SHIRT, FOOTAGE OF OUR RECENT KEEP IT TRUE PERFORMANCE, FOOTAGE OF SOME OUR OF SHOWS FROM BACK IN THE 80'S, AND BONUS TRACKS THAT WERE RECORDED BUT DIDN'T MAKE IT ONTO THE RELEASE. IT SOUNDS REALLY GREAT RE-MASTERED; YOU CAN REALLY HEAR THE DIFFERENCE.
What are the chances of any new Bitch material?
MY NEW LINE-UP AND I HAVE BEEN DISCUSSING IT. THERE ARE SOME SONGS THEY HAVE WRITTEN THAT, ACCORDING TO THEM, WOULD BE PERFECT FOR BITCH.
If we were to delve in your record collection, who would we find?
LOTS OF ALICE COOPER AND CHEAP TRICK, WHITESNAKE, THE DARKNESS, FOREIGNER, NIGHT RANGER, DAMN YANKEES, JUDAS PRIEST, DEEP PURPLE, BLACK SABBATH - LOTS LOTS MORE - I HAVE A GIGANTIC COLLECTION OF VINYL, CD'S AND EVEN CASSETTE TAPES. YOU'LL EVEN FIND A RICK SPRINGFIELD RECORD OR TWO IN THERE.
You still look great shape. How do you keep in such good shape?
THANKS! I WORK OUT EVERY OTHER DAY FOR APPROX. 90 MINUTES. I HAVE ALL MY EQUIPMENT AT HOME, WHICH IS MUCH EASIER FOR ME THAN JOINING A GYM - MUCH MORE MOTIVATING WHEN ALL THE STUFF IS AT MY DISPOSAL. I EAT HEALTHY AND WATCH MY PORTIONS. I'M LUCKY, BECAUSE MY MUSCLE TONE WAS GOOD TO BEGIN WITH.
What do you like to do to unwind?
SOMETHING SO RIDICULOUSLY SIMPLE, IT'S A NO-BRAINER. ON NIGHTS I DON'T HAVE TO WORK OUT AND THERE'S NOTHING GOING ON AROUND TOWN, I LIKE TO FLOP ON MY COUCH AND WATCH T.V. OR LISTEN TO MUSIC & HANG OUT WITH MY DOGS, MAKE MYSELF A REALLY GOOD DINNER, JUST HANG AT HOME. THAT'S MY TRUE DEFINITION OF UN-WINDING. I ALSO LIKE TO GO OUT, HEAR MUSIC AND TEAR UP THE TOWN, BUT THAT'S A WHOLE DIFFERENT TYPE OF UN-WINDING. THE PREVIOUS SCENARIO I DESCRIBED IS TRUE "COUCH POTATO" UNWINDING!
Tell us a secret about Betsy.
I'M 54 YEARS OLD AND I'VE HAD SOME COSMETIC SURGERY TO BUY MYSELF A LITTLE EXTRA TIME WHILE I'M STILL OUT THERE IN THE PUBLIC EYE. I THINK MY FANS ENJOY SEEING ME LOOKING GOOD AND I ENJOY THE ACCOLADES THAT GO ALONG WITH IT.
What next for Betsy & Bitch?
I HAVE THE DISTINCT PLEASURE OF HAVING THE MOST AWESOME BAND BEHIND ME. THE OLD SONGS ARE SOUNDING BETTER THAN EVER AND WE HAVE PLANS TO GET TOGETHER EVENTUALLY ON SOME NEW MATERIAL. OUR RECENT EUROPEAN TOUR WAS AWESOME AND I COULDN'T ASK FOR A BETTER BAND TO JOIN ME IN COMPRISING THIS LATEST PHASE OF "BITCH". WE ARE IN AGREEMENT THAT WE WOULD ALL LIKE TO RECORD TOGETHER IN THE NEAR FUTURE. WE HAD A GREAT EXPERIENCE TOURING EUROPE, HAD SOME RECENT LOCAL SHOWS (WITH FELLOW METAL BLADE LABEL-MATES, MALICE AND HERETIC), WHICH WENT VERY WELL. FUTURE BOOKINGS, MOSTLY EUROPEAN FESTIVALS ARE AN OPTION WE'RE CHECKING OUT FOR THE FUTURE AS WELL.
BETSY BITCH: VOCALS & WHIP
STEVE GAINES: LEAD & RHYTHM GUITAR
DAN OLIVERIO: LEAD & RHYTHM GUITAR
ANGELO ESPINO: BASS
ROB ALANIZ: DRUMA
What are the highest & lowest points of your career?
HIGHEST I WOULD HAVE TO SAY WAS PLAYING THE EUROPEAN FESTIVALS IN FRONT OF THOUSANDS OF METAL FANS. THERE'S NOTHING LIKE STEPPING OUT ONTO THAT STAGE IN FRONT OF A SEA OF HEADBANGERS! LOWEST I WOULD HAVE TO SAY WAS THE UN-TIMELY DEATH OF MY AWESOME DRUMMER, MY BROTHER-IN-LAW, AND MY DEAR FRIEND ROBBY SETTLES.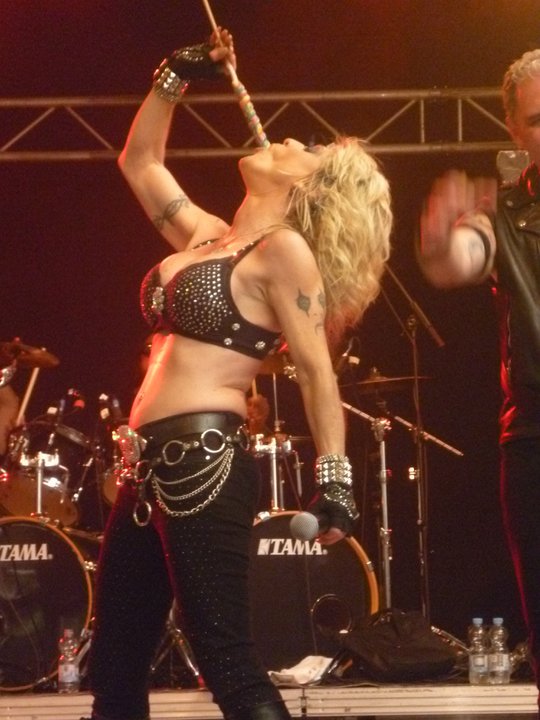 What vocalists do you listen to?
MY NUMBER ONE MAIN INFLUENCE AS A ROCK AND ROLL SINGER IS ROBIN ZANDER, LEAD VOCALIST FOR CHEAP TRICK. I ADMIRE HIS VOCAL STRENGTH, PITCH, PROJECTION AND INTERPRETATION SO MUCH; I'VE NEVER HEARD THAT GUY HIT A BAD NOTE! I LISTEN TO ALOT OF OTHER VOCALISTS , BUT HE IS MY FAVORITE.
Would you ever do a show like The Osbournes or Gene Simmons Family Jewels?
I'M NOT SURE I'D BE CRAZY ABOUT THE CAMERAS FOLLOWING ME AROUND 24/7, BUT SURE - I'D GIVE IT A SHOT.
What song do you wish you had written?
THE BITCH IS BACK
What for you is the best feeling in the world?
BEING HAPPY IN MOST, IF NOT ALL ASPECTS OF MY LIFE AND CONSEQUENTLY ENJOYING MY LIFE.
What is the meaning of life?
HAVE A GOOD TIME ALL THE TIME. THAT'S MY PHILOSOPHY, MARTY (SPINAL TAP REFERENCE, FOR THOSE NOT "IN-THE-KNOW") (ONE OF MY ALL-TIME FAVORITE MOVIES. THAT FILM REALLY HITS HOME, AS THEY SAY)
What's the best piece of advice you've ever been given?
TO BE LARGER THAN LIFE ONSTAGE. I CREDIT THAT ADVICE TO MY MOTHER, LOIS. SHE'S A STAGE ACTRESS AND DRAMA COACH, SO SHE KNOWS OF WHAT SHE SPEAKS...AND BESIDES, SHE'S MY MOTHER...AND I ALWAYS LISTEN TO MY MOTHER!
What is your one wish for the future?
TO BE HAPPY, TO LOOK GOOD FOR AS LONG AS POSSIBLE, TO KEEP ROCKING FOR AS LONG AS POSSIBLE AND TO CONINUE TO GIVE JOURNALISTS SUCH AS YOURSELF THE DESIRE TO INTERVIEW ME.
Where can people keep in touch with all things Betsy & Bitch?
www.betsybitch.com

ALSO, MY FACEBOOK PAGE, WHICH IS UNDER MY ACTUAL NAME: BETSY WEISS
Thank you for your time and effort and good luck with everything for the future.
I WOULD LIKE TO FINISH UP BY SAYING THANKS TO THE FANS AND TO THE JOURNALISTS FOR THEIR SUPPORT, AND FOR THEIR CONTINUED INTEREST IN BITCH. IT'S INSPIRING AND VERY AFFIRMING FOR ME AS I CONTINUE MY ROLE AS BETSY BITCH. THE BITCH IS MOST DEFINITELY BACK!
XXX
By Steve Warsap