13 PAGAN HOLIDAY 13
American Monster
By Helen Hosie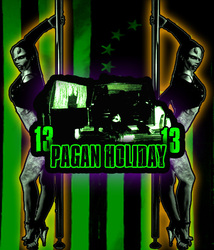 1988 gave birth to Glam/Horrorpunk/metal rockers 13PAGANHOLIDAY13, by New Yorkers Mykill Von Pagan and Scott Thornstar both having the same interests of 80s sleaze metal and 70s punk their monster was born. Now based in Ohio, Scott Thornstar, Johnny Crypt, Eddie Von Hearse, and Mykill Von Pagan are here and ready to creep into your crypt.

This is the album's opening track, the track opens with a trashing drums and an eery guitar feel - I was surprised, as I thought I was going to be listening to some emo screamo, but thankfully this did not
happen. All in all a good track, but I was waiting for something more,
"Turn You On" is my favourite on the album, and all thoughts of what this band was missing was diminished. The more into the album I got the better it sounded. This song the band played more together, still rough round the edges on a few tracks but on the up a good album.