THE YEAR IN ROCK – WEEK SEVEN
February 12 – 18
February 12
In 1935, Ray Manzarek of The Doors was born in Chicago, Illinois
Happy birthday also to Stanley "Goober" Knight, guitarist with Black Oak Arkansas from '65 – '76, born 1949
Steve Hackett, guitarist with Genesis during their golden age, and solo artist, was born in London, England on this day in 1950
And Per Gessle, Roxette's singer, guitarist & songwriter, was born in 1959 in Halmstadt, Sweden
Joe Schermie, bassist with Three Dog Night was born today in 1946. He died on March 25, 2002 of a heart attack, aged 56
Yacht rock songwriter, pianist and singer Michael McDonald, of The Doobie Brothers, Steely Dan, and more, as well as owner of no less than 5 Grammy awards, was born Feb 12th in 1952, in Saint Louis, Missouri, USA
February 13
Happy birthday today to Peter Tork of The Monkees, born 1944 in Washington DC, USA
…and Edward John Gagliardi, original bassist for the Anglo-US band Foreigner, born 1952 in New York City, USA, he played on the first two Foreigner albums
Peter Hook, bassist & co-founder of Joy Division/New Order, as well as Revenge, Monaco and Freebase. Hook was born in Broughton, England in 1956
| | |
| --- | --- |
| And happies also to intimidating man of muscle Henry Rollins. Born Henry Lawrence Garfield in 1961 in Washington DC, USA, Rollins has been the singer of Black Flag from 1981 – '86, leader of the Rollins Band, author, standup comic/spoken word performer, book and msic publisher and much more | |
Anthony "Rebop" Kwaku Baah was born on this day in 1944 in Konongo, Ghana. A mlti-talented percussionist, he performed on record and live with such acts as Traffic, Can, Eric Clapton, Wings, Steve Winwood and Jimmy Cliff. He died of a cerebral haemorrhage in Stockholm, Switzerland during a performance on January 12, 1983
Happy birthday to Roy Dyke, most famous for Ashton, Gardner & Dyke's classic one hit wonder 'Resurrection Shuffle', born in 1945 in Liverpool, England. He also played with George Harrison, Badger, Pat Travers and others, as well as marrying Stacia Blake, former dancer with psychedelic space rockers Hawkwind
| | |
| --- | --- |
| | And born on this day in Surrey, England in 1950 was the man many consider the only true vocalist of Genesis – Peter Gabriel. Gabriel sang and performed with Genesis from their founding in 1966 to his departure in '75, and has had a long and varied solo career since, as well as founding his Real World studios and being one of the driving forces behind WOMAD |
February 14
Gil Moore, drummer & singer with Triumph, was born Valentine's Day in 1951, in Toronto, Canada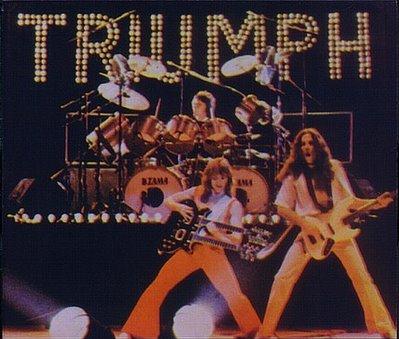 Vic Briggs, best known as a guitarist and pianist with Steampacket, Eric Burdon & The Animals, and "French Elvis" Johnny Hallyday, was born in Twickenham, England on this day in 1945. In the 70's and 80's he mainly played classical Indian music and ran a plumbing business, going under the name Vikram Singh Kalsa. More recently he chooses to be called Antion and plays Hawaiian chant music. This may or may not reflect a Sixties full of drug misuse
Tim Buckley was born February 14, 1947 in Washington DC, USA, and was a folk/jazz/psychedelic and funk artist for a brief but notable career before he died of an accidental heroin overdose after a binge drinking session at the end of an American tour. Buckley was just 28 when he died on June 29, 1975, and was survived by his song Jeff Buckley, who would go on to similar short lived fame and tragic death
Also on February 14, in 1946 Doug Simril, piano & guitar player with Boz Scaggs Band was born
And in 1950 in Seattle, USA, guitarist Roger Fisher who played with Heart from 1963 to 1980, then Alias, who scored a big hit with 'More Than Words Can Say' in 1990.
Finally happy birthday to Kenny Hyslop, drummer with Simple Minds, born in Helensburgh, Scotland in 1951
| | |
| --- | --- |
| And also on February 14, in 1986 Nikki Sixx survived his very first heroin overdose. Lucky boy… though not a clever one - he went and did it again, and again, and … | |
February 15
Born on February 15th, in 1941 in Detroit, USA, was legendary songwriter Brian Holland, who along with his songwriting partners brother Eddie and Lamont Dozier, formed the Holland-Dozier-Holland team responsible for countless Motown hits by artists such as Martha & The Vandellas, the Supremes, the Four Tops and The Isley Brothers.
Also born February 15th, this time in 1944 in Surrey, England, was Mick Avory, drummer for The Kinks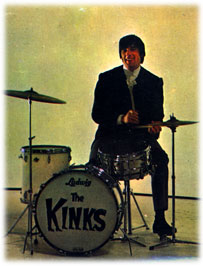 In 1947 David Brown, bass player through several early lineups of Santana's band from 1966 – 1971, then again 1973 – 1976, was born. He died September 4, 2000 from liver & kidney failure
February 16
A quiet day in rock today – Sonny Bono, born Salvatore Phillip Bono, was born in Detroit, USA in 1935. He most famously had a string of pop hits and TV show with his then wife Cher, and also went on to become the Mayor of Palm Springs and a member of the US House of Representatives. He passed away January 5th 1998 in a skiing accident at Lake Tahoe, California
| | |
| --- | --- |
| And on the other side of the pond, in Tyne & Wear, England, Andy Taylor was born in 1961. He would go on to be guitarist for Duran Duran and The Power Station, have a few hits as a solo artist in the big hair/Miami Vice days, and produce many albums by artists such as Thunder, The Almighty, Rod Stewart, Belinda Carlisle, Gun and more. He even starred in a movie, A Sugar Town, about a washed up ex-rocker trying to get a project off the ground in L.A. Well, I think it was a movie and not a documentary… | |
February 17
Born February 17th in 1972, in Oakland, California, was Billie Joe Armstrong, singer-guitarist with pop punkers Green Day
And in 1950 in Jacksonville, Florida, USA, Rickey Medlocke. Medlocke started out with a brief stint as drummer for Lynyrd Skynyrd, then went on the form the band Blackfoot (he is of Blackfoot Native American ancestry) as singer/guitarist. Since 1996 he has also played guitar with Lynyrd Skynyrd
| | |
| --- | --- |
| | And on this day in 1989, Whitesnake main man David Coverdale married Tawny Kitaen, who had appeared in several Whitesnake video clips as they became one of the biggest bands in The States… they divorced acrimoniously in 1991 |
February 18
Happy birthday today to Yoko Ono, born in Tokyo, Japan in 1933. An artist and (ahem) musician, she was famously married to John Lennon from 1969 until his murder in 1980
Birthday greetings also go out to Styx's singer Dennis DeYoung, born in Chicago, Illinois, USA in 1947
And, born in 1953 in Winnipeg, Manitoba, Canada, Robin Bachman, younger brother of Randy Bachman and drummer with Bachman-Turner Overdrive
Also born today, though less rocking, were, in 1954, actor John Travolta
And in 1965, Dr. Dre, born Andre Young in Compton, Los Angeles, USA
On February 18, 1968, Status Quo performed their first headline gig under that name
| | |
| --- | --- |
| | And Bon Jovi were sitting pretty at Number one on the US singles chart in 1987 with 'Living on a Prayer' |
Shane Pinnegar