BANDS YOU WILL LOVE...
MARK INTERVIEWS CHRIS RIVERS
OF HEAVEN'S BASEMENT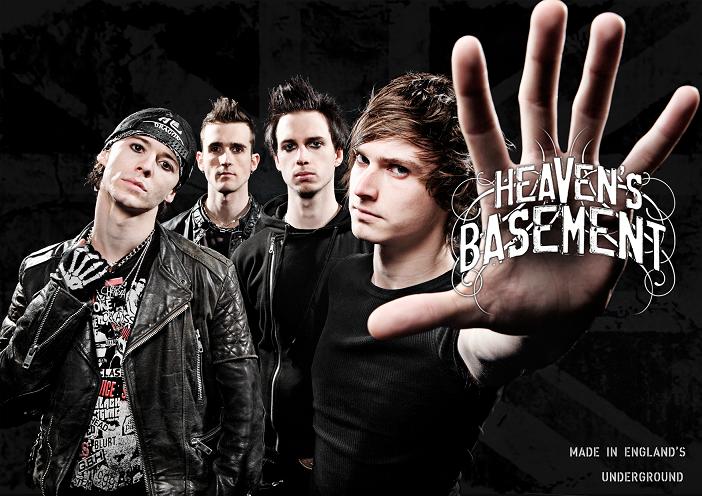 Hi Chris, first of all thank you so much for taking the time to speak with www.therockpit.net I know how busy you guys are at the minute



MD: Unbreakable the new EP seems to have come together beautifully, are the songs from before or after the recent line-up changes?


CR: Thank you. It's a mix, we have a few new songs on there which we wrote with Aaron when he joined the band, but we also wanted to put a few older ones on there that people know us for. The songs 'Unbreakable', 'Long goodbye' and 'Paranoia' have been played in our live set since October 2009.




MD: We loved the EP to be honest and whilst there's not a weak song on there we particularly loved 'Guilt Trips and Sins' and 'Leeches'. You seem to cover a lot of ground on there are you testing the waters to see which way to steer the ship?


CR: We don't really have any rules when we're writing songs so the dynamics can be one extreme to the other. We write music that makes us happy as that's what comes across. If people like it then that's awesome. We don't really sit down and have a set plan for the way we want to write each song.
MD: 'Let Me Out of Here' is a pretty mature sounding song, a little at odds with the rest of the tracks but very cool. Tell us about that one?


CR: One of my memories of recording that song was watching Aaron nail the recording in more or less 1 full take. I think that was the moment me, Sid and Rob all looked at each other and knew we'd found our guy. So there you go, listen to that song and that's the moment Aaron became the front man for Heaven's Basement. It was actually one of the first tracks Aaron became really hands on with the writing for too.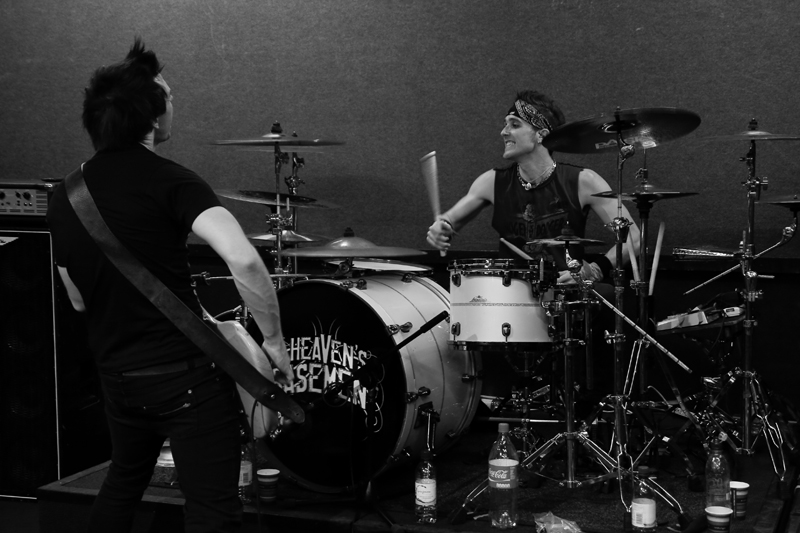 MD: So that said how is the new guy fitting in?


CR: Awesome, he's settled in amazing with us. The first tour we played with him was in May and he absolutely crushed it. We had a quite a few doubters come out to see us on that tour that I think were coming to see some nails put in our coffin. That's fair enough after the ups and downs we had in 2010. There's certain people that might have hoped we failed, I think it's fair to say Aaron took those nails and fucked each and everyone of those people with them.


The fans of Heaven's Basement are the greatest out there; they've all taken to him amazing, we're so grateful for the support those people have always shown us.



MD: How would you describe your sound to the uninitiated?
CR: English High Energy hard rock.




MD: You are writing again at the moment, how is the album coming along?
CR: We're in the writing / demoing stage at the moment, we're got around 40 song ideas at the moment that we're continuing to work on and write more. We want to enter the studio with as much material as possible. We'll write an album that will be a strong statement of intent, that's how Heaven's Basement roll. The plan is to record in the later months of this year with a spring 2012 release.




MD: So I have to ask is the old Hurricane Party/Roadstar connection more of a blessing or a curse? I couldn't find an interview when Chris' old band wasn't referred to in some way?


CR: It's neither; I'm the only member of Heaven's Basement that was a part of those bands so I'm happy to talk about it when asked. It was an interesting experience, we had some great times playing some really cool tours and working with some good people. I'm grateful for the time and experiences I had with that band but ltimately Hurricane Party/Roadstar was always doomed due to the hideous way in which the band was run by people within the camp. I stopped caring about that band a few months before it finished as their was a lot of things going on out of our control that we had no say in so we all very quickly lost our love for that band and decided to end it. So, it's neither a blessing or a curse, I'm happy to talk about it as it's a completely different band and situation to the one I'm in now. Heaven's Basement couldn't be further away from those bands in the way we work.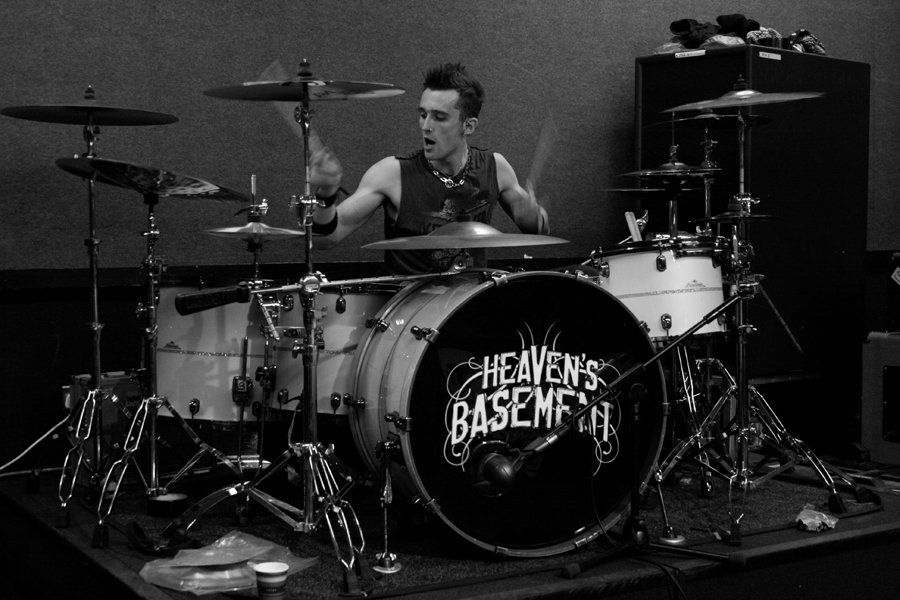 MD: I'm told you put on a great show at Download, played Sonisphere and this weekend you played The High Voltage Festival. How were those shows?


CR: Great, considering this summer was supposed to be quiet for us on the live side due to writing the album we've not done to bad in playing 3 of the biggest rock festivals in the UK ! Download and Sonisphere we're acoustic sets which was something new to us but we really enjoyed it. We played High Voltage this weekend, it was the biggest show we've played since last year and it was amazing to be back on the big stage.





MD: What's it like being on those bills with all those big names? Does it fire you up to get higher on the bill next time?


CR: Of course, we always want to aim higher, if your band doesn't have dreams to headline festivals like that what's the point? It always great to watch some of the killer bands on festivals too and see a lot of friends we've been on the road with the past 2 or 3 years.





MD: What's the local scene like? It seems to be getting stronger for our kind of rock music?


CR: To be honest, we've had this question come up for the past few years. Speaking from a Heaven's Basement point of view, we don't really belong to a scene or fit into one which is the best way in my eyes as scene's come and go. There are a few bands out there doing their thing but it'll require some more genuine ones for something to really kick off. I say genuine as its scary the amount of bands we've shared the stage with in the past few years that have decided our genre of rock isn't the way to go anymore and completely reinvent themselves to fit into a more popular genre of rock music. We're happy to focus on what we're doing and don't really plan on relying on a 'movement' to happen. If that does happen then great, if not we'll continue to do our thing regardless.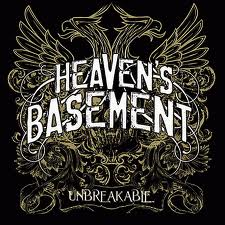 The new EP - you should all rush out and buy!



MD: Any young bands we should be checking out?


CR: We played with a good band called Liberty Lies on the May tour who are a cool upcoming band from the midlands. There's also our buddies Sworn to Oath, Dear Superstar, Jettblack, Black Spiders. These are all cool bands working the circuit.





MD: So what's the plan for the rest of 2011 and beyond?


CR: We're planning on recording our debut album later this year, releasing it early 2012 then touring (what we do best) that's the plan.





MD: How did the acoustic set come about? Are you one of those bands that jam acoustically, or do any of the band write in that way?


CR: We got offered the Download festival acoustic slot; it's not something we'd done before so we wanted to give it a shot. We really enjoyed it and it's led to more acoustic shows (a 4 date tour with Keith Mina Caputo in October) we jam acoustically a lot.




MD: What's the test of a good song?


CR: When all 4 of us jam an idea for the first time and go to the same places with the song then look at each other afterwards with that look of excitement.





MD: Choose one band from each of the sixties, seventies and eighties that have influenced you?


CR: Sixties – The Doors, 70s – Led Zep, 80s – Guns n Roses.





MD: Who is the band that's been most fun to tour with and why?


CR: Papa Roach, we've played a lot of great shows with them all across Europe. They put on a great show every night, Jacoby is an inspiration to watch each night. They also love to party which is a big plus side to touring ha ha! Every tour has been enjoyable to us though because we love it so much. Touring with Buckcherry, Black Stone Cherry, Theory of a Deadman, DAD, Thunder were all good tours. We've kept in touch with most bands we've toured with and usually hang out when they visit the UK.

MD: Where can people go to check out Heaven's Basement?
CR: www.heavensbasement.com and www.facebook.com/heavensbasement
MD: Where will you be next year?


CR: On the road!

MD: And the questions we ask everyone…


If you could have been involved in the creation of any piece of music at any time in the history of rock what would it be and why?


CR: So many possible answers to that. You know what; I'm listening to 'Steven' by Alice Cooper right now... that is an epic piece of music, way before it's time in my eyes. So, there's my answer.




MD: What is the meaning of life?


CR: To drum
MD: I know a lot of drummers who will agree with you there! Thanks Chris, keep in touch; hope to catch you next year.
YOU CAN READ OUR REVIEW OF HEAVEN'S BASEMENTS LATEST EP HERE!
Mark Diggins spoke to Chris Rivers July 2011
Talk to Mark on Facebook - Add MARK ROCKPIT as a friend today!